Join our next cohort!
We will be seeking applicants for our next cohort in March 2022. Providers (PA, DO, MD) at FQHCs in Maine, New Hampshire, and Vermont are eligible to apply.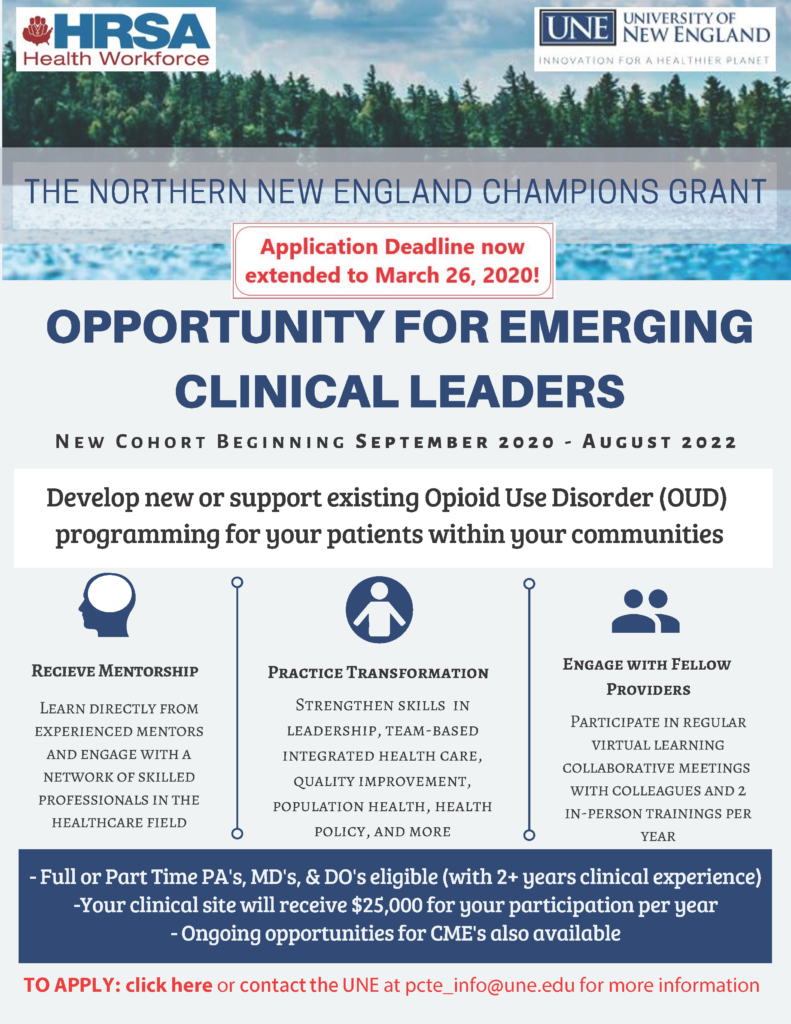 Overview & Goals
The purpose of the Northern New England Clinical Champions Program (NNE-CCP) is to strengthen the primary care workforce by establishing fellowship programs to train community-based primary care physician and physician assistant champions to lead health care transformation and enhance teaching in community–based settings in the tri-state region of ME, NH and VT. These three rural states have been some of the hardest-hit areas in New England and in the country for opioid addiction and death. As a result, the primary clinical focus will be to reduce the impact of opioid use in the target communities.
From 2018–2023 we will partner with FQHCs serving rural and/or underserved populations. Cohorts will last up to two years and will have up to eight fellows participating in each cohort, with the exception of the last one-year cohort of four fellows. Our clinical affiliates are NHSC-approved sites and are located within HPSAs. The NNE-CCP coordinates with other HRSA-funded initiatives and builds on the success of UNE's current Bangor-based PCTE program, the purpose of which is to strengthen the primary care workforce of PCPs, PAs, and pharmacists in rural and underserved areas of Maine
Application Requirements:
Clinical site must be a designated Federally Qualified Health Center (FQHC)
Must meet NCQA Patient Centered Medical Home (PCMH) Standards
Reserved time away from patient care for Champions to participate in NNE-CCP required activities
Build preceptorship capacity among site staff for future UNE osteopathic medical and/or physician assistant students
Attend twice-yearly in-person trainings, monthly virtual learning collaborative sessions, and quarterly mentor meetings
Design and implement a healthcare transformation project with the support of UNE programmatic staff
Be a PA, DO, or MD having been in practice for a minimum of two years, full or part-time
Applications are not being accepted at this time, but the application process will be open March 1, 2022.
Interested clinical sites and prospective applicants can contact pcte_info@une.edu for additional information.