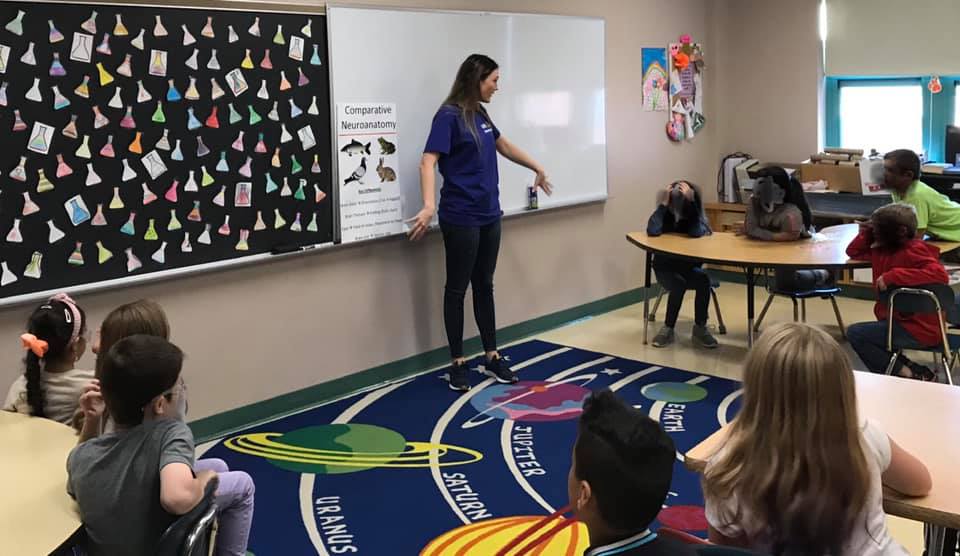 November 27, 2019
The Center for Excellence in the Neurosciences (CEN) began its outreach season in October by partnering with the Michael T. Goulet Traumatic Injury and Epilepsy Foundation to fit helmets on children during the Saco Main Street Pumpkin Harvest Festival.
The foundation was created in honor of the late Michael Goulet, who passed away in 2010 as a result of a grand mal seizure. Its mission is to raise awareness and help improve the lives of patients and families whose lives have been affected by brain-related injuries and disorders. The organization gives out free helmets at many local events and provides education on how to properly wear a helmet.
Throughout the month of October, CEN volunteers visited all third-grade STEM classes at Biddeford Primary School to get children engaged in science. Staff and students were given a hands-on anatomy lesson while dissecting a sheep brain. The lessons given to the children were engaging and tailored to suit their grade-level. Jessica Olmeda (Neuroscience '20), Kaylee Townsend (Medical Biology and English, '21), and Anna Childs (UNE Biological Sciences, '23) volunteered at the event. CEN staff members Samantha Dinsdale, B.S., Makaela Rice, B.S., Victoria Eaton, B.S. '18, and Jennifer Malon, M.S., M.P.H., COBRE program coordinator, worked alongside the volunteers.
CEN members also volunteered at the 6th annual Portland STEM Expo, teaching hundreds of children about comparative brain anatomy. The annual event, held November, 1, on the the Portland Campus of the University of Southern Maine, featured 50 exhibits on STEM-related topics. More than 2,000 students attended the event.
Volunteers at the event included Samantha Dinsdale, B.S., Jessica Olmeda (Neuroscience '20), Andrew Elkinson (Medical Biology '20), and doctoral students Cara Sullivan M.S., and Lindsey Fitzsimons, M.S.