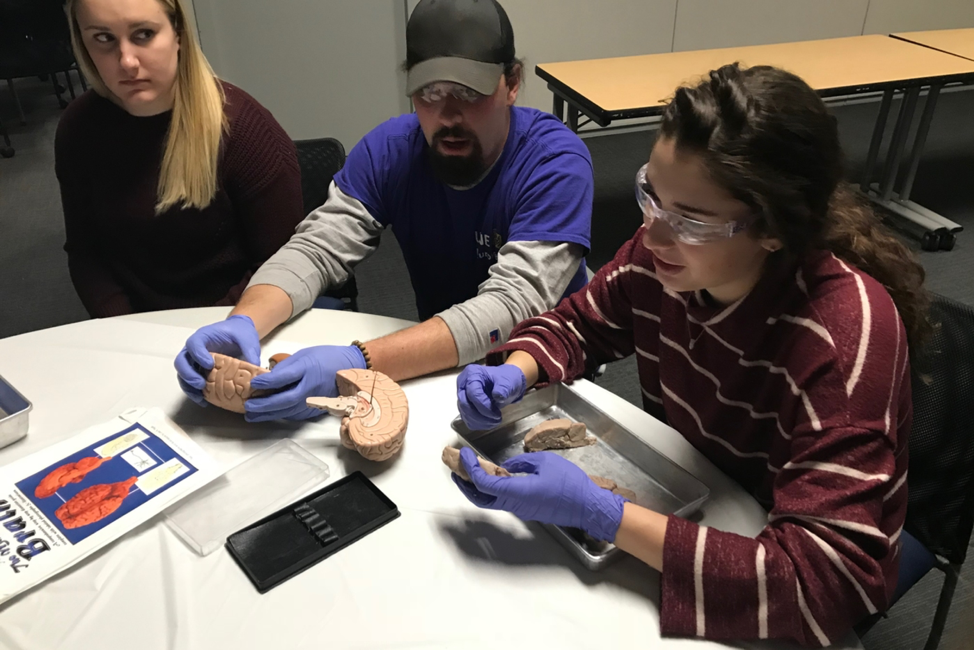 February 01, 2019
Biddeford High School students Damien Haynes, Karla Mendoza and Leslie Nyambo took top prizes in the quiz
Thirty students from Biddeford High School, Kennebunk High School and Thornton Academy recently participated in the 2019 Southern Maine Brain Bee at the University of New England.
Michael Burman, Ph.D., associate professor in the Department of Psychology, served as master of ceremonies.
Activities coordinated by the Center for Excellence in the Neuroscience's (CEN) included a tutorial of human brain tissue, guided sheep brain dissections and one-on-one tutoring sessions.
Some of the activities were led by second-year College of Osteopathic Medicine (COM) fellows.
"The COM fellows were amazing, as usual!" exclaimed Ian Meng, Ph.D., professor in the Department of Biomedical Sciences and director of CEN. "This was definitely a highlight for the students. Hopefully, we have helped to inspire the next generation of neuroscientists."
CEN members, including graduate students and staff, also worked closely with the students.
"It was exciting to see so many local students interested in neurosciences," said Jennifer Malon, M.S., M.P.H., organizer of the Brain Bee.
Karla Mendoza of Biddeford High School won first place in the quiz competition after a short round of sudden death questions. Two other Biddeford High School students, Leslie Nyambo and Damien Haynes, tied for second place.
Mendoza is eligible to participate in the National Brain Bee competition in Hershey, Pennsylvania. CEN will sponsor her registration for the event in April. The winner of the National Brain Bee will travel and compete in the International Brain Bee Championship, which will be held in Daegu, South Korea.
This was the Center for Excellence in the Neuroscience's 5th year hosting the event.