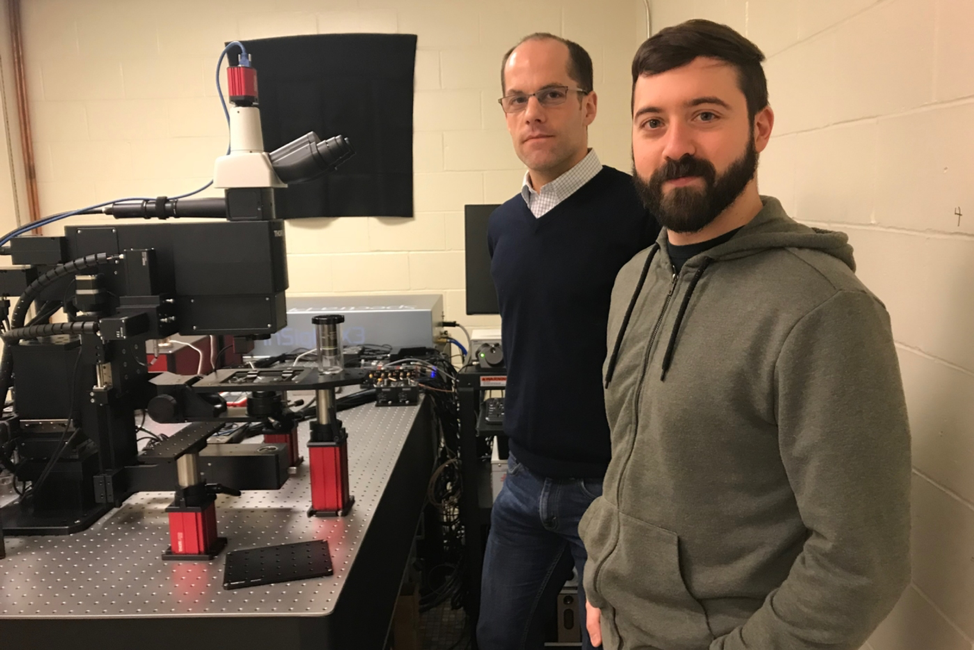 January 24, 2019
A new 2-photon microscope will be a resource for students and faculty at UNE, as well as scientists across southern Maine. It provides new and advanced imaging capabilities to UNE's Histology and Imaging Core.
2-photon microscopy provides cutting edge technology that allows researchers to visualize individual cells in a living brain.
"It will allow us to do live cell imaging in live animals," said Peter Caradonna, manager, COBRE Histology and Imaging Core. "It also allows us to do very deep imaging."
Compared with other microscopy, 2-photon technology is a more efficient imaging tool for the detection of processes happening deeper in tissue. For example, it allows scientists to observe changes in the brain during processes such as learning, or to monitor changes occurring in cells over the course of a disease.
The addition of the 2-photon microscope corresponds to the arrival of a new faculty member in the College of Osteopathic Medicine. Christoph Straub, Ph.D., assistant professor in the Biomedical Science Department, will oversee the use of the microscope. Straub brings with him years of previous experience with using 2-photon microscopy.
His research will focus on the cellular properties of neurons and their alterations in disease.
"It could help us identify novel mechanisms underlying brain disorders, in particular with pain perception, which is a major research topic here at UNE," explained Straub.
It's research that could lead to new treatment options.
"The motivation behind the research is to define those mechanisms and ultimately leverage them for novel therapeutic approaches," said Straub.
This is the only 2-photon microscope in southern Maine. The only other system in the state is located at Jackson Laboratories in Bar Harbor.
The microscope was purchased with funds from The Center of Biomedical Research Excellence (COBRE) for the Study of Pain and Sensory Function. Support also comes from the Office of Research and Scholarship, and Center for Excellence in the Neurosciences.