Tom Meuser, Ph.D., Director, Center for Excellence in Aging and Health
Have you ever wondered how you will be remembered? Do your family members from other generations know what you hold most dear?
This is the focus of some exciting new research through the UNE Center for Excellence in Aging & Health (CEAH). The project team includes Principal Investigator, Dr. Tom Meuser, Professor of Social Work and CEAH Director, Co-Investigator Dr. Regi Robnett, Professor of Occupational Therapy, and three MSW graduate students: Amanda Basso ('19), Corey Carmichael ('19), and Josef Kijewski ('19).
The game is called "Family Get Together" or FGT for short. Its purpose is to bring together family groups together to talk about their lives, values, and beliefs, while also having fun!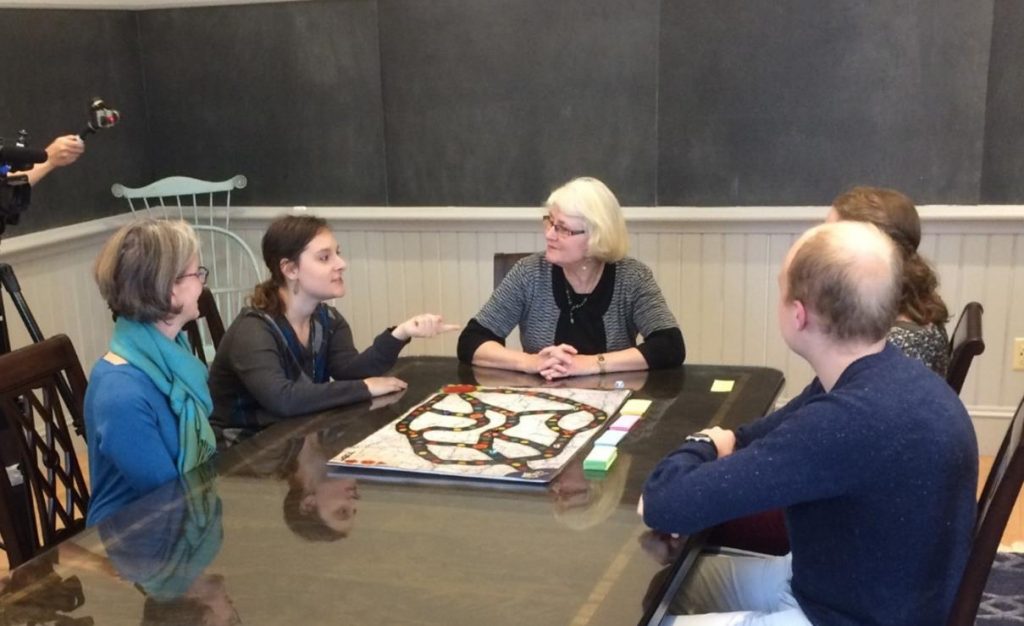 FGT is organized around a shared journey to a family reunion. Designed for multigenerational family groups, it can also be played among friends and even strangers. What matters is the talking, sharing and mutual enjoyment of the game.
Players follow paths of different colored tiles. Each color corresponds to a question or activity. Some are for the player who landed there, others involve the whole group. You never know if you will be asked your favorite food or what you believe about death, love, etc. The fun is in the discovery!
Dr. Meuser first mapped out the game in his mind in 2014. His research on legacy beliefs in aging in recent years solidified his plans for the game, and he took the development plunge soon after his arrival at UNE last September.
Since then, he and his team have developed and piloted a "pre-prototype" (i.e., a very basic playable version) and are now ready to launch their first validation study on a full working prototype. They are recruiting multigenerational family groups to help in this effort now, in fact. Children as young as 8 years may take part. View the flyer.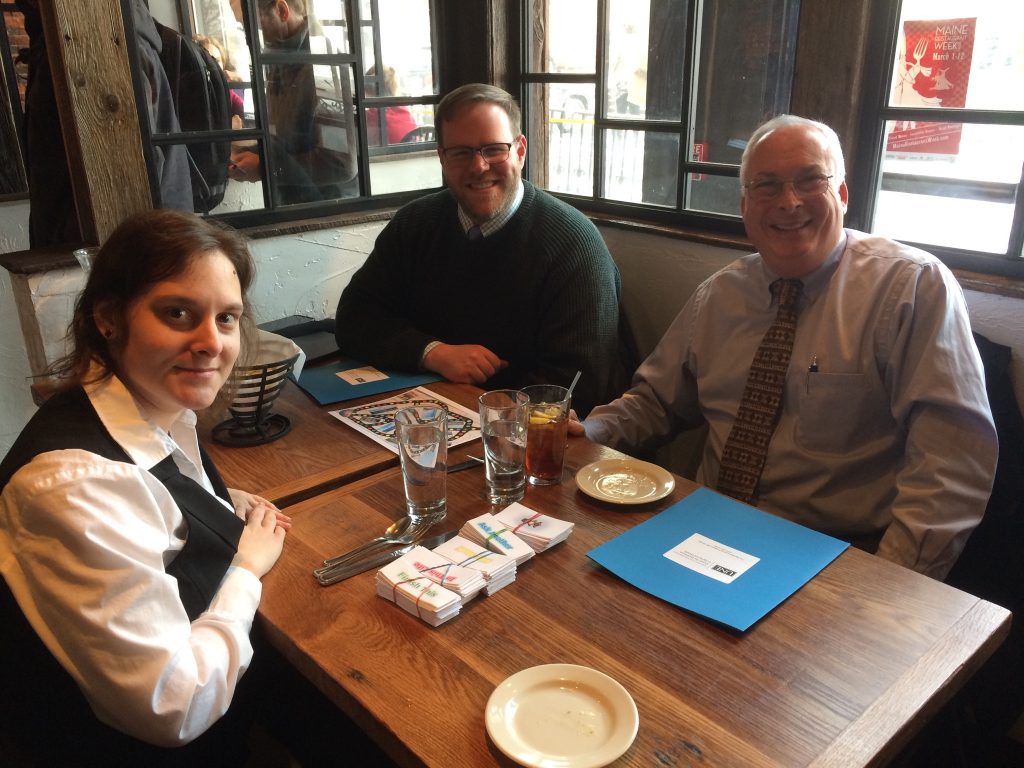 The game has its roots in Dr. Meuser's work on narrative gerontology and life review over the past dozen years. Asking older interviewees about their legacies is part of the process. "As the window of life begins to close, it is natural to consider beliefs about death and what about us lives on after we are gone from this earth," said Dr. Meuser. "Older adults appreciate opportunities to talk about both subjects. Death isn't scary for most, and having someone to share about their legacy can be a real comfort"
We all leave legacies upon death. Some legacies we know, others we desire, and still others will happen without us ever knowing. Despite growing up in families and keeping in touch with siblings, parents, etc, it is surprising how little some people know about what matters most to those closest to us.
This is what Dr. Meuser's research on legacy beliefs shows. He compared what older parents believe about their legacy with how their adult children see it. Even in pairs who felt very close to each other, overlap in their shared understanding were shockingly low. "No matter how well you get along parent to child, child to parent, there's probably a lot you can know about each other. It often just takes asking," says Dr. Meuser.
It is often difficult to start such conversations, however. Student team member, Corey Carmichael has seen this first hand: "My current internship is in hospice. I'm seeing families engaging in these discussions, often in rather rushed ways towards the end. Our game provides a structure to do this sooner and in a more inviting way."
Want to help? Consider volunteering yourself and at least three other members of your extended family to play the game while being video recorded (i.e., for later study of interactions, themes, etc.), and then answer a few focus groups questions after. This is the study that Dr. Meuser and his team are conducting now. They need to confirm that the game is both fun and promotes the kind of communication they hypothesize it will. The only way to know is to observe families in play, and then look at the process on video later. You can view the IRB approved flyer for this research here. Or contact Dr. Meuser by email (tmeuser@une.edu) or by phone (207-221-4140) to learn more about his work in life review, game development and the celebration of personal legacies as we age.