Amber Cusson '18 (B.S., Biochemistry), (M.S., Biological Sciences '20) matriculated at UNE as an undergraduate in 2014. She planned to enroll as a Medical Biology major, but was awarded a National Science Foundation Scholarship for STEM students (S-STEM) made possible by UNE's NSF Grant Award #1259896. As this scholarship program was designed to build the STEM pipeline in physical sciences and mathematics, Cusson declared her major as biochemistry, and fell in love! Although Cusson had taken biotechnology coursework in high school, the chemistry and biology foundation of her biochemistry major provided the background needed to pursue a biotechnology research career.
It was Amy Deveau, Ph.D., associate professor and assistant chair of the Chemistry Department, who first encouraged Cusson to consider biochemistry as a major and who later became Cusson's mentor and research advisor. When Cusson was a junior, Deveau offered her a teaching assistant (TA) position in University Organic Chemistry, a sophomore-level undergraduate class sequence geared towards teaching essential organic chemistry concepts and critical thinking skills with a mindset of inquiry and research methodology. Deveau says "As a TA for this new research-based curricula in organic chemistry, Amber was just as curious as the students. She was bright, hard-working, self-starting, and capable. These are all the hallmarks of a student who would thrive as a researcher, so I approached her about joining my lab team." Deveau offered Cusson a research experience for her junior and senior years, that was made possible in large part due to Summer Undergraduate Research Experience (SURE) funding provided by the CAS Dean's Office and the Office of Research and Scholarship. Cusson's SURE award was one of 26 awards made to undergraduate students in the Summer of 2017. Additionally, UNE's $20M EPSCOR grant (Award#1355457) that established the Sustainable Ecological Aquaculture Network (SEANET), led by Barry Costa-Pierce on which Deveau is an investigator, also has provided resources to support Cusson's research. Because sources of macroalgae are needed for Cusson's research, collaborations with marine biologists in the SEANET network, like Dr. Carrie Byron (associate professor, School of Marine Programs), Adam St. Gelais (assistant director for science, UNE North & assistant research scientist, School of Marine Programs), and Zachary Miller-Hope (assistant director of education, UNE North, and assistant lecturer, department of biology and school of marine programs) have been essential. Additionally, because UNE has layers of scientific expertise in core science fields, students like Cusson benefit in their training.
Once Cusson joined the Deveau lab team, she began working on a collaborative project between the Deveau lab and the lab of Kristin Burkholder, Ph.D., associate professor of Biology, focused on potential antimicrobial properties of kelp, a type of seaweed abundant on the Maine coast. To examine biological properties of seaweed compounds, the Deveau lab – with help from Carrie Byron and Zach Miller-Hope, harvested the kelp from local waters, dried it and generated crude chemical extracts containing kelp compounds. The kelp extracts were then tested for potential antibacterial activity in the Burkholder lab. Given Amber's background and interest in learning both the chemistry and the microbiology, she became the first student to cross-train in all aspects of the project, including harvesting and processing kelp, generating chemical extracts, and performing antimicrobial assays, and analyzing data. Deveau and Burkholder were thrilled by the outcomes and broader impacts of this model and they have continued it with other students since Cusson graduated.
Past work in the Deveau and Burkholder labs had shown that kelp and another species of seaweed from the Maine coast, called Ulva lactuca, produced compounds that inhibit the growth of numerous strains of the skin pathogen Staphylococcus aureus, including the drug-resistant strain methicillin-resistant Staphylococcus aureus (MRSA). When Cusson joined the project as an undergrad, the Deveau lab was trying to determine how long seaweed and extracts could be stored while maintaining antimicrobial activity. This information was lacking in the literature but is critical for researchers who are attempting to study biological effects of seaweed compounds. To figure this out, Cusson applied timepoint stability analysis, in which she tested the impact of storage temperature and time on anti-MRSA activity of seaweed and seaweed extracts. Cusson presented the results of this research at the American Chemical Society National Meeting in New Orleans, LA in March 2018. Cusson says, "It was overwhelming, being surrounded by lots of really smart people. One person actively searched us out for our MRSA research – it was really cool to see the interest that was out there."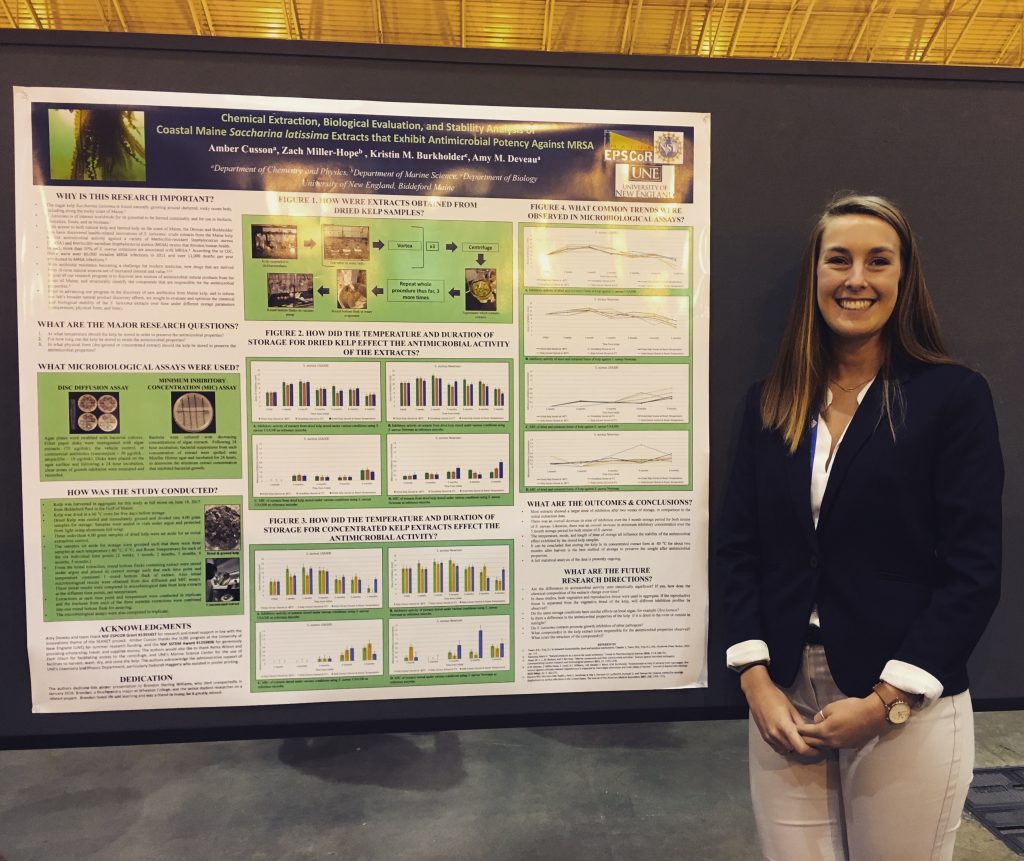 When Cusson graduated with her degree in Biochemistry in 2018, she applied to graduate programs and eventually chose to remain at UNE in the Biological Science master's program. Her thesis project is an expansion of her undergraduate research experience, and is aimed at characterizing and identifying the antimicrobial compound(s) present in kelp and Ulva. Identification of novel marine-derived antimicrobial compounds could be important for future development of antimicrobial drugs needed to treat drug-resistant bacterial infections. Cusson is also working on the synthesis of novel hybrid compounds that could have interesting growth inhibition influence against bacteria.
From Deveau and Burkholder's perspective, having research students like Cusson is invaluable. "Amber has always been an exceptionally driven and committed student. Even as an undergraduate, she immediately took ownership of her part of the project and quickly mastered the chemistry and microbiological techniques needed to perform the work," says Burkholder. "I am excited to see her progress as a MS student as she expands her use of chemistry tools to characterize the seaweed compounds responsible for inhibiting bacterial growth."
Additionally, having Amber as a senior member of both PI's labs as an undergraduate and now as a graduate student has enhanced the PIs peer mentoring and training network and expanded opportunities for all. Cusson says staying on the project has been beneficial "because I've learned a lot of new techniques and have learned about the research process in general. So, I think moving forward if/when I get a Ph.D., I think I'd like to stay within the medicinal chemistry / drug discovery field. I have always said since day one that UNE is the best decision I ever made, and I think that staying here (for graduate school) and working on this project has been beneficial in many ways."
Amber is just now finalizing her thesis proposal for her master's degree and is looking forward to diving in to her research. After finishing her M.S. at UNE, Cusson intends to apply to Ph.D. programs in microbiology. Deveau and Burkholder are optimistic that the future is very bright for Cusson and their ongoing research collaboration.