MSW Applied Arts and Social Justice students, Cassidy Cleaves and Ashley Mendes, co-facilitated an intercultural teen group at the Maine Center for Grieving Children February through May 2018. Maine Center for Grieving Children serves more than 4,000 grieving children, teens, families, and young adults annually through peer support, outreach, and education. Their mission is to provide loving support that encourages the safe expression of grief and loss and fosters each individual's resilience and emotional well-being. Cassidy and Ashley worked with many children who are among Portland Maine's asylum seeking and refugee populations who have experienced tremendous loss in their lives.
Ashley and Cassidy presented the idea of a mural to the group, which the group then discussed and agreed upon. They prompted students to free draw on the blank canvas to begin brainstorming. Students were hesitant to begin and seemed to struggle with working collaboratively as they didn't want to paint over one others' work. One student then took charge by dividing the canvas into even portions so each participant had an individual square to paint in. Ashley and Cassidy stepped back and let the process occur. After a few sessions of students working on their squares, they facilitated a reflection/discussion. Cassidy and Ashley share that this reflection led to a conversation around breaking boundaries and how the process demonstrated on the canvas can also be seen in their own lives. They said it was interesting to see how students struggled initially but ultimately worked collaboratively toward their goal. Students discovered that some of the most important elements to this were communication, trust, and patience with each other.
Throughout this process, a story developed which describes the initial struggle of the American Dream being destroyed, and the process one moves through to discover a new life and self-freedom. The narrative explains an individual either being physically or metaphorically imprisoned, rising from the pain, finding community and hope, and feeling acceptance of the lives they have created. Ashley and Cassidy reflected together upon how the journey seen in the mural is what a lot of the students expressed in the group regarding their own stories. Many of the students expressed that the Center was a place where they could find community and connection.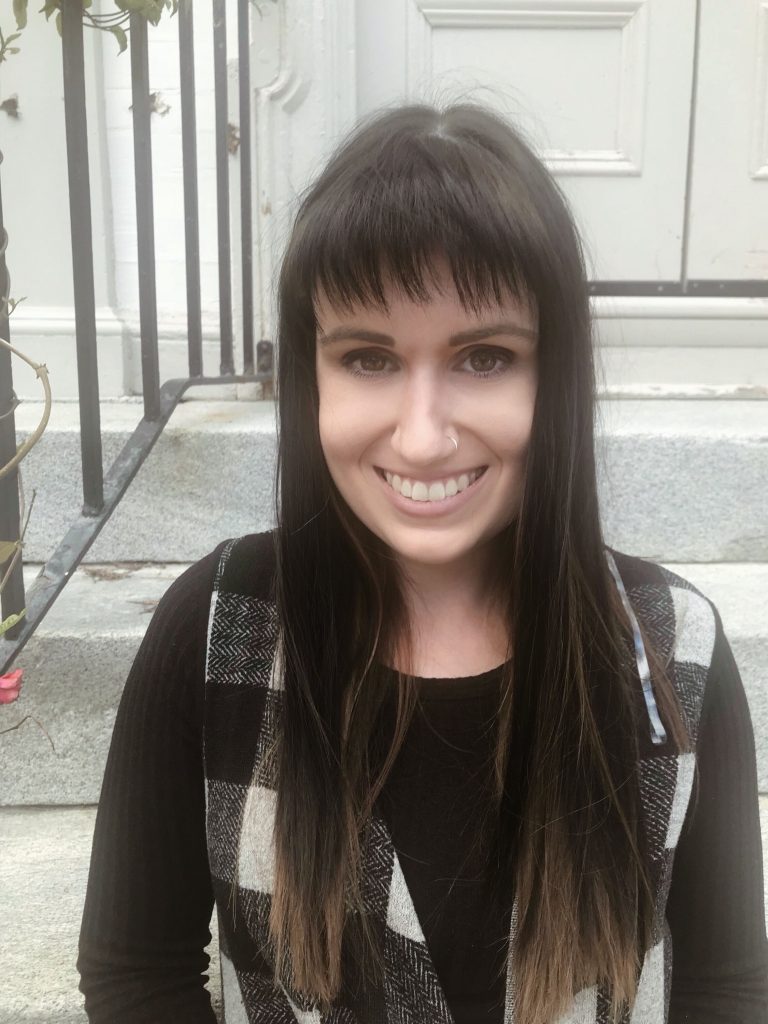 Ashley: "This mural project has taught me to embrace the unknown and to move with the process of art making. There were a few instances where I wanted to jump in and micromanage the project, but I caught myself and let the group form their own story. It was humbling to be able to witness the impact art has on creating connection and healing for both the artist and the viewer.
Cassidy (photo left): "This project taught me a lot about cultural humility, staying open during the process, and being okay with not knowing. Although Ashley and I facilitated the project, the goal was to have the students take control and lead the process, and I felt they did just that. The process led to conversations of love, hurt, and change. It is amazing to have something physical and tactile to hold on to that not only illustrates the journey of many, but also invisibly holds on to the stories and emotions of the group members."
The mural is now hung in the 4th floor hallway of Hersey Hall and will remain for the month of November. Stop by to see it in person!
Also, stay tuned for the AASJ video coming soon, which will feature this project among many other great AASJ projects!