Featured image by pixabay
For the first time this year, social work students participated in UNE's Hospice Immersion Project  at Hospice of Southern Maine Gosnell House.   The project was piloted in 2014, initiated by Marilyn R. Gugliucci, MA, PhD ,Professor and Director of Geriatrics Education and Research.  Designed and implemented as an experiential medical education learning model,  students are "immersed" into the local Hospice Home to live and learn for 48 hours.  Hear some reflections from our students:
MSW Student, Josef Kijewski:
Dr. Gugliucci had us leave our cars at the HSM offices on Rt 1 and hand over our keys.  She then drove us to the facility. I believe she's determined over time that the removal of one's vehicle psychologically aided in being more fully immersed.
"Nobody ends up in hospice care by accident," several people told me. You have to be a very particular kind of person.
Once there, we were allowed staff access to everything, were able to go into the rooms, talk to people, make food in the café, and help nurses and CNAs with any task we knew how to do or they were willing to show us how to do. The nurses and CNAs and social workers were fantastic about letting us follow them and help with so many aspects of care – transfers and re-positioning and post-mortems (more on that below) and discussions about Medicare and advanced planning and all of the conversations on personal/spiritual/emotional topics that might arise.  We were allowed to handle some things alone, when appropriate.
A hospice house is for two things: respite care (when caretakers need a break, essentially) and for acute care, when the caretakers cannot manage pain or other symptoms at home and the individual requires around-the-clock care.
  Reflections on post-mortem:
When someone dies, the following process is called a post-mortem:
The family leaves the room and the care team comes in, washes the body, changes the clothes*, arranges the space (putting chairs back in place, removing dirty dishes, etc.) and makes things look peaceful and orderly.
Note that while the clothes put on are usually just a fresh johnny, sometimes there are outfits requested by the family, or in some traditions and faiths there are specific garments the individual may need to be put into.
Common practice is to talk to the body while doing everything above. "Ok, Joan, we're going to roll you over now to wash your back." "John, I'm taking this IV out and then we'll get you changed." I asked a few people why they thought it was good or important to do that. I was given various forms of the same answer: it's about respect for the person who was, until moments before, in that flesh, and it helps center you in what you're doing. Personally, I think it also provides a sort of psychological continuity for those doing the work from the person they knew to the body left behind, perhaps making it easier for them. Nobody's deceiving themselves into thinking the person is just taking a nap, but it somehow minimizes the gap between previous care with the person while they were alive and care for their body once they are dead. It felt like it did that for me, anyway.
Gosnell House has a collection of beautiful quilts handmade by volunteers, and each room has one already in on the bed when the patient arrives. At this point, the quilt is placed over the rest of the blankets on the body, and they are arranged to look at peace. *Note that if there's something that isn't easily alterable (a mouth that's staying open, for instance) that's not forced into looking 'nicer.' They're not trying to hide death.
The family comes back in and spends whatever amount of time they wish with the body. Once requested, the funeral home is called.
When the van from the funeral home arrives, the family leaves the room and we transfer the body to a bag in a gurney. The quilt in the room covers the whole bag (or, if the person is a veteran, a flag is used) and everyone on staff not involved with other immediate care needs joins the procession as the family walks the body out to the van. Staff waits outside as it is loaded and the family says their goodbyes, to the body and to one another. Usually, at this point, there is a lot of appreciation expressed for the hospice. We disband after the family has.
I participated in five post-mortems, maybe seven. I've only briefly touched a dead body, and that was in my childhood. Something about the way the post mortem is conducted, as well as the fact that people came to hospice house to die, kept it from being distressing. There is a deep reverence to the process, and doing a post mortem felt ritualistic and appropriate, which kept the handling of bodies from being distressing for me at least.  Nobody at the facility is supposed to use euphemism for death either. You use the words "death" and "dying."  It's important not to encourage avoidance of the present situation through obsfucational language.
I had an amazing discussion with the chaplain where she latched on my use of the word 'conversation,' as in "I love having conversations with people here." I'm paraphrasing, but the gist of her point was that a conversation is a back and forth, with both people sharing. We're not here to share about ourselves. We let people talk and tell us where they are, and then we go there. We ask questions. We help people figure out where they want to go." It's an excellent point. People seem to manage to figure out what they need to at the hospice house if you just give them the time and space to do so. Striking up a conversation (there's that word again) is really about marking a space for the person to process and reflect.
I don't think I've ever left somewhere so utterly wrung out, and yet also so incredibly glad for what I'd experienced and been a part of.
We did a 'debrief' with Marilyn and Shelley (Dr. Shelley Cohen Konrad, director of School of Social Work) that was very helpful emotionally. I had conversations I'll never forget. Clearly, Dr. Gugliucci has spent a lot of time structuring and tweaking this program. I was deeply impressed with all of her efforts and the whole structure of the weekend. Without it, the experience would have been, I think, both less meaningful and more difficult.
Amanda Basso:
I never worked in the medical setting at all.  I went into this experience wanting more of a clinical social work experience, and I feel this opportunity gave that to me.
As someone who is a very introspective thinker and learner, I used a lot of my time to observe and learn through osmosis. I learned a lot about the medical side to hospice by observing the CNAs and nurses.
Once we entered the facility, we met with Dr. Gugliucci and the social worker there who gave us the rundown of what Hospice is, the different services they offer, and the different situations people might find themselves in.  We also learned the differences between "transitioning into death" and  "actively dying," which are quite different.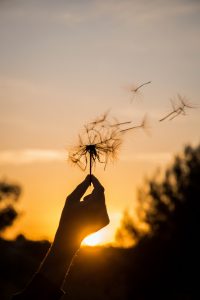 I personally participated in three post-mortems and four processions. My only addition to Josef's post-mortem immersion is that I also participated in helping the funeral and facility staff  in moving the guest to the stretcher that takes them out of the building. I also had the opportunity to help call a person's time of death.  I listened to their chest cavity when nothing was operating, which was a surreal experience.
I became very close to two particular guests: one was a woman had severe dementia symptoms. I built a connection with her and was invited to be part of a religious ritual while she was there.  I was able to witness how family dynamic, stress, and ideas about care (across generations) can affect a person's overall care and how it affects everyone on many different levels.
The other guest I grew close to was a man in the transition stages of death.  I got to learn more about his story from other staff members as the weekend progressed, some of which was heartbreaking. He didn't have really anyone left in the end. No one visited him at the facility, and what made it more heartbreaking was he reverted to speaking in french (something he didn't really do in life) and not many staff people spoke it.  I used my phone to google translate what I was saying into french for him, played him a french song I knew was really popular, and tried to find a french CD to play in his room for comfort, but wasn't successful.  He died the day after we left.
Throughout our weekend there were about 10+ deaths at the facility.  I felt that time passed differently at Gosnell.  I was constantly doing something from the moment I woke up to when I went to sleep. Time sped quickly by. One minute it was 7:30am the next it's 4:00 pm and then you blink and it was almost midnight.
I was very grateful for the debriefing with both Dr. Shelley Cohen Konrad (director of School of Social Work) and Dr. Gugliucci.  Shelley gave a more social work oriented perspective to the situation and offered an outside presence to ease the unpacking of thoughts and emotions. While Dr. Gugliucci's presence was great support throughout, it was nice to have this additional external support as well.
This experience has inspired many thoughts that I will carry with me to my practice outside of school and has also brought up many philosophical questions that I still have yet to fully answer. Dr. Gugliucci kept saying, "this experience won't give you more than you can handle, and you won't leave here without learning what you need to learn. Trust the universe." And she was right, I just haven't figured out what all these lessons will be yet.
Featured image by Hanna K. Lee
Embedded Photo by Dawid Zawiła on Unsplash
Additional reading: 
TED: What Doctors Don't Learn About Death and Dying