Every May since 2008, an interprofessional group of UNE faculty, staff, and students have traveled to Ghana to work alongside Ghana Health Service, community health educators, community members.  The Cross Cultural Health Immersion to Ghana, Africa integrates western health practices with folk medicine, which we believe to be integral in providing culturally competent health care to all groups.  Cross cultural health immersion is an important mechanism to increase one's awareness with respect to cultural competence.
"The amount of learning and growth in our students, during the two week period,  working under challenging and unfamiliar conditions (extremely warm tropical weather; working with volunteer language interpreters; non-sterile, non-medical clinic environment; differences in healthcare assessment and delivery models; intermittent running water; etc) is astounding," says Kelli Fox LCSW, Director of Social Work Field Education and Associate Director of Social Work Program.
In May of 2018, she and MSW student, Alanna Eaton (now alumna '18), traveled with the team (UNE article about 2018 trip HERE)  representing the social work perspective.   "Teaching, developing, and supporting a team model of care delivery with students, faculty and our healthcare partners from Ghana was an incredible experience of growth for me, myself, as a social work educator," Kelli adds.  
"During our time in Ghana, we worked in one urban clinic in Sekondi, and three rural clinics in the surrounding area. As the social work student on the team, I often helped with discharge meetings with patients as well as advocating for the unmet needs of patients during their visits to the clinics. This program was an immensely reflective and thought-provoking experience for me," says Alanna.   She shares some of her photos and reflections below: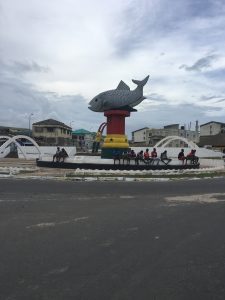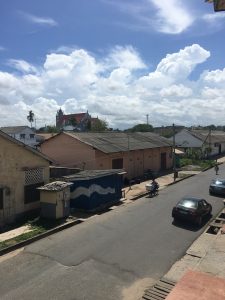 On the journey to Sekondi, we drove out of the urban sprawl and vast marketplaces of Accra and wound our way through various towns and villages that seemed to appear out of nowhere among the lush, green scenery. The pictures above capture the view in different directions from where we lived for two weeks.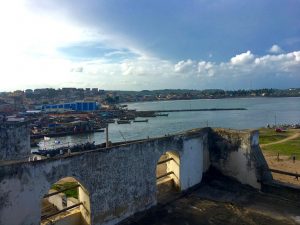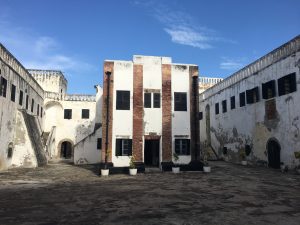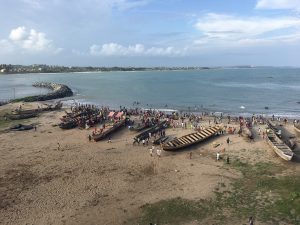 The group of pictures above represent what resonated with me during our visit to Elmina Castle. Elmina Castle was first built by the Portuguese in 1482 and later played an important role in the Atlantic Slave Trade. The image with bars on the window shows where slaves would be forced onto ships that would cross the Atlantic as a part of the Middle Passage. The other photos are pictures of the castle and the surrounding area. 
These final 2  photos  show more of the landscape of the area we stayed. Most of the pictures I took were of landscapes as I was constantly observing and absorbing my surroundings during my time in and around Sekondi.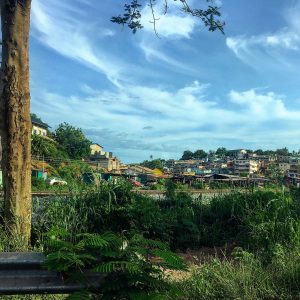 "It is difficult for me to really put into words all of my thoughts about my experiences in Ghana.  This is by no means a complete analysis of all the emotions or experiences felt participating in this program, but I hope the images can at least provide you with some insight into my time in the Sekondi-Takoradi region of Ghana," Alanna shares. 
Trisha Mason, Director of Service Learning and Jennifer Morton, Director of Global Health Initiatives, spearheaded this project back in 2008 and have continued to lead a robust program each year.  The deadline for application for May 2019 is January 21st.  All health professions students are encouraged to apply!  For more information, see PROGRAM DETAILS HERE and send any questions to contacts below.
Trisha Mason
Director, Service Learning
tmason2@une.edu
(207) 221-4112
Jennifer Morton
Director, Global Health Initiatives
jmorton@une.edu
(207) 221-4438