Thomas Chalmers McLaughlin, Ph.D., UNE Social Work Faculty and co-director of the Social Work Center for Research and Evaluation has been hard at work in the community conducting research and sharing insights around homelessness.
Just two years ago, more than 2,500 Maine public school students were reported as homeless or displaced — a nearly 30% increase over the past few years, and the number continues to grow.  Many organizations that serve homeless youth throughout Maine have been forced to close due to trending downward spirals in financial assistance. In the last twelve years, programs and youth shelters in Rockland, Skowhegan and Rumford have all closed their doors. With fewer resources, teens in rural areas grapple with a tough choice: stay within the communities they know or move to unfamiliar urban areas that may offer more support.
MPBN Reporter Robbie Fienberg explores this in detail in the series "Finding a Way." As McLaughlin specializes in homelessness research, he was interviewed as part of the series.  Referencing results of a survey he conducted with Maine homeless youth, he told Maine Public that despite circumstances, many teens do not want to leave their surroundings.
"The community knew them. They knew the community," McLaughlin says. "There was a desire to make it work. So it might mean that they would couch surf, move around, work at different places.  All of them seemed motivated to stay in the school. Motivated to stay connected to their community."
Chris Bicknell, Executive Director of New Beginnings in Lewiston, echoes these findings." How do you provide safety and support for them where they are? So they don't have to leave their school. They don't have to leave their other natural supports. Their coach or their band teacher, whoever it is that's their natural support in that community. Whether it's their other close relatives. We haven't quite figured it out."  It's a challenging problem to tackle but McLaughlin and other dedicated members of the community remain committed to finding solutions.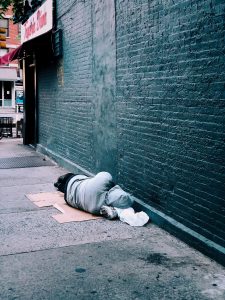 McLaughlin also conducted studies on programs that provide long-term stable housing for adults who are homeless. He recently spoke with the Portland Press Herald about "Housing First," a relatively recent innovation in human service programs and social policy regarding treatment of people who are homeless.
Contrary to a more traditional approach to homelessness, which provides only temporary shelter as one tries to find work or get sober or healthy enough to secure housing, 'housing first' calls for people to be given a safe, stable place to live first, while also offering support, whether it's for a substance use disorder, mental illness, physical health or employment training. The philosophy emerged in the 1990s and has gained popularity as a cost-effective way to reduce homelessness.
McLaughlin's studies have shown that housing the heaviest users of emergency shelters and other emergency services actually saves money.
"It's cheaper to support people in housing than it is to maintain them on the street through shelters, jails, police calls, emergency room contacts and ambulance runs," McLaughlin said.
For more information on Housing first initiatives in Portland, check out Portland Press Herald's What is 'housing first'?
Featured Image by Bansky