Featured photo by Mercedes Mehling on Unsplash
UNE MSW Alumna, Beth Fawcett '12, recently got in touch to tell us about THIS GREAT EVENT she's organizing as part of her involvement with CrossFit Casco Bay in Portland. 
SO WHAT'S THIS EVENT ANYHOW?
OutWOD 2019 is hosted by CrossFit Casco Bay in Portland.   The event will kick off at 10am with a general welcome.  Then folks will complete a workout together.  The "WOD" or "workout of the day" is designed by CrossFit coaches but can absolutely be completed by EVERYONE.  "No matter your current fitness level, you will be able to complete the workout," Beth shares.  "This is not 'The CrossFit Games,' so your vision of those elite athletes  doing push ups on their heads, throwing heavy barbells, and then running a marathon, you can forget about!"  
After the workout, everyone will break for lunch and have the opportunity to look at all the amazing items donated by local artists, businesses, cafe's restaurants, fitness trainers, breweries, and so many more.  The silent auction will be followed by a live auction which will then be followed by a closing ceremony  to thank sponsors and snap a group photo. 
Breakfast will be provided by The Holy Donut and Dunkin Donuts and lunch  by Leonardo's Pizza.  These items will be available for "purchase" through a donation.  The Greeks of Peaks Food Truck will be on site for additional food options as well.  Event T-shirts and woman's tank tops are free to participants who register prior to May 8th and will be available for purchase at the event as well.  Registration is $30 per person, with 100% of the proceeds going directly to The OUT Foundation.  
LGBTQ+, HEALTH, and BETH'S MOTIVATION:
IN HER OWN WORDS: June is PRIDE month, not just here, but across the country.  June was chosen as PRIDE month to commemorate the Stonewall Riots that happened this month in 1969.  Many PRIDE events happen in June to demonstrate the role of the LGBTQ+ community on the world.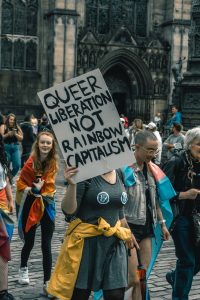 There are  many things we could discuss when talking about  issues that impact the LGBTQ+ community.  I am certainly not an expert, nor do I feel it appropriate to speak for an entire community, but for the sake of this blog, I'll stick to what I know, what has impacted me, and how this ties into the OUTwod event I am helping organize in Portland, Maine for June 8th 2019.  
First, the event is being held to support The OUT Foundation.  The OUT Foundation's sole mission is to support the LGBTQ+ community by eliminating barriers that impact a person's ability to live the best life they can, whether that be emotional, physical, nutritional or functional.  The OUT Foundation partners with area providers to help meet the needs of the individuals they serve, with the ultimate goal to help individuals fulfill their own goals of health and wellness. 
Health and wellness are incredibly important to every population, but the LGBTQ+ population has unique struggles, specific to our own process of coming to terms with ourselves.  Health, fitness and wellness can often be some of the last things on our minds.  Oftentimes when struggling, we gravitate towards unhealthy ways of coping. The road to wellness can be arduous and long. 
It is for precisely these reasons The OUT Foundation and OUTwod are so incredibly important.  We need more guidance when it comes to  different health regimens and approaches to health.  We need support from those with greater experience and knowledge than we may have ourselves.  When we ourselves may not have it in us to search out the LGBTQ+ friendly gyms, worry about which bathroom to use, or feel awkward in gym attire
in general, we can look to them for help.  Many of us have had some really negative experiences with people, and stepping out of our comfort zone can be REALLY challenging.  I know when I walked into my first CrossFit gym, as an "athlete," I was expecting a total "bro-fest."  I didn't expect to feel as welcomed as I did, nor did I expect to meet some of the best people I've ever met, all inside this gym.  Because of this support, I've been able to continue to seek out a healthier life and am doing things now I never felt possible before.  I couldn't have done that without the support of the people inside my gym. 
I am proud to be OUTwod's Event and Donation Coordinator.  I've had the pleasure of reaching out to local businesses and individuals, and have been so surprised by the level of support that I've received.  I can't wait for the June 8th OUTwod event so I can see all our hard work come to fruition! Thank you for this opportunity, and I hope to see you on June 8th, 2019!
BETH AND SOCIAL WORK:
Beth already had a great deal of social work experience prior to entering  UNE's MSW program.  She worked as a Residential Coordinator, Ed Tech, Case Manager, and Child Protective Caseworker, but realized  she wanted to pursue higher education with the ultimate goal of providing outpatient counseling to teens and adults.  In 2009, Beth began as a part-time student in UNE's MSW Program and completed her Masters in 3 years.  With field placements at the Department of Health and Human Services and Maine Behavioral Health in Portland, Beth developed a deeper love of providing outpatient treatment in a community mental health setting.  Beth developed strong networking ties within the community, with classmates, and with faculty and maintains regular contact.  "UNE helped me develop a strong sense of community partnership, as well as helping individuals find their own individual place in the world, while supporting and encouraging an individuals growth and sense of accountability with themselves and community" Beth shares.   Beth currently works as a Juvenile Community Corrections Officer for the State of Maine, as well as an Outpatient Mental Health Clinician through Smart Child and Family Services in Windham.   "Both provide me the opportunity to work with challenging populations, and continue to utilize the skills I developed through UNE's intensive clinical social work program!"