Featured Photo by Yoksel 🌿 Zok on Unsplash
May is Mental Health Awareness Month!  As part of Mental Health Month, we are featuring two organizations, The Yellow Tulip Project (YTP)and Shalom House.   YTP is a non-profit with the mission to smash stigma around mental health and build a community of of people who realize that hope happens when youth and community leaders work together.  The organization was co-founded by one of our MSW Students, Suzanne Fox, with her daughter.
Shalom House is
an organization offering hope for adults living with severe mental illness by providing an array of community-based mental health services and a choice of stable and fulfilling lives in the community.  Shalom House is one of our Field Placement sites and has provided invaluable insights to our program over the years as an active member of our community advisory group.
SAVE THE DATE!
we will have a table set up in the Wing Lounge (Alexander Hall) at the UNE Portland Campusthat will include the following:
 Yellow Tulip Project materials and suicide prevention information
Artwork from Shalom House's Art Program *though we cannot sell artwork on site, we can certainly connect you will the sellers!
Information about Shalom services for people living with chronic psychiatric illness
A collaborative art activity: Create a collaborative poster by responding through drawing or writing to the prompt "what makes you hopeful?" We will have a large poster board and art supplies on hand for anyone to use.
What is The Shalom House Art Program?
The mission of the Shalom House Art Program is to encourage self-expression through the visual arts for people living with psychiatric disabilities. Our goal is to provide a safe, supportive environment where participants can freely explore and express ideas, learn new skills and discover their strengths and abilities.  Check out this great VIDEO to learn more about the program.
What is the Yellow Tulip Project?
The Yellow Tulip Project is a youth driven non-profit that believes in smashing the stigma surrounding mental illness and building a community of people who realize that hope happens when youth and community leaders work together. The YTP is a small non-profit comprised of individuals with big hearts and even bigger goals.  They hope that someday mental illness will be as easy to talk about as any physical illness and are fiercely dedicated to turning this goal into a reality.  Since their founding three years ago, YTP ambassadors have spread all across Maine, the United States and even Japan and Barbados. Mental illness is a silent global epidemic that affects one in five people worldwide. "We want people to talk about mental illness, not feel isolated or feel alone," they say.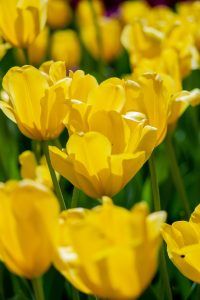 When founder Julia Hansen was in middle school, and until her sophomore year in high school, she felt alone  in grappling with her depression. The deafening silence and stigma that surrounds the topic kept her from reaching out for help. It took the tragedy of losing her two best friends to suicide in 2015-2016 for her to find her voice and to speak out.  She had an idea.  She wanted to create a space for determined youth to eradicate stigma, build community, and inspire productive conversations about how to combat the rising rates of suicide.
Julia's mom, Suzanne Fox, knew little about mental illness until her daughter shared her own struggles with depression one summer day in 2015.  Shortly after this, everything turned upside down with the back to back suicides of Julia's two best friends.  She and her daughter decided that together, they would do everything they could to spread awareness and fight the stigma surrounding mental health. The Yellow Tulip Project was born from this vision.
Suzanne is passionate about community building and fiercely dedicated to positive change.  She wants people to know that there is help and hope out there. She believes in the simple and compelling message of the YTP and wants it to spread to schools and communities far and wide so that people know things will get better and that suicide should never be an option.  
"Things will get better.  Suicide should never be an option."

-Suzanne Fox 
Suzanne is currently pursuing her Masters of Social Work at the University of New England with a focus on global mental health and stigma reduction across cultures. "While I've taught courses on cross cultural communication and Chinese history, it's been over 30 years since I've been a student," Suzanne shares.  Yes she remains unafraid and inspired.   "I know the coursework and experience in the UNE School of Social Work will only strengthen my work at The Yellow Tulip Project , particularly as I prepare to take this message overseas." Last month Fox received the Changemaker Award from The United Way of Greater Portland for her fierce dedication to action and passion for making things happen.  
A snapshot of what Yellow Tulip Project does:
We hope you'll stop by our table June 5th!! DETAILS HERE