Featured by Baim Hanif on Unsplash
The Westbrook College of Health Professions (WCHP) honored the Master of Social Work Class of 2019 last Friday, May 17th 2019 at a traditional hooding ceremony and the following day at the commencement ceremony.   MSW students were honored alongside graduates of the Master of Science in Nurse Anesthesia, Master of Science in Occupational Therapy, Master of Science in Physician Assistant, and Doctor of Physical Therapy (including online D.P.T.).
This year, UNE's on-campus MSW program graduated 44 students:

The hooding ceremony recognizes students' academic accomplishments and marks the beginning of their journey into the professional role of health care provider.  The hooding ceremony, believed to have originated in European universities in the 12th century, was first instituted to recognize graduating students as they entered into their scholarly careers.  Hooded robes were first used as a practical uniform for scholars as they studied and produced written works in often unheated medieval libraries. With the introduction of the printing press in the 15th century, robes became largely symbolic.   They differentiated students by academic majors and colors further signified those distinctions. Hoods later became detached ornaments, presented to graduates as part of their commencement. Hoods are still used today and are symbolic of a commitment to a scholarly life.
The UNE President, Dean of WCHP,  Assistant Deans, Program Directors and Faculty  all gather on stage to provide congratulatory words, announce honorary distinctions, and offer words of encouragement.  As part of the event, select students are acknowledged for their outstanding contributions to the department to which they belong and the college as a whole.  Two MSW students received honorary awards:
TWO MSW STUDENTS RECEIVE HONORARY AWARDS!
MSW student, Glenn Simpson received The Outstanding Graduate Student Faculty Cup
and
MSW student, Pamela Smith received The Outstanding Social Work Student Award 
The Outstanding Graduate Student – Faculty Cup:
Each year, select students are nominated from each WCHP program to receive the Faculty Cup.  A final nominee is then selected as the final recipient among all departmental choices.   This award recognizes and honors academic achievement and community involvement/leadership of graduating students.  The award is based on written nominations received from faculty and staff from each individual department that describes how the student nominee has demonstrated strength related to the following criteria: academic excellence including course and clinical work in combination with out-of- classroom breadth of leadership, whether individual or as part of a group related to campus/University initiatives or home community involvement; expression of interest in his or her fellow student as an individual; display of respect for student individuality and diversity; serving as a role model for students; and/or other distinguishing characteristics. In short, the successful student should serve as a role model for other students in their ability to demonstrate and maintain high academic standards, superior leadership qualities, collaborative working relationships, and service to improve the quality of life for others.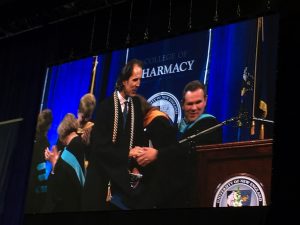 The School of Social Work nominated MSW student, Glenn Simpson.  The Dean's office makes the final decision, and it was announced at the hooding ceremony that Glenn was  the final recipient!  We are all so proud of the work he's done and continues to do, and we look forward to seeing what other great work he does as a social worker in the field!
REVISIT ONE OF OUR OLDER POSTS TO LEARN MORE ABOUT ALL THE GREAT WORK GLENN DOES IN THE SCHOOL, THE COMMUNITY AND BEYOND!
The Outstanding Social Work Student Award:
Similar to the Faculty Cup, individual departments select a student internally to receive the Outstanding Student Award for their specific department.  This year's recipient was Pamela Smith.    Director Shelley Cohen Konrad announced the award at the hooding: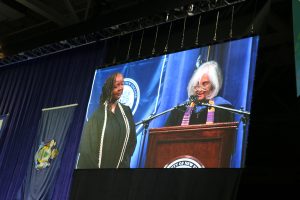 Pam is a remarkable individual.  We are so proud of her and look forward to watching her continue to touch people's lives in the field!
To echo the sentiment above, it is not an easy task to select just a few to receive honorary awards as truly, all our graduating students are extraordinary individuals we trust will go out into the world to do great work! We are so proud of you all.  Congratulations to all who graduated!   We look forward to continued collaboration.