Featured photo by Brooke Cagle on Unsplash
UNE's School of Social has recently expanded to include a fully accredited BSW Program which will graduate its first cohort of BSW students this year!
Jordan Simpson, a junior in the program made this great video about her experiences
[wpvideo e4kCDZ4B]
Not only does she share what it's like to be a social work student, but she elucidates the values at the core of social work that drew her to the field in the first place.  She also includes interviews with faculty members and a fellow student in which all reflect on their unique passions for social work (included at the end of post).
Interview with Jordan Simpson (BSW Student '21)
What drew you to social work? I've always had a deep love for helping others and a passion for social justice, inclusion advocacy, and community building.  I'm an amputee from birth so I've lived life through a unique lens that has naturally gravitated towards these themes, but I only learned about and began thinking of Social Work as a career when I was a Junior in High School working as a waitress at an assisted living facility back home. One of my bosses was married to a social worker and spoke with me often about his work.  Between my own personal experiences in life as an amputee, my volunteer work, and my interactions with residents, it just made sense for me to pursue. I did some more research and I fell even more in love with the social work values, beliefs and diverse hands on approach.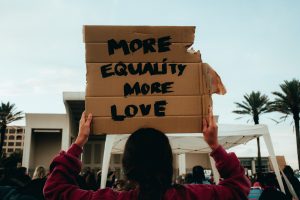 What areas of social work do you find most interesting?  I find it all fascinating, but I particularly gravitate towards macro policy work, as well as geriatric social work and counseling.   Growing up as a person with a limb difference, I have always had to be my own advocate (with the loving help and guidance of my mom as well!), so policy has always been of interest to me.  I was also particularly close to my grandparents growing up and have witnessed the impact of social work on older adults as a family member and as a waitress in the assisted living home.  I love listening to other people's stories and I think that counseling would be wonderful to explore more in my career as a Social Worker.
Check out our post, Clinical Social Work vs. Psychology: What's the difference? to learn more about the differences between an LCSW vs. Clinical Psychologist. 
Do you think you'll go on to pursue an MSW? Yes, I want to pursue an MSW dual law degree, or the Advanced Standing MSW (BSW 4+1)  followed by law school.
What do you eventually want to do with your social work degree? Lots of things! But right now I know I definitely want to do macro policy work and direct practice counseling.
Interviews with Faculty and Student
Jordan also shared her transcripts with us from her interviews with faculty and staff.  We've posted them below.  Enjoy! (And don't forget to watch her great video!)
What advice would you give to upcoming Social Work Students or those interested in SW? Once you see the world through the social work lens, it will change your perspective forever.  Social work is not for the faint of heart, so taking care of yourself is essential to have a sustainable career.  
If you could explain Social Work in three words what would they be? Awareness, reflection, action
What does Social Work mean to you? Social work is about compassion, empathy, advocacy, action, change, healing and recovery.  Social work means understanding how people's lives and circumstances are affected by the world around them and how they experience themselves as reflected to them by others. It is an understanding that people are affected and make decisions based on how they are treated in their community, by family and friends, public policy, faith, ethnicity, race, education, socio-economic class, traumatic experience, substance use disorder, opportunity, and place where they live. 
What is your favorite thing about UNE and this SW program? The faculty and students are smart, funny, amazing and dedicated to the profession of social work and the curriculum is well-thought out to provide students with the best education possible to prepare them for their career in the field.  I am proud to be an alum and faculty of UNESSW.  
What advice would you give to upcoming Social Work Students or those interested in SW? Social work is uniquely different than other helping professions because you can take so many different directions all from the same starting point. A BSW and MSW in social work open amazing doors to so many different career paths. It's hard to imagine any other profession where you can pursue your passion for either community practice, advocacy for social change, clinical practice, or any combination of these – all from the same degree and license. From there the options and choices multiply exponentially depending on where one wants to practice and the type of work one wants to pursue. It's a beautiful thing to be part of.
If you could explain Social Work in three words what would they be? Inclusion, healing, growth
What does Social Work mean to you? I wanted to dedicate my work-life to a career in clinical counseling. I looked closely at three of the most popular paths; Licensed Clinical Psychology Counselor (LCPC), Licensed Clinical Social Worker (LCSW), and Licensed Marriage Family Counselor (LMFT).  I chose Social Work because it was the only clinical path that viewed the client as the expert in their own healing and change process. Social work emphasized principles of client self-determination, a strengths perspective, and a person-centered approach. I couldn't have made a better choice.  Social work values are in perfect alignment with my own beliefs and values. I am grateful every day to be a part of this amazing profession. Social work is a third career for me and the first career where I feel I am doing meaningful work every single day.
Check out our blog post,  What is Narrative Therapy?  featuring Professor Owen's Narrative Therapy Course. 
What is your favorite thing about UNE and this SW program? I love that our program is on the smaller side, we are big enough to attract top talent in students and faculty as well as excellent grant opportunities, but small enough to create an intimate experiential learning environment.  UNE School of Social Work is a special place for me. I graduated from our program in 2001 and have been pursuing my passion of person-centered clinical service work ever since.  To make an amazing thing even more amazing, I have the opportunity to teach clinical social work in this wonderful program.  I am truly living the dream 😌
Interview with BSW Student, Jennifer Scanlan (Senior)
What advice would you give to upcoming Social Work Students or those interested in SW?  Don't listen to others when they say social worker isn't a real job or you won't make a lot of money.  It is an amazing and rewarding field to get into!
If you could explain Social Work in three words what would they be? Challenging, rewarding, fulfilling
What does Social Work mean to you? I get to spend my future doing what I love, helping people, and changing the world.  No matter how stressed out I get at times, I would not change my career path!
What do you love about the program? The professors are incredibly supportive and understanding. They take our suggestions seriously which is rare to see in a professor. And I  love clinical!  It is giving me a chance to really focus in on what interest me. Within my agency (field placement) I am able to work in different departments to learn all the different aspects.
Thank you Jordan Simpson for all your hard work!