Featured image by Sydney Sims on Unsplash
Thursday evening, October 17th, our stellar MSW student Kim Davis, has organized a storytelling event that focuses on intimate partner violence among young people aged 16-24  She has carefully planned the evening through collaboration with the Interprofessional Education Collaborative,  MSW Faculty, Amy Coha, Applied Arts and Social Justice Certificate Coordinator, Lori Power, Through These Doors, and Maine Boys to Men. The objective of this evening is to give a voice to the survivors of relationship abuse—physical, sexual, and emotional.
"1 in 4 women and 1 in 7 men have experienced physical violence by an intimate partner in their lifetime, and when cases of emotional abuse alone are factored in, the numbers are much higher."  Davis shares.  
People in the LGBTQ+ community are even more significantly impacted.  Additionally, the majority of cases are never reported.  Domestic abuse is a massive social ill that has gone under addressed for years because of the false narratives that are perpetuated, most of which say that domestic abuse  is an individual, private issue, not a social one, and that allows the grim statistics of this reality to be fragmented into blaming the specific people involved. The lies exonerate society from having any part. 
"In order to address domestic violence as a social issue, the School of Social Work Applied Arts Social Justice Certificate program has partnered with Maine Boys to Men and Through These Doors to host an IPEC night of storytelling for survivors in the most affected age group, ages 16-24″ Davis continues.  "The purpose is fourfold: To empower survivors with ownership of their story, to draw concentrated social attention to this issue in order to fight the false narratives which perpetuate this social injustice, to train healthcare providers who come into contact with victims of domestic abuse on a regular basis, but do not have appropriate training to properly care for them, and to bring hope to other victims."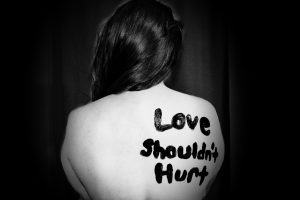 "As a future social worker, it is impossible for me to think about treating someone who struggles with the trauma of an abusive relationship without addressing the social context which allowed the abuse to ever start. This is a social ill and it requires a social solution." 
We hope you'll join us for a night of lifting voices and fighting social injustice.  There will be a facilitated discussion after the stories. Coffee and cookies will be served.  We hope to see you!
For more about our Applied Arts and Social Justice Certificate, check out some of our past posts:
How To Use Art in Social Work Practice
Pieces of Recovery: The Puzzle Project