Featured image by Jr Korpa on Unsplash Student Spotlight: Gravity by Lynne Schmidt is now available for purchase and review from Nightingale & Sparrow Press! 
"Gravity is a collection of poems that explores the rise and fall of an intense relationship. The kind where it feels the other person is the gravity keeping you anchored to the planet and you worry that without them, you may float off into space…." Schmidt shares, 
"then it is finding the strength to realize the relationship is not what you want, after all. It can be several years, several breakups, several attempts to turn yourself inside out only to find maybe this isn't the person you've been waiting for your entire life, and that you are the only person who can heal you." 
Lynne Schmidt  is a clinical MSW student at UNE's School of Social Work.  Her first placement was at the Sexual Assault Prevention and Response Services (SAPARS) where she initiated a Safe Bars/Hearts of Hospitality program for the Lewiston/Auburn area. During this placement, Lynne was certified as a Sexual Assault Support Group Facilitator, and she recently completed an Emotion Focused Therapy – 1 training from GETME.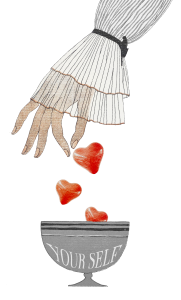 Her current placement is with the Institute of Equine Assisted Practices (IEAP) in Grey, Maine where they offer equine assisted psychotherapy.  She recently attended the Civil Liberties and Public Policy Conference, which she described as "a life changer" and a great reminder as to why she feels called to do this kind of work.  In 2018, she received a UNE School of Social Work Student Organization grant to fund a trip to Mississippi where she attended the South Eastern Women's Studies Association  and presented on the intersections of religion, trauma, and abortion rights.  She's also received GAPSA grants this year.
Alongside her social work achievements, Lynne Schmidt is also an accomplished writer and poet.  She won the Maine Nonfiction Award from the Maine based contest, Joy of the Pen, and was a honorable mention for poetry.  Her poem, Baxter, received Editor's Choice Award from Frost Meadow Review, and she was a 2018 and 2019 PNWA Literary Contest Finalist for her memoir and poetry respectively.
Lynne's reflections around how her "social work lens"  informs her writing:
"I believe there is a connection to writing, activism, therapy, and healing.  Much of my work delves into trauma, my personal diagnoses, loss, and/or activism.  Some of my notable publications this year were in the RESIST/RECLAIM collection, and War Crimes Against the Uterus.  In November, I'll be going to NYC to compete for the Creative Climate Change Awards with my poem, The Wood Chipper, which was written during my MSW Field placement this year. The values of social work align with my writing because I carry many diagnoses myself, and am what is referred to as "high functioning" within those diagnoses. I aim to let people know  they are not alone in their struggles – from abortion, to mental health, to family trauma, and to healing.
CHECK OUT A SAMPLING OF SCHMIDT's POETRY HERE:
Breathing Patterns from Back Patio
 To Make You Love Me from Crepe and Penn
NOW!
Schmidt's most recent writing accomplishment is Gravity, a book of poetry that is available NOW from Nightingale & Sparrow's online store and through major US distributors. For consignment opportunities or digital review copies, contact press@nightingaleandsparrow.com​. Interviews and other promotional opportunities may be available upon request.  We hope you check it out!! 
For more on Lynne Schmidt, check out her Author Page, Twitter, and Facebook.
Art by Yumi Sakugawa