Kara Auclair, MSW '16
Justice Project Coordinator, Maine Volunteer Lawyers Project, Portland, Maine
We recently interviewed Kara Auclair (KA) about her UNE experience and her current career, and this is what she had to share:
How did you wind up in your current job?
KA: I currently work as a Justice Project Coordinator at the Maine Volunteer Lawyers Project. I fell in love with Maine when I came to work for Americorps Vista here after my undergrad. I knew I wanted to stay after I finished here at UNE, and out of all the places I interviewed, this was the job I really loved. We represent clients in Maine who can't afford attorneys and connect them with volunteers who can provide pro bono assistance. I was very interested in doing kind of more community based social work, and the mission of the organization is very close to me.
What made you decide on UNE as a place to study?
KA: UNE's reputation as a school that would be able to provide you with the, not only a quality education but also the hands-on experience of internships was something that really attracted me. It's also an institution that's known for serving the community and following through, and as someone with an interest in social work, that was huge. I've been awarded a lot of opportunities in my life. I wanted to give back in the most effective way possible, and studying Social Work at UNE seemed like the best way to do that.
What do you like most? What do you find most rewarding?
KA: There were so many things that were rewarding. The professors and the relationship that I built with them was something I haven't found at any other educational institution I've been a part of. I was able to connect with, with my friends in the social work program in a way that was really special and extremely beneficial. From classes to internships, we were kind of on this journey together. It was really rewarding to build those relationships, many I still have today.
How did your time at UNE impact you as a student, a person, and a professional?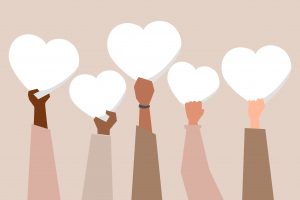 KA: As a student, UNE pushed me in a way that was empowering and helped give me a new perspective. I had a lot of bias and preconceived notions about the way that the world works for certain groups of people, particularly people experiencing homelessness as well as experiences around substance use disorder.  My internships as well as the classes that I was taking completely changed my perspective and let me understand the barriers that so many individuals face in seeking housing and treatment for substance use disorder as well as help me understand what it means to really see a person as a person. Now, I see the world completely differently. In all the interactions I have in my personal and professional relationships, I now see the world through the lens of how I'm positioning myself. 'What are the power differences here? Where am I able to see my bias?'  Almost all of the individuals that we serve have experienced incredibly difficult challenges of some kind. Reevaluating, my interactions have helped me better understand their trauma in a very concrete way, which is essential in a field where compassion is a necessity.
"UNE pushed me in a way that was empowering and helped give me a new perspective." – Auclair
In Kara's time at UNE, she was the Rydell Scholarship Recipient.  Learn more about Scholarships and Stipends HERE. 
What advice would you give to current students who may be job searching or graduating soon?
KA: The Maine Association of Nonprofits has a great job board that has a lot of really wonderful opportunities, which was where I found my job and where a lot of my friends look to for opportunities. I would also say to look at the relationships you've built in your time here. There are also a lot of professors who have connections in the community, and they might know about different opportunities that might be available. Look back at groups you may have interned with, is there an opening at the organization or do they know of other opportunities that might be available to you? I would also recommend seeing if there are any volunteer opportunities, they can definitely help you make more connections, and be a great way to give back.
What are you most proud of?
KA: I think that I'm just really proud of the perspective that I've gained from UNE because every time I look at a situation, I feel like I have an understanding of what the right thing to do is and how I can most be of assistance or support for a person that I'm working with. I feel so much more confident having gone through the Masters in Social Work program, and I'm really proud when I can put that knowledge toward serving my community.
What is your favorite UNE memory?
KA: In MSW, there were times we would meet outside of class either at a restaurant or bar and just kind of debrief on our internships and how classes were going. It was such a warm environment. When someone would talk about what they were struggling with the validation, advice, and warmth that would come from the group would just lift us all up. I'm still very close with quite a few of my classmates, and we text each other and ask for advice and congratulate each other when something good happens. But I just remember those dinners being so special because I'd never had that during undergrad or any other time in my life.
Thank you Kara! Keep up the amazing work!