Featured photo by Jakayla Toney on Unsplash
To continue with our Mental Health and Covid19 series, we reached out to MSW Faculty and Trauma Certificate Coordinator, Arabella Pérez, LCSW for some of her insights.  Here's what she had to say:
Managing Stress and Cultivating Emotional Resiliency: 
Managing stress and cultivating emotional resiliency has never been more challenging during my lifetime. I have spent the past few weeks viewing webinars and reading articles on the topic, and the consensus is that this is a marathon, not a sprint. I've been going back to my touchpoints, Dan Seigel, Bruce Perry, Gabor Mate, Peter Levine, and absorbing it all. The "takeaways" that I'd like to share with you are as follows:
Titrate your exposure. Take a break from the news, from social media, from what the Director of the World Health Organization, as paraphrased by Dr. Mate, calls the "Infodemic." Too much info won't necessarily help you. We need some recovery time.
Stress is inevitable. Find the split second in between each breath to notice the stress. Name the emotion. That's what it is an emotion. Anger, fear, sadness. They are neither good nor bad; they just are. In that 2Oth of a second between the trigger and our response, there is an opportunity to interrupt. You might have some choice here. This is where a deep breath helps.
The experience of fear and helplessness is very real when faced with a threat. We tend to collapse into it, and we cope by engaging in activities that help us avoid ourselves and our feelings. These are adaptive coping skills. Notice them and notice that there is an opportunity here to have a new experience in the body that contradicts the fear and helplessness and signals to the body, "it will be ok." Movement, meditation, breathwork, an activity… These are other skills you can try on.
Remember, all these emotions are functional. They help us feel powerful. They give us energy. They help us advocate. They also can be the source of pain and suffering. Here's where we can practice kindness with ourselves and our emotions.
Focus on your inner experience. "I don't want to be afraid, but fear is present." Accepting this emotion is not a passive action. It's actually engaging with the emotion. "I see it, and I can bring it to the forefront and find a way to manage it."
When we approach our emotions, we do better versus avoiding them. We become active in the process of feeling versus becoming detached and "deactivated."
Science shows us that social connection is the most buffering element when it comes to toxic stress. Consider identifying a touchpoint person if you currently don't have someone that you connect with daily. Just asking, "how are you" provides the connection that many of us need.
Practicing gratitude can help, but forced gratitude rarely feels good. Instead, think of ways of increasing the places where gratitude already shows up for you.
Resources:
A few resources that I recommend for more information on how to manage stress and learn about emotional well-being during COVID 19 are as follows:
Breathe: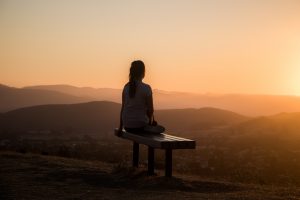 Lastly, try one of the above on and if it doesn't "fit" that's ok.  Keep trying something on until you find the fit that works for you. Here's what fits me, breathing. I'm a fan of Linda Graham's book, Resilience: Powerful Practices. You can go to her website for three great breathing techniques.  My favorite is #2. The parasympathetic sigh! I LOVE to sigh and my students know that when I sigh it doesn't mean I'm frustrated. It's just me taking in a deep breath and regulating my nervous system! Give it a try:
To quote Shakespeare, "So long as men (we) can breathe, or eyes can see, So long lives this, and this gives life to thee."
UNE's Trauma-Informed Certificate:
UNE's Trauma-Informed Certificate prepares MSW students to become practitioners and leaders versed in trauma theory, the neurobiology of complex trauma, the effects of working with trauma, and evidence- and community-informed practice on the micro, mezzo, and macro level. The certificate allows students to design a course of study (at no extra cost) that prepares them with skills and tools that can be applied on both micro- and macro-practice levels.
To learn more about the trauma certificate, visit our website HERE and for more student stories about how they used their trauma certificate, check out some of our past blog posts:
Featured Image: Breathe by Carla Llanos