Photo by Mayurgala on Unsplash
As part of our Mental Health and COVID19 Series, today we are featuring MSW student, Kim Davis.  Kim is enrolled in UNE's MSW on campus program option and is on the 3 year part-time track.  She's just completed her second year.  
Minimize Comparative Suffering and Maximize Empathy:
Navigating COVID-19 looks different to everyone.  While some are in the heart of an urban COVID-19 hotspot,  others are isolated in their rural homes; While some have lost parents, siblings, aunts, uncles, friends, or other loved ones, others may be caring for a vulnerable loved one or perhaps are holed up alone in an 800 sq. ft apartment filled with worry; While some face the demands of being on the front-lines caring for patients, stocking shelves, or delivering food, others suffer the loss of businesses, jobs, and have had to cancel milestone events like weddings, graduations, and other important rituals.  Despite the category of loss or change, we can all find solidarity with the stunning nature of this unprecedented pandemic.  We have all experienced the effects of COVID-19 on some level. 
"One thing I've learned through this is to truly respect the individuality of traumatic times," shares Kim.  "We all process differently and experience trauma differently, but whatever it is we're feeling is equally real for all of us.  Don't minimize your own feelings of despair, fear, loss or grieving because it's all valid. It all matters."  
Kim is a big fan of Brené Brown, social worker, researcher and #1 NYT best-selling author, who is a big proponent of not falling susceptible to comparative suffering.   "I discovered the work of Brene Brown about 5 years ago, and her research on shame, vulnerability, empathy, and connection changed my life," Kim tells me.  "As she says, we are hardwired for CONNECTION. It's in our DNA." 
Brown weaves comparative suffering into her other research.  She believes comparative suffering is born from the myth that empathy is a finite resource.  She spoke about this recently on her new podcast, Unlocking Us and directly related it to the pandemic.  Unlocking Us has become a fast favorite among her fans, offering solidarity and solace as it grapples with core questions around what it means to be human. She explains that in the face of this pandemic, many are operating from a place of fear and scarcity.  Scarcity is "the first cousin of fear" and tells us: I don't have enough. Will there ever be enough? How can I get enough? When we operate from this place, we not only want to grab all the toilet paper and hand sanitizer from the shelves, but "even our pain and hurt are not immune from being assessed and ranked," says Brown,  "without thinking, we begin to rank our suffering and use it to deny ourselves permission to feel."  Our pain cannot be ranked, however.  Empathy is not finite and neither is love.  In fact, they are exactly what we need to get through times like this.   
"People are crying and they don't know why they are crying," Kim continues, "we don't always realize the impact of ritual and habit in our lives, but when things are taken away, we realize what these rituals mean and how they frame our lives.  Everyone is experiencing loss to some degree." 
"How can we honor our need for connection throughout this time of social distancing?  What will the effects of this time of disconnection look like in a month? A year?" Kim wonders.   "I'm grateful to have had a chance to study Brown's work in school, especially as it builds on relational cultural theory, (a theory core to UNE's Curriculum) which teaches that we grow 'in and toward relationships.' I believe that understanding will allow us as future social workers to help people move back into connection after this time, and heal together as we begin to process what life will look like post COVID-19."
Interpersonal Violence and COVID-19:
Kim has a strong interest in Interpersonal Violence and did her Field Placement with Through These Doors this year.   She is particularly concerned about victims of Interpersonal Violence right now.  "We know that domestic abuse has increased during this time. Victims are stuck home with their abusers and have limited opportunities to call a helpline. Isolation is one of the abuser's best weapons, and this pandemic has allowed that isolation to be iron-clad." All this puts increased pressure on helpline advocates to do creative safety planning. Kim remains confident they are up to the challenge.  "Brilliant advocates at Through These Doors are working non-stop to be able to provide support and services for victims. 
If you are reading this, and you are in a relationship with someone and you are not feeling safe, emotionally or physically, reach out for help. You may feel alone, but you are not alone. Help is available. Even if you just have a feeling that something is not right, but you can't quite put your finger on it, call if you are able. Advocates are available 24/7, and it is confidential.  1-800-537-6066 
Finding Balance Amidst COVID-19:
Kim shares some insights around how to stay centered: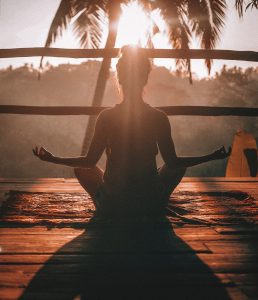 Go for walks outside – be in nature

Take care of yourself – eat well.  Don't drink a lot of alcohol

Get good sleep

Get your body moving every day

Connect with people to the best of your ability. (Kim shares she's been able to spend more time with her children, one of whom has moved back in with her.  It's been a treasure! 

If you have a spiritual practice, now is a good time to utilize that

Limit the news (I'm a political junkie, but I'm trying to abstain). Stay updated, but look for hope. 

Breathe!  The science on breathing techniques is really solid and anyone can do it anywhere! Get that parasympathetic nervous system going.
For more on BREATHING check out our most recent post by Trauma Certificate Coordinator, Arabella Pérez:
More About Kim: 
Q: What drew you to social work? 
A: Social work gives my faith legs. I am a Christian and I have always looked for ways to meet the needs of others, but I did not have the training I needed in order to do that in a really practical way. I love the combination of social work education with my previous education in theology. They fit perfectly together.
Q: Why UNE in particular? 
A: I wanted to study trauma and best treatments for it, so the trauma certificate was compelling. I also loved the opportunity that UNE has to weave in the use of creative arts in social work practice. But most importantly, I was drawn to the expertise of many of the faculty. They have invested in me, in projects I have undertaken, and in my professional growth.
Q: What have been some of her favorite takeaways from the program thus far? 
A: I had an epiphany when I realized (in "the use of creative arts class") that I could take what I had learned about trauma (particularly the trauma of intimate partner abuse) and create social change by using the arts to engage the hearts and minds of the community.  The greatest blessings about being a student at UNE are the relationships I have formed with my classmates and the faculty!
For more on Kim and her work with Interpersonal Violence visit: A Night of Storytelling: Maine Voices Against Violence
For updated COVID-19  resources, check out our new COVID-19 Resources Page: