Featured image  by munshots on Unsplash
To Our Beloved Community:
George Floyd's last words "I can't breathe" continue to reverberate across the world instigating powerful protests calling for justice in the wake of his killing. Projections of Mr. Floyd's words on buildings, graffiti portraits, and the words 'Black Lives Matter' boldly painted on the street leading to the White House, retell a very public story resurfaced by a profound tragedy. The story of racism and racist violence has smoldered for centuries. It's been told before, roused, then silenced. But this time the anti-racist narrative has gone viral. It cannot be ignored – it will not be silenced.
We also cannot ignore that in combination, COVID-19 and the disease of institutional racism have brought to light deep historical traumas. Both "pandemics" disproportionately affect communities of color. Disparities in access to quality healthcare has resulted in COVID-19 having a more deadly impact across Black and Brown populations a scenario not unlike other racial injustices that have taken place for more than 400 years.
The University of New England School of Social Work stands with those who across the nation and the world are outraged by the senseless murders of George Floyd, Ahmaud Arbery, Eric Garner, 12-year-old Tamir Rice, Breonna Taylor, and Treyvon Martin, to name only a few publicly recognized deaths. We are frustrated by persistent and insidious systemic racism. Right now, the undeniable ravages of COVID-19 are at the forefront of its impacts on Black and Brown communities, but lack of access to healthcare is only one of many under-acknowledged forms everyday racism. Discrimination takes place in employment, housing, quality education, and social services, behavioral health being among them. Racism further intersects with intolerances such as heterosexism, Islamophobia, sexism, antisemitism, and is deeply embedded in racial/cultural biases that prevent so many from fully actualizing their hopes and dreams.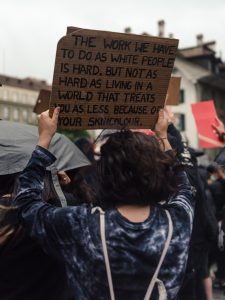 Last week Maine State Representative Rachel Talbot Ross, made it clear that statements of support are no longer sufficient responses to racist violence and human rights violations. She calls upon everyone to "put out your statement if it reflects a truth that you live by and expresses the way that you will be held accountable in all of your actions to end racism and xenophobia and Islamophobia".  Each of us has a role in dismantling racist violence. And though it's easy to focus on the actions of others, we recognize that the exigencies of racism exist within our own profession. Seventy percent of social work professionals identify as white. Significant racial disparities make access to social work education out of reach for minorities and the 'vulnerable' populations that the profession pledges to serve.
We recognize that in order to be part of a greater solution we must examine our role in perpetuating the problem. We must be accountable and then we must act. We must also call upon our colleagues and community partners to join in this collaborative accountability.
Social workers are professionally and morally obligated to challenge social injustice and racism. Preparation for anti-oppressive practice begins in the classroom. To address racism and other forms of bias within our culture, structure, programming, and practices the School of Social Work is proposing the following immediate actions:
ACTION STEPS:
Launch an advisory group to inform anti-racist programming and practices
Support student-led anti-racism initiatives
Infuse anti-racist programming into new student orientation
Require all SSW students to read and faculty to discuss How To Be An Antiracist by Ibram X. Kendi in selected classes
Engage diverse community members as informants to SSW curriculum committee
Require faculty development focused on implicit bias and racism
Form a 'One Justice' Collective as a standard SSW committee whose goal is to ensure accountability to anti-racist, social action, inclusion, and accountable programming
Engage with other college and university programs to promote anti-racist education and policy
Explore how to enhance diversity of students and faculty in the School of Social Work
We believe that outrage must be balanced with cautious optimism and resilience. Glimpses of hopefulness are emerging as police officers join peaceful protesters and police departments across the nation are enacting wholesale reform. The NFL's Roger Goodell publicly acknowledged that they "were wrong" in vilifying antiracist sentiments and actions. Former Secretary of Defense General James Mattis has called for national leadership to unite rather than divide the nation.  President Obama among other national leaders sense a sea change in the collective mindset. The growing anti-racist movement is mostly young, racially mixed, and tenacious, not unlike our students. They fervently believe that as Americans, we can do better. We agree. Consider this our statement and hold us accountable to transform social work values into action.
-The University of New England School of Social Work