As part of our COVID19 series, we are reaching out to our alumni to find out how they're doing, how they've been impacted by current events, and what their plans are moving forward.   Today, we feature Kallie Dorsey MSW '19.
Kallie: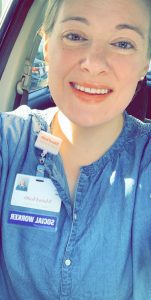 Kallie is originally from Texas.  She got a BSW in undergrad, moved  to Alaska for a few years after graduating, and joined AmeriCorps, which eventually landed her in Maine.  In 2018, she applied to UNE's MSW Program (On-campus option)  as an Advanced Standing student and completed her degree in just one year.  Kallie strongly believes that all human beings have value, and it is this belief, alongside a desire to alleviate human suffering, that drew her to pursue an MSW.
Did you know UNE School of Social Work is an AmeriCorps Matching Institution? Click HERE to learn more 
Kallie says she's loved living in Portland Maine, particularly for it's foodie culture.  "I'm a huge foodie so I'm obsessed with going out to eat at all the local spots in Portland.  It's both a blessing to my taste buds and a curse to my wallet!"
Kallie pursued two certificates as part of her MSW, one in Training in Aging and Diversity and the other in Trauma-Informed Care.  She graduated with an Interprofessional Honors Distinction as she participated in both the Interprofessional Rural Health Immersion and Mercy Pain Clinic.    
What has she been up to since graduating?
Kallie is currently a Medical Social Worker through MaineHealth.  She helps individuals who have just been discharged from the hospital or rehab or who have a chronic condition and need at home care.  Generally, Medicare and/or Mainecare covers these home based services.   She works with a variety of age groups, but many of her clients are older adults (50 or older).  Her Training in Aging and Diversity has certainly come in handy, she shares.  
The care she offers depends on the entirety of each individual's situation- physically, mentally, emotionally, and spiritually.   Sometimes she may be connecting them to resources or out patient services while other times she may offer services like continued mental health support- therapy or other emotional support- for both individuals and their care givers.  
Initially, she will schedule an introductory appointment which averages 1.5 – 2 hours.  She performs a biopsychosocial assessment and creates an individualized plan of care.  Follow up appointments are generally one hour each.   She works with her clients to set up her visits.  She might meet with a client once a week for 4 weeks, or, if the individual has a strong support system and minimal needs, she may only visit once or twice to get them set up with the appropriate resources.   Sometimes she does dual visits with other disciplines like nursing, PT, OT, speech therapy, dietitian.   The client is always at the center of care and Kallie's plan will always be guided by client needs. 
SEE THIS VIDEO ABOUT INTERPROFESSIONAL COLLABORATION AT UNE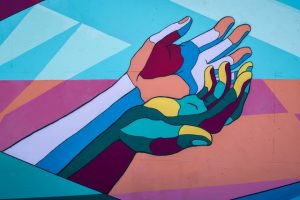 How has COVID-19 affected her work? 
As many of her clients are in the "high risk" category for COVID19, Kallie's work was greatly affected by the pandemic.   In addition to helping them through whatever health need first connected them, she was also helping to alleviate many of the stressors and fears associated with being among the vulnerable through this pandemic.  Kallie describes the challenges of triage.  For a period, they had fewer clients and provided services to only those deemed very high need who had little or no caregivers.  About 2/3rds or so were temporarily discharged.   This, alone, took a great emotional toll on workers and clients.  When everything began, she worked entirely from home doing Telehealth.  "It was challenging not to really be in the environment with them – to really see how their medical condition was affecting their ability to thrive in their space."  Nurses were sometimes the only ones seeing patients, so interprofessional collaboration was necessary.  "I needed to rely on them for my eyes," shares Kallie.  She said she noticed an increase in anxiety and depression within patients and their caregivers and even among their own staff.  The staff created support systems for one another.  They would jump in to take comfort calls, or what they called "care calls."  "It was sort of like crisis intervention," Kallie explains, "as nurses visited homes, if they noticed anything alarming or observed a specific mental health need, they would send an email out through the charting system and ask us to check in."  Emails were  sent out to all MaineHealth staff as well, offering mental health services to them if needed.   Kallie received lots of calls- some from nurses struggling with the emotions associated with discharging patients, others from employees feeling exhausted and overworked due to work redistribution, while others just wanted to process their thoughts and emotions.  She'd focus a lot on self-care, maintaining clear work boundaries, and reinforcing Cognitive Behavioral Therapy skills – re-framing etc.   
What's she doing now?
Kallie has now returned to doing home visits.  Things are certainly not what they were before, however.  She must dawn extensive personal protective equipment (PPE) before each visit.   Each patient must do a screening for COVID19 before she enters the home, and she herself must do a screening. She wears a mask, a safety shield and must wipe everything down and change out her PPE between visits.  "It all takes a lot of energy," she shares, "but I also know it's necessary, and want to keep my clients safe."  
"The most rewarding thing about my job is truly meeting people where they are, literately in their homes, and experiencing the trust that patients have in me to assist them through some of the most challenging times in their lives.  It's an honor to have patients and their loved ones open up their home and lives to me" 
How has Kallie been coping, herself? 
Kallie has been trying hard to keep up with her work outs and long walks.   It was challenging not having  as many friends, family, or social outings as usual.  Much of her family is in  Texas and Louisiana, so she spent a great deal of time on facetime calls.  She has two roommates, which is also helpful.  They are in the health care field as well, so this helps them relate to and support one another.  One finishing UNE's OT program this year and other is nurse at Maine Med).  "I also got some fun impromptu co-workers!" she adds.   They cook, eat, and take lunches and walks together.   Reading has also helped her stay balanced.  A true social worker, her current bedside books cover topics such as human rights, feminism, and anti-racism.  "You'd think I'd want to read something else" she says with a chuckle.    She also took advantage of therapy herself.   She shares that all the uncertainty around COVID19, employment etc. affected her own anxiety,  and it was helpful to process.    "If you need help and need to process – even as a mental health provider-  it's good to dedicate that time to take care of your own mental health" 
Community 

Support
Kallie shares that she's been touched by seeing so many community members reaching out to her clients.  "I've seen neighbors helping neighbors more than ever – particularly older individuals who don't have a lot of family.  We've even had community members reach out to be pen pals to some of these people.  Children have sent encouraging messages and sent drawings- it's great."  
Comments on the Black Lives Matter Protests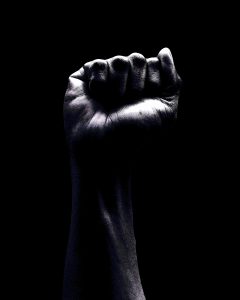 "I went to one BLM protest and was so overwhelmed with emotion, it brought tears to my eyes…just the energy…it's been amazing to see this kind of momentum and support."  Kallie shares her cautiousness, however, about getting too involved in large protests as she is taking care of older populations and needs to be careful about COVID19.  She shares she is trying to remain supportive in other ways and is inspired to see the communities coming together at such a large scale. 
CHECK OUT THESE 7 GREAT BOOKS ON ANTI-RACISM
How has your MSW Education helped you? 
"I definitely feel my classes were helpful," says Kallie.  She gives huge accolades to the Trauma classes in particular. "They've been extremely helpful as so many of the people I work with are chronically ill, and it helps better understand them when you understand the impact of past traumas/life experiences on physical health."  The course on social work with older adults has also been extremely helpful.  "Doing life reviews and reflecting back on past experiences with them and focusing attention on their perseverance through hard times…utilizing all of this as therapy has been very effective."  
READ BLOG POST ON NARRATIVE THERAPY
Words of wisdom for incoming students:
"Take advantage of every opportunity UNE throws to you. Even if you don't know where it's going or where you'll go with it- just take it.  You never know what you will get out of it.  The Rural Health Exchange, for example or Mercy Pain Clinic- these were both so eye opening to me. Take advantage of Interprofessional opportunities.  Take extra classes even!  You're in school! Take advantage of it all!" – Kallie Dorsey '19