Unique among social work programs, UNE's MSW Applied Arts and Social Justice (AASJ) Certificate lets students design a course of study that puts the creative process front and center of their MSW pursuits.  Students work with real people in real need, where the love of creativity combines with stimulating social work curriculum to promote real change.
UNE's AASJ certificate was recently featured in the NASW Social Work Advocates Magazine.   The certificate is  obtained as part of pursuing an MSW through UNE's on campus MSW program option.   The certificate is available to all on campus MSW students, despite their progression timeline- 2 traditional full-time, 3 or 4 year part-time, or our 1 year Advanced Standing track and is coordinated by faculty member, Lori G. Power, M.A., Ed.D.
Applied Arts and Social Justice Certificate students follow the Integrated Clinical Practice Specialization just as any other student, but they enroll in specific creative arts courses to fulfill 2 of their 3 Elective requirements  They learn about different creative therapeutic modalities in the courses and then are able to effectively implement one for more as they coordinate with Dr. Lori Power to develop a creative project at their field placement or in the community.  Projects might include painting and healing with adolescents, theater or writing with incarcerated youth,  the healing power of music for veterans with post-traumatic stress disorder, or narrative poetry with older populations to name a few.  Dr. Power shares that when the certificate first began, she would often come up with ideas for students, but as the certificate has gained momentum, she says students come up with ideas now almost faster than she can keep up!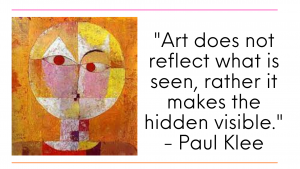 The program does not certify students as an art therapists, but teaches them how they can utilize different art modalities in their practices as they provide therapy as Licensed  Clinical Social Workers.  "There are many ways of communicating that fall outside of language," shares Dr. Power, "Social workers can use these forms of communication like music, images, sound, and movement to connect with clients in less traditional, but deeply profound ways."
This is exactly what students are learning to do at UNE. See for yourself by visiting these blog archives:
CLICK HERE to download the original piece in Social Work Advocates  (pg 15)