Libby Arsenault will be entering her final year of our MSW On Campus Program Option this fall 2020 on the 4-year part-time track. She's already accomplished much in her 3 years here with us.  We recently interviewed Libby and she shared her thoughts on the widespread protests around racial discrimination.  Keep reading for her reflections.
To learn more about UNE'S On Campus Curriculum and Progression Timelines visit our website
Reflections on Black Lives Matter: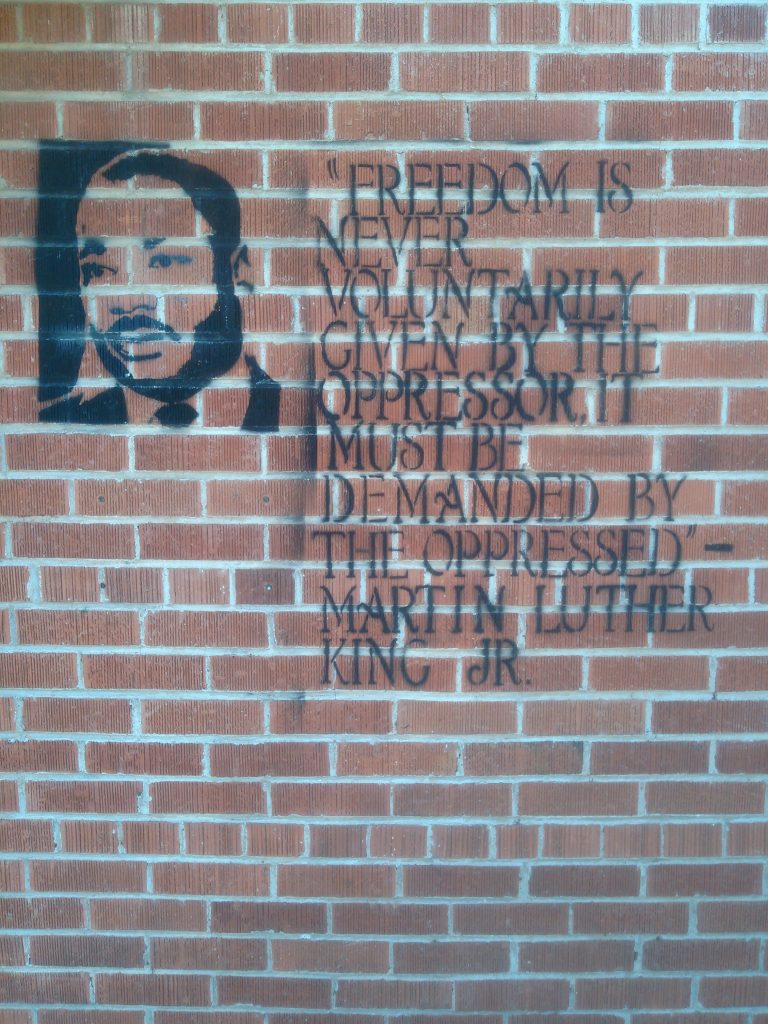 Libby currently lives in a small town in Massachusetts with her 16-year-old daughter and 20-year-old son and works at a Children's Psychiatric hospital.  She works as both a mental health counselor and a human rights officer, reporting to the Department of Mental Health.   She says she's participated in Black Lives Matter protests with her daughter and below, reflects on one particular event, "I took my daughter to a protest in Haverhill, MA, which is much more culturally diverse than our hometown.  It was important for me to bring my daughter as I want her to have more multicultural exposure.  About 3000 people showed up and we marched together about 2 miles to the city hall.  There, a handful of teenage girls of color spoke about their experiences of racism.  The whole thing was entirely organized by these teenage girls from the high school.  It was great.  On the march back, my daughter started a chant herself.  Previously, she'd joined in with chants, but this was the first time she took the initiative to start one, herself – it was great to see her come out of her shell in a way I wasn't expecting."
Taking Action: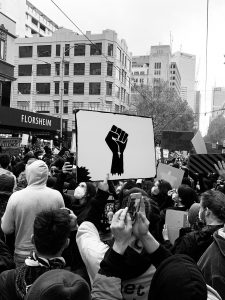 "I do hope to see some real meaningful policy changes come out of this. While the protests are amazing and I think it's important to keep the momentum going, there needs to be true systemic change.  I've been trying to rethink how I can help more – what my role can be.  Right now I've been trying to educate myself more."
Libby shares that she's been browsing anti-racism pages about how to support local legislative changes and recently joined a local Facebook group about how to combat racism in her town. Through this, she's connected with two other social workers in her town and has been attending Culturally Responsive Workshops through zoom. "I feel like I'm learning so much.  I'm also reading this book, Waking Up White, by Debbie Irving and have been listening to the New York Times podcast 1619.  Both are really great!  There's a lot to unpack, and I'm honestly sort of ashamed about what I didn't know about American History."
She's also thinking about writing the CEO of her employment about better representation among people of color.   She acknowledges the harmful impact lack of racial representation plays in health care settings.  "As the human rights officer, I've raised this issue before, but I plan to return to it.  Many of the children at the hospital are children of color, and most staff are not."
Check out this Hidden Brain Podcastabout how our identities and representation shape our health and educational success
"There was one particular boy, I remember, who came to the hospital and wouldn't come out of his room for days," says Libby, "he shared he was the only black kid, as he said, on his football team and shared a story with me about how one game, his white team mates were calling the members of the other team (who were mostly black), the N-word.  This was extremely alienating.  He filed a complaint about this, but nothing was ever done.  He was never heard.   One day I just said to him, 'it must be really hard for you to trust us here…we're all white,' and you know,  it honestly felt like a beginning- he began to trust me more, and he opened up and shared more stories of experiencing racial profiling.  So yes, I feel like now is an important  time to follow up on this issue of representation."
What do you find the most rewarding about the work that you're doing? 
"What keeps me going back to the children's psychiatric hospital is that I really love working with the youth. They're easy to connect with because they're so honest. I mean, they may try to hide their emotions, but I feel like they really share with you- they'll tell you exactly what they're thinking. You get this automatic feedback – are you really doing a good job or not? And they're fun! And I really enjoy connecting with them. I don't see them as "sick" kids either, even though many treat them like "sick kids." I'm truly honored they trust me."
What lies ahead for you? 
"In my work, I see so many broader issues impacting these kid's lives- poverty, social determinants of health, these major systemic issues- and I feel like we wouldn't see so many of these other mental health issues manifesting if some of these bigger systemic issues were dealt with. I want to be in the community more, helping change some of these bigger issues. I want to do more. I feel like sometimes it's like putting a band-aid on bigger issues. That's why I went to graduate school. I wanted to be better equipped to deal with these things.
How has UNE directly impacted how you now work? 
UNE has impacted my current work in that I've been able to sort of zoom out and zoom back in again- to look at bigger issues that impact kids. For instance, we have a lot of kids who are smoking cannabis all day long to get through their day. So I'll use a harm reduction approach. They are really responsive to that. There are other staff that say "just stop altogether" and that doesn't seem to be effective. Motivational interviewing is another skill that is useful even when I don't have a lot of one-on-one time. Craig Owens's solution focused therapy tips have been really helpful. The doctor is asking for the symptoms and I'm asking for your story. Solution focused therapy with Craig really changed how I ask questions. Now I ask them, well where do you want to be? How do you want your life to be different instead of just focusing on the problems? I just feel a lot more confident in sharing my view at work, making suggestions for treatment plans.
Visit our post Music, Healing, and Social Justice to read about how Libby infuses music into her social work education