Lynne Hatch is an MSW student with us on the part-time track, expected to graduate in May 2022. She is pursuing both the Applied Arts and Social Justice Certificate (AASJ) and the certificate in Training in Aging and Diversity (TRIAD). We recently interviewed her about her Applied Arts and Social Justice Certificate Project. Here's what she had to say:
Lynne Hatch
What drew you to want to pursue the AASJ Certificate?
I choose to pursue the Applied Arts and Social Justice Certificate because I have witnessed and felt first hand the power that Art has to transform a conversation. Art has the ability to move people to action, to reframe how we see an issue. I wanted to learn more about the many different modalities and push myself to think more critically on current issues through an art lens.
What was your AASJ Project?
Artist, Luis Camnitzer is quoted as saying "Art is a dialogical process, and the work is only fully completed as a result of that dialogue."  Dialogical processes refer to the meaning that transpires in the interactive spaces between the artist and those experiencing their art. The goal is that the art inspires a dialogue that has life and meaning on its own, and continues to create meaning beyond the creation of the work itself.  My goal with my AASJ project was to engage my community in this sort of dialogue through a temporary art installation.  On a heavily trafficked road, I used discarded masks to form the shape of a mouth and I then posted reflective questions in a community facebook forum.  I did this project as my MACRO level social justice assignment for the summer 2020 Creative Arts & Social Justice class. We were just entering the phase of the COVID19 pandemic in which the country was beginning to open up again and mask mandates were being implemented. I wanted my community members to feel challenged and encourage conversation. I wanted to not only inspire reflection and dialogue around how our communities were handling the pandemic, but I wanted community members to reflect on how communities outside our predominantly white rural Maine community were experiencing the pandemic as well- how it was being experienced and handled across the country.  By using discarded masks, I also wanted to raise critical questions around recycling and environmental impacts- how can we balance environmental considerations with the health and safety of millions?  Another intention of this pop-up art installation was simply to provide a platform for connection through a time many were feeling extremely isolated.  I wanted to open a platform for a conversation- a space for our community to share experiences and thoughts, despite our differences.  My goal was to engage community members via a Facebook event page that would be shared across multiple personal, professional and community pages. In my small community of roughly 7K, I had over 2k views. The feedback was AMAZING! Here are some examples of comments below:
I saw your installation and asked myself, "Right, is recycling now no longer an issue? "
Very creative! I feel like it's indicative of our need to stop talking and start listening, especially as it relates to those experiencing racial injustice.
Sometimes I feel silenced by my mask, thank you for pushing me to think more critically!
I appreciate your use of this empty, now vacant space, that was once the epicenter of our neighborhood.
What do you want to do after you graduate?
After graduation, I would like to continue to explore the use of arts, its therapeutic effects and impact on individuals, families, and communities who are affected by Substance Use Disorders (SUDs). I plan to use several art modalities to encourage those directly impacted by SUDs , to help give voice to their experiences, their grief and their triumphs! I want to continue to explore ways to bring these stories out of the shadows and reduce the stigma surrounding SUDs!
What have you learned about the use of art in social work practice you find particularly compelling and/or you want to put into use in your own practice?
I find the use of visual arts, be it sculpture or collage, whatever, to be very confronting, as well as affirming and helps create meaning about the world around us. Our world is reshaped and presented to us with a new lens, it's exciting and challenging and pushes our perceptions and sense of understanding things at a deeper level. I will always use art in my own practice. For me, at the time of this particular project, at that particular time in my life, art allowed for me to have a voice. It allowed for me to have creative expression, when I was overcome with managing the many aspects of my life, I had art and this art project to ground me.
What is/was your favorite thing about living in Maine?
My favorite part of living in Maine, (Southern Maine) is the richness of the natural environment.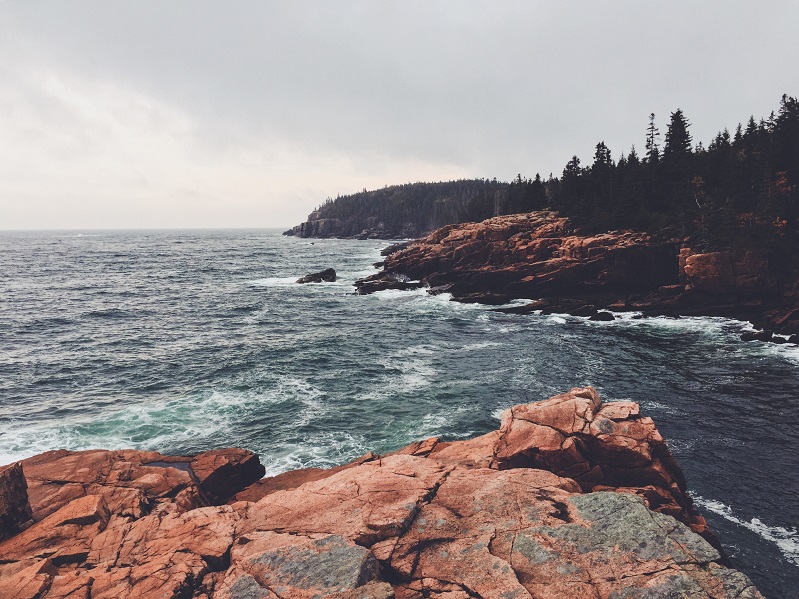 I will say however, that while I love the natural environment and the richness it provides my soul (i.e. my capacity to think clearly and feel reinvigorated), I am continually frustrated by the lack of engagement it receives from schools, businesses, organizations, etc. I would like to be able to find more tangible ways to bring Social Work and issues of environmental practice and attention to environmental issues of our time. In Southern Maine, for example, York specifically, where I live, we are less than a 1.4 mile from a rich ecosystem of mountains and the ocean, and yet I don't see them being incorporated nearly as much as they could in fields of study and/or student engagement. Environments should be part of our practice, should be brought into public education whether rural or suburban. I want to explore this area of Social Work/Social Justice more. I hope to incorporate art into new learning around social work's role in environmental policy, impacts, etc.