As part of National Social Work Month, we're spotlighting students, alumni, faculty, and friends to reveal how essential social work is to our communities. Today, we feature a guest post from alumna, Kristen Gingrich, LCSW LADC. Many of you may be well acquainted with her already through her clever and insightful social media platforms ( instagram and tiktok as @notyouraveragethrpst). Kristen graduated in 2015 and continues to work closely with the program. She currently works in rural Maine as a licensed clinical social worker and certified drug counselor. I'll leave it to her to tell you the rest!
Meet Kristen:
Hi! Some may know me as @notyouraveragethrpst on tiktok and instagram but to most people, I am just Kristen. I am a licensed clinical social worker and a certified alcohol and drug counselor here in the state of Maine. I spent the last 5 years working as an outpatient therapist working in rural community mental health. Last year, I took a position as a program clinical supervisor and now oversee other outpatient therapists and case managers while carrying a small case load. On my days off, you'll find me either spending time with my husband and 3 year old with a dunkin' coffee in hand, attempting to make DIY projects from Pinterest (that are clearly out of my league), making funny & relatable tik toks, or walking around ULTA eyeballing new makeup pallets.
I graduated UNE in December of 2015 after completing the Accelerated Track.* It was intense, but worth it. To this day, I am still well connected to the University. Most recently, I served as a panelist as part of UNE's Trainings in Aging and Diversity (TRIAD) and discussed the impact of social isolation and loneliness on community mental health. There are several professors I remain in frequent contact with, and I have spoken in multiple classes as a way to bring real world social work experiences into the classroom. I enjoy being able to give back to the same program that shaped me into the social worker I am today and helping future social workers as they enter the field.
CLICK HERE to learn how you can earn $10,000 through UNE's Training in Aging and Diversity (TRIAD)
How are Social Workers essential?
"You're the first person who has ever really listened to me." I heard this statement from a client a few years ago during one of our sessions, and it has stuck with me to this day. I remember sitting there, awe-struck, that throughout this person's entire childhood and into their adult life, they'd never truly felt heard. No one had ever truly listened to them. All it took for them to feel heard was to hold space for them to be themselves. This client spent so much of their life suffering in silence, feeling as though they couldn't speak up, or that if they did, no one would care.
We live in a world that doesn't value talking about the actual struggles of real people- the real stuff. It's often hidden behind closed doors or beneath blankets where no one can bear witness to these tragedies. That's where social workers come in. Whether it is in a therapeutic role, an advocacy role, or even just an everyday human role – we talk. We raise awareness. We don't let these things hide in the dark. Mental health is one of the largest growing health crises and has been increasing exponentially since the start of the pandemic. Social workers are here to address this.
I have never met a social worker who isn't afraid of talking about mental health, even if it's their own mental health. We talk about it openly. We don't shy away from difficult subject matter . We normalize the fact that suffering is part of being human. We need to talk about it so people feel less alone. We validate individuals' struggles and hold space for their truths. We advocate everyday in our work lives and our personal lives because this is something that matters to us. It matters to me.
Since the beginning of this pandemic, I have witnessed firsthand the growing struggles people face. I saw it with my friends and family. I saw it in social media posts. I processed it with clients. I work in a community mental health clinic in rural Maine and see the pandemic's effects everyday in my client's lives. Most of the clients we serve are either at or below the federal poverty line. Resources were already limited before the pandemic and have only grown increasingly limited and difficult to access. Programs closed their doors for many weeks while the stay at home orders were in effect. Individuals lost transportation from friends, family members, and even community programs that helped them access resources and bring them to medical appointments. People who were already isolated became more isolated as their appointments became virtual.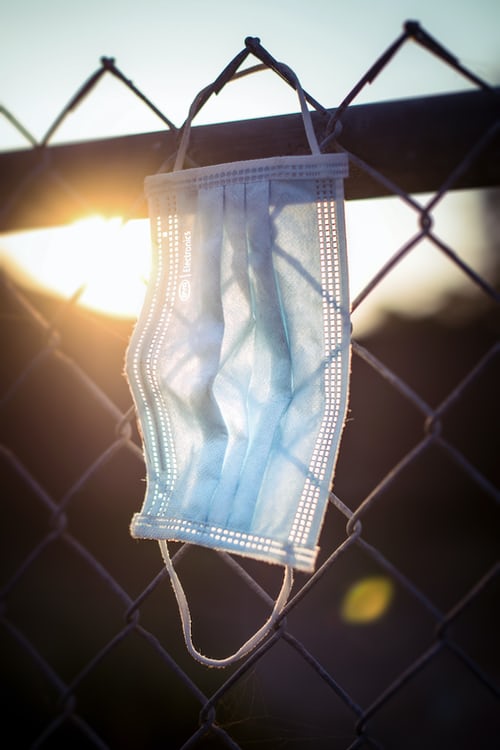 Alongside our wonderful and hardworking doctors and nurses who are on the front line fighting each day to help stop the spread of and treat individuals with COVID-19, Social Workers were also working behind the scenes. We are working hard to find stability for our clients, to help establish a sense of normalcy in a world that changes rapidly each day. We collectively watched our world experience a trauma and knew we needed to step in to help. We supported clients whose mental health started to deteriorate because they were isolated, no longer had access to services, or because they did not have the resources to engage in telehealth appointments. We talked about the trauma. We talked about the fear, and the increased suicidal thoughts that they were experiencing, all while we ourselves, were experiencing similar things.
We provided a space for people to talk about these struggles rather than keeping them bottled up or pretending they were not there. We showed up for our clients in some of their darkest moments because life did not pause when the pandemic hit.
I did not just see these struggles within my practice, but I saw it play out in the lives of my family and friends too. I saw it in the social media posts of strangers on the internet. As a social worker, I know I have a voice and that I can use it. The primary reason I took to social media was to make psychoeducational and fun content for people to learn from and relate to. I did this because I wanted to normalize talking about mental health and the struggles most of us were facing in those beginning months and continue to face now.
CHECK OUT KRISTEN'S INSTAGRAM HERE

Many people struggle to find precisely the right words to describe how they are feeling, or they invalidate their own experiences. I used my own voice as a way to help provide others with language and confidence to express themselves. I want to show that they are not alone in their experiences and feelings. Each day I see new connections being formed; I see people sharing stories of reaching out for help and discussing topics they were afraid to broach before.
As a social worker, I believe it is my job to normalize these conversations- in both my work life and my personal life. It's my job to show that there is help out there. There are people that you can talk to. It doesn't make you "weak" to ask for help. In reality, it shows strength. So here we are, each and every day, showing up in this world, advocating for more positive changes.
If you feel like you are struggling with your mental health please reach out to your medical provider or utilize psychologytoday.com to find a therapist in your area.
If you find that you are in crisis, here are several Crisis lines throughout the USA
Maine Statewide Crisis Hotline
*UNE no longer offers an Accelerated Track, but there is an Advanced Standing option for those with a BSW already who want to graduate in just one year. Learn more HERE.