Kim Davis LMSW-cc '21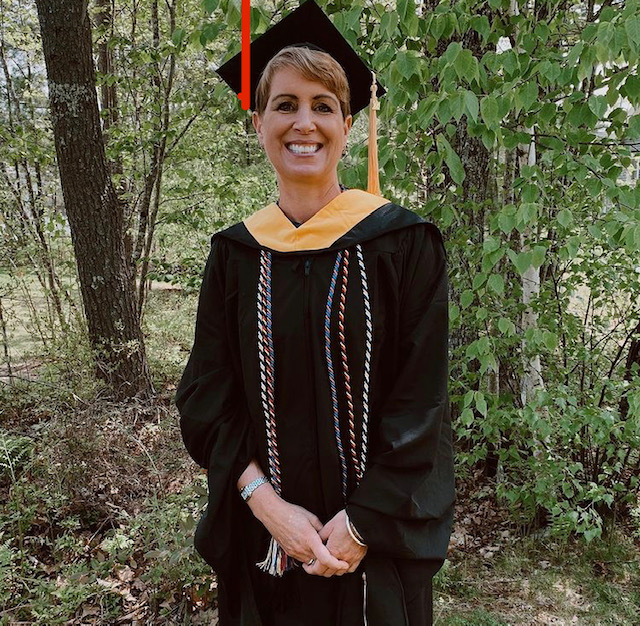 WHAT HAVE YOU BEEN UP TO SINCE GRADUATING? I've spent most of my time studying for my licensing exam which I just recently passed! I've also been working part-time with the EAP (Employee Assistance Program) of the organization I interned with last year and plan to continue work with them part-time once my license is official. The other part of my job will entail working with counsel trauma therapy associates developing therapy and programming for people coming out of abusive relationships.
WHY UNE? I know about UNE from professionals in the area. UNE grads have a reputation for being very good at the work they do, so that initially directed me to UNE. After learning more, I felt more drawn to the program, particularly with the Trauma certificate, which is my focus. I also wanted to integrate school into my life and community. For me that was really important and through UNE, I was able to do that.
WHY SOCIAL WORK? My first Masters is in Theology and I've always been interested in how people think about themselves and their purpose in life, particularly when faced with road blocks. I think social work dovetails well with theology, making a complete whole. I can meet people where they're at, love them unconditionally as they are, and help without judgment. I've said this before, but I feel like social work has given my faith hands and feet.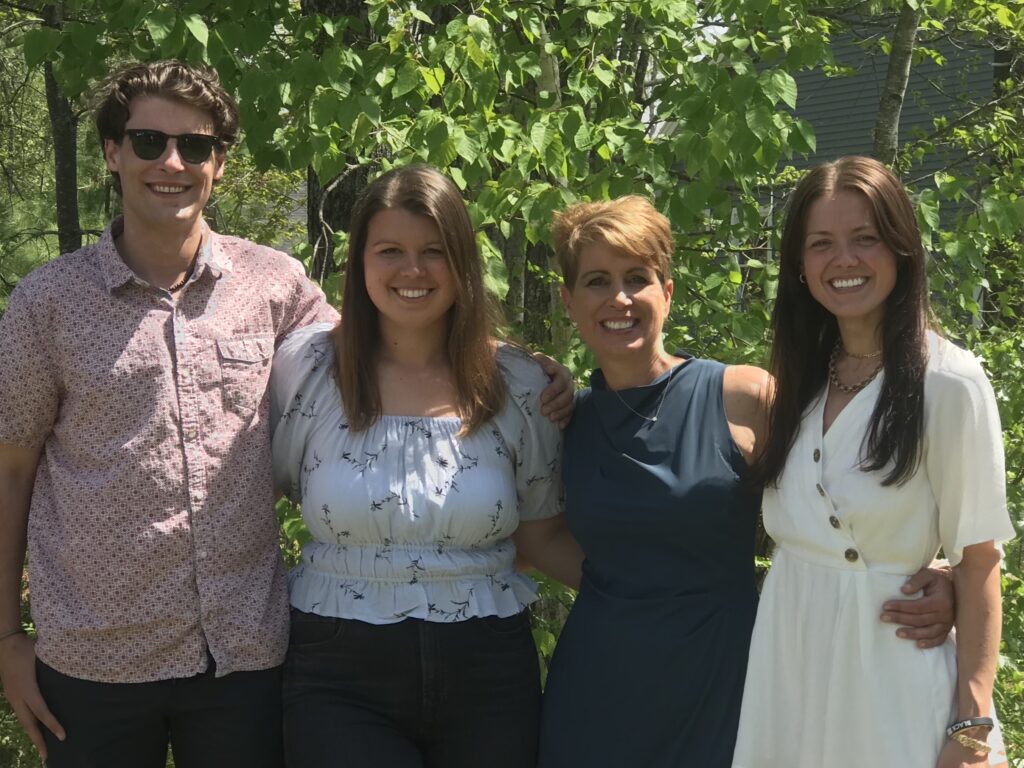 HOW DID FIELD EDUCATION ENRICH YOUR LEARNING? My first year placement was at the shelter for Through These Doors (TTD), which is Cumberland County's Domestic Violence resource center. Then in my second year, my clinical year, I worked with an EAP for a local Maine company. The two together were great. The first year was somewhat of a crash course in trauma. You never knew what to expect when you showed up each day, which actually made it exciting and interesting and taught me to continually think on my feet, adjust and pivot. It was great to be able to practically support these women who were obviously at a very scary point in their lives. I did a lot of different things there. I worked the help line, in the shelter, with women one-on-one. I was even able to go to court a couple of times and so I got quite a broad picture of what abuse looks like when it's come to this point and what the rebuilding effort looks like, as well as the amount of social support women need in order to move forward to find housing and employment and get the proper counseling. It all fit so well into my area of focus as well, trauma. The staff and advocates at TTD were incredible. They never hesitated to spend time with me to help me understand if I had questions. My second year was really a time to start putting into practice what I had been studying in class in terms of clinical models, how to engage with people and create that therapeutic relationship, which I love doing. Interestingly enough, I took on a lot of DV cases there too. Not intentionally, but they just ended up with me. Domestic abuse is an equal opportunity offender. It's everywhere. At TTD I wasn't able to work directly with the women in a therapeutic sense, but here I could, and that was really exciting! My supervisor was also amazing and could help me think through and process it all, which was super helpful.
HOW DID EXPERIENTIAL AND INTERPROFESSIONAL EDUCATION ENRICH YOUR LEARNING? I really believe social change happens best through the use of creative arts and engaging people's imaginations and not just their analytical minds. When you engage someone's imagination, you're engaging their heart. The Creative Arts and Social Work course really got me thinking about this. As part of the course, I partnered with Maine Boys to Men and Through These Doors to put together a storytelling night for young adult victims of relationship abuse (Maine Voices Against Violence). We know that for victims of trauma, being able to share stories can be incredibly healing. There were advocates and staff members there, and the school was so supportive. The whole event was beautiful and really put more of a fire under me to do more of that social change work. This was also done in collaboration with a Dental student, a Nursing student, and a College of Osteopathic Medicine (COM) student. We all brought a different lens and a range of gifts and abilities to the process. The whole group, all of us together, is what's needed for social change. When you're trying to reach society at large, people who think differently, having an interprofessional team allows you to see and share from a variety of angles. This whole experience taught me how important interprofessional collaboration and the creative arts is to that process. When we have 1 in 4 women experiencing abuse, we have to keep finding innovative ways to push for social change.
WHAT'S YOUR FAVORITE THING ABOUT UNE? My classmates and the community that we formed, which the school set the framework for, but I just love my classmates.
TIPS FOR SCHOOL/LIFE BALANCE? Get a really good planning system! Look at your entire semester of work at the beginning of the semester and plan it out. Take a look at when things are due, write them in your planner, then take a step back and ask yourself, when do I need to start? How do I work best? Do I need to start something a week in advance? 2 weeks in advance? Include your work schedule and everything else. Keep it organized and check in with it often so as little as possible takes you by surprise. You will have hiccups and you need to build in time for those hiccups.
WORDS OF WISDOM TO THOSE CONSIDERING UNE's MSW PROGRAM? Look closely at the certificate options . These are really wonderful opportunities. They help focus your intentions. Social Work can be so many things, which is one reason it's so great! There are so many opportunities and you can change what you're doing throughout your career. But if you're coming into it and it's new, I think focusing on things that really get you excited can give you a strong focus amidst studying a very broad range of things. If you have a particular passion, do your research project on that. Tie it all together. My research was on trauma, for example, and I furthered that in my final project for the trauma certificate and in the papers I wrote for courses and wove it in the storytelling night. Everything had a particular focus, which made it more exciting for me.

WHERE WAS YOUR FAVORITE STUDY SPOT? I have one particular chair in my little home office that was my favorite study spot. If I was writing, I'd spread out at my kitchen island because there, I could just have my papers everywhere and play my music. I've never really been a library study person, so this worked well for me!
LAST TV SHOW YOU BINGE WATCHED: Right now (Summer 2021) I'm binge watching the show, Manifest. For a fun TV show though at the end of stressful days, particularly when you're in social work school- I'd say watch Life In Pieces. Very interesting family dynamics but it's also hilarious.
ONE THING I WISH PEOPLE KNEW ABOUT BEING A GRAD STUDENT IS…..There's a lot of work involved and it's something on your mind constantly. It's not that I haven't loved it- it's just hard to put down.
FAVORITE SPOT IN MAINE: Kettle Cove Beach in Cape Elizabeth