To celebrate March as Social Work Month, we are posting about why the time is right for Social Work on the blog. For more information about this year's theme, you can check out our previous posts or the NASW website.
Today we spotlight social work faculty Arabella Pérez, DSW, MSW, LCSW. Below she shares about her career, how her work has changed since the pandemic, and why she believes the time is right for social work. Keep reading to see what she has to say!
How long have you worked in the field?
I have been a practicing social worker for 30 years, 25 of which have been spent in here in Maine. After receiving my masters and doctorate from Tulane University in New Orleans, I have had a very varied career. I have been a case manager, I have worked at a shelter, I have worked with adolescents who were impacted by HIV/AIDS, I have worked as a trauma therapist and a clinical director and even founded my own nonprofit. Now I am a professor at UNE and have also been consulting for about 15 years on issues of organizational change and trauma-informed care.
How long have you been with UNE?
I came to UNE seven years ago to become the Coordinator of the Trauma-Informed Care Certificate.
What are your primary areas of expertise/interests?
My primary areas of interest are trauma-informed care and cultural responsivity. In addition to being a professor, I am also a local and national consultant. I was recently appointed as the Diversity, Equity, and Inclusion (DEI) Faculty Scholar for UNE in the Fall of 2021 and will serve in this post for two years. As part of this role, I am working to help the University think about the ways we can infuse more DEI in the way that we teach classes, the way we create spaces in the classroom, and the ways students can provide us with feedback.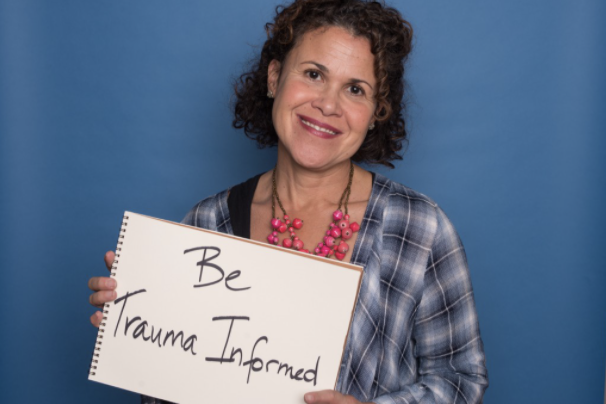 How has your work changed since 2020?
Because I do a lot of consulting, much of my work outside of teaching at UNE has been on Zoom since the start of the pandemic. I used to get to travel for the Federal Government but I am not traveling anymore. I have gotten really good at doing workshops on Zoom which I didn't think was possible. That doesn't mean that I don't get tired of being on Zoom because I do, but I would say I've been able to pivot quite nicely in my consulting work.
Organizations have also been in greater need for consulting services since the pandemic as they struggle with staff turnover and low morale. Because my interests and research center on vicarious trauma and resiliency as well as self-care and burnout, I can help organizations unpack what's going on using the latest in brain science and breaking down how burnout, vicarious trauma, and compassion fatigue are different. I also help them work on how to provide interventions to assist individuals who are struggling.
In your opinion, why do you believe now in particular, "the time is right" for social work?
Both the pandemic and the murders of George Floyd, Breonna Taylor, and Ahmad Arbery illuminated issues that we as social workers have be aware of for quite some time. The pandemic has revealed a lack of adequate healthcare and unequal access to services, especially as it relates to mental health. Since 2020 there has also been more attention placed on issues of racial injustice, diversity, equity and inclusion because of the deaths of the three individuals I mentioned. Now that there are resources being allocated to behavioral health services and attention being paid to systemic racism and DEI, more people are recognizing how much we need social workers. People need quality services and we need to have an empathic workforce of social workers to meet the growing needs in our communities.
What advice would you give MSW students or people considering entering in the field in the wake of the pandemic and other global current events?
Although the past two years have been challenging, these are also exciting times because more attention and resources are being dedicated to issues we have not emphasized before. For instance, telehealth has become more much widespread in practice. Also, we are focusing more on community resiliency. We know that individuals can be resilient, but we now also understand that communities and organizations also need to be resilient to support those folks. These shifts make it an exciting time to enter the field!