As a part of the Applied Arts and Social Justice Certificate at the University of New England's MSW program, students are required to plan and execute an arts-based event. We caught up with Ericka Pyles, class of '22, to learn about her experience completing the AASJ certificate and the virtual art group she developed for her field placement.
Q: What advice would you give a student who was considering the AASJ certificate?
I would encourage all MSW students to consider the AASJ certificate, even if they don't think they are creative or artsy enough. The creative arts are a powerful tool to have as a social worker, and the AASJ required class was one of my favorites in my time at UNE.
Q: Could you tell us a little bit about the group that you created?
I created a group focused on exploring and creating art together called Arts in Community. The group was offered to UNE's Legacy Scholars (more about that program here) and ran for 4 weeks over the spring semester. I held a sign up period for the group where Legacy Scholars could sign-up, ask questions, and let me know what type of art they were interested in exploring and creating. There were between 4-8 attendees each week, with a few busy Legacy Scholars attending portions of the group.
I've often seen how our culture minimizes the value of creative arts, and because of this we tend to internalize that creating art is only for certain people and/or our creativity isn't good enough. This suppresses one of the coolest parts of being a human – we are wired to create! The research shows that engaging in creative activities has positive effects on our cognitive and emotional functioning, and a powerful way to support our mental health. Being creative in a group setting has also been shown to support connection and community with others, which is another integral part of being a human.
With all that in mind, I created the Arts in Community group. Each group, we would explore artwork together, create work inspired by our exploration, and then if we wanted, share our creations with each other. The first group explored art by Ashley Bryan and Lisa Congdon, two prolific artists whose art is often full of color, shapes, and personal imagery. Using the suggested or our own art materials we then created an image inspired by their work. It was so much fun to see what everyone created, and how they interpreted their inspiration.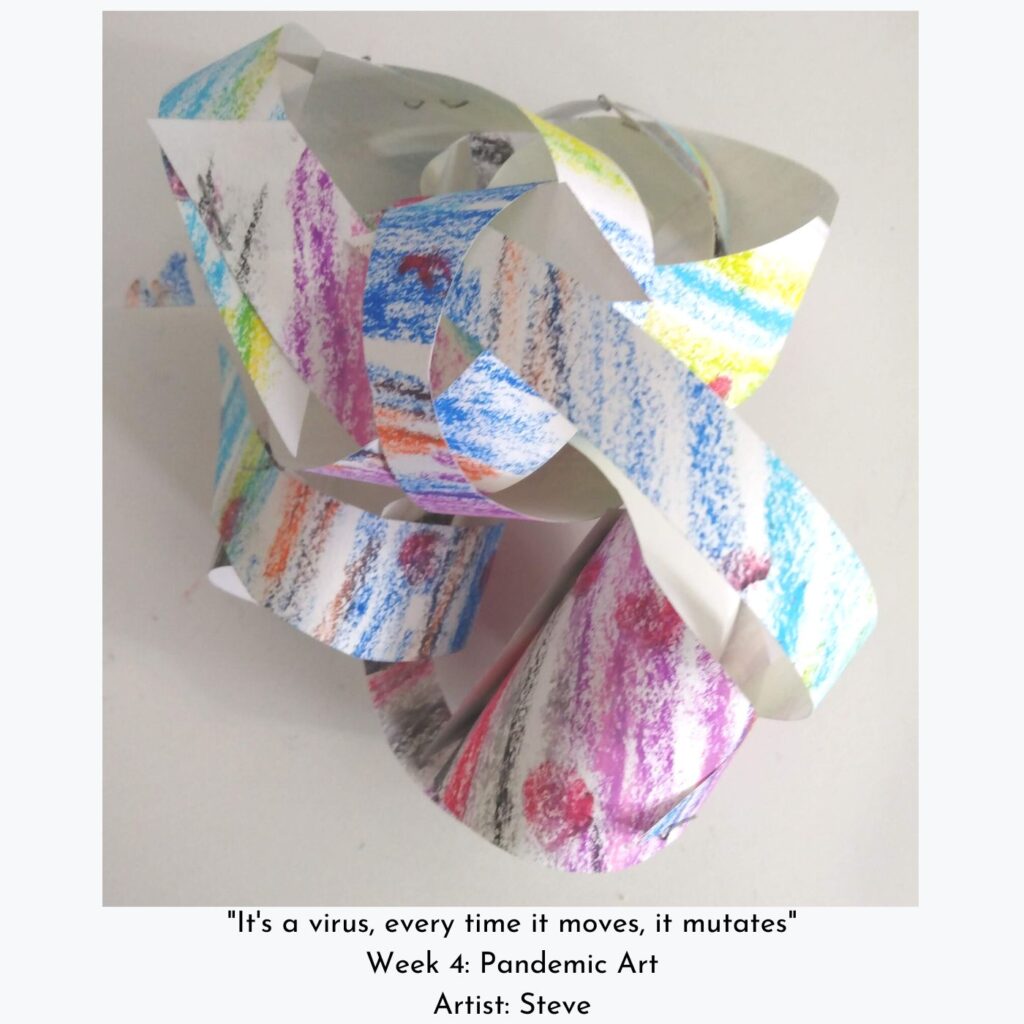 Q: What did you learn through your AASJ certificate that inspired you to create this group?
As part of the in-depth research component for the AASJ certificate, I did my research project on how arts-based interventions improve the quality of life for older adults. I was pleasantly surprised to find the amount of research that supports arts-based interventions improving the well-being and quality of life for older adults. The arts have a way of accessing and engaging our emotions, thoughts and facilitate connection with others. I kept this knowledge at the forefront when creating the Arts in Community group.
In the AASJ class, one of our assignments was to research and create a workshop. I created my workshop based on the research on how warming up our body and mind helps fire up our creativity and mind-body connection. Each week, I offered a warm-up activity before we created. The first week, I led the scholars through an I Am Creative affirmation where we each imagined and moved our bodies as if we were painting a billboard with our favorite colors. A couple of scholars didn't notice much of a difference afterward the warm-up, but most found the warm-ups helpful in centering and loosening up the mind and body.
Q: The pandemic surely brought a new dynamic to running an art group with it being online – Did you learn anything in particular about online groups through this experience?
Absolutely, hosting a virtual art group can be quite different from an in-person art group experience, but I've found that virtual groups have some perks over being in-person at times. Virtual art groups allow for greater accessibility for people who may not be able to attend an in-person group for various reasons. Being in your own home or using your own art supplies can also support your creative process in a way that being in-person cannot. Of course, not everyone has a bunch of art supplies around their home, so it was important to me that everyone could participate if they just had a paper and pencil.
Another important consideration for me was how to best use our virtual platform, which was Zoom. Zoom fatigue is real; however, I don't see it as inevitable. At the start of each group, I went over the Zoom logistics, encouraging attendees to turn their camera on or off as they preferred, and encouraged them to unmute as background noise allowed. I also checked to see if they were familiar with the chat function and encouraged them to participate as they felt comfortable.
There was a moment in the first workshop where everyone's cameras were off and I feared they were all bored or disconnected.. It was just a fleeting moment of panic as the facilitator, but I chose to lean into the process and trust the scholars were turning their camera off when needed as I had encouraged. It was totally fine. Cameras went on and off throughout the group without a problem.
Q: Were there any moments of the group that really stood out? What memories will you take with you to your future work?
I think this group will always stand out for me, since it was the first group where I blended social work and art. And, the Legacy Scholars are so supportive, kind, and interesting! I enjoyed getting to know each of them and hearing their thoughts on the artwork and how it inspired them. The last group, they gave me lovely feedback and well-wishes for my work in the future and I was able to share that creating with them in the group was one of the best parts of my semester.
Interview conducted by MSW Student, Steph Worth '23
Featured image by Jené Stephaniuk on Unsplash