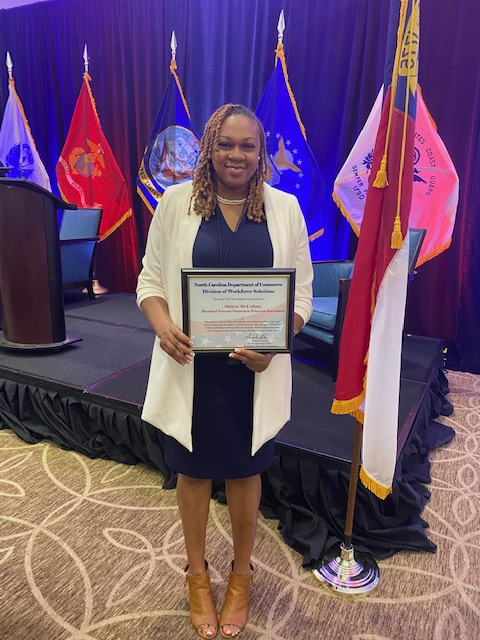 Name: Shikea McCollum
Year of Graduation: 2017
What is your current job and what does your work entail? I work as a Disabled Veteran Outreach Program Specialist/ Female Veteran Table Talk Coordinator. I assist veterans with significant barriers to employment and help them become job ready after transitioning out of the military. I connect Veterans with community resources and services. I coordinate a quarterly meeting for female Veterans to learn about The Jobs for Veterans State Grant, share available resources, and connect with other females Veterans.
What are the biggest challenges and greatest rewards of your work? The biggest challenges I face in the work that I do is getting veterans to overcome the barriers that may keep them from securing stable, gainful employment. I work to address barriers such as service-connected disabilities, homelessness, and recent transition out of the military and serve vulnerable populations such as Veterans ages 18 to 24, Vietnam Veterans, Veterans that are justice-involved and Veterans with no high school diploma or GED. The greatest reward of the work that I do is seeing Veterans overcome all of the barriers that were holding them back from being successful in their life after the military.
What drew you to social work? I needed a social worker, so I became one! After, getting out of the military I met two social workers that really helped me transition back into Civilian life. They help connect me to housing, employment, education and other community agencies!
Why did you choose to come to UNE? I choose UNE because the mission allied with my social work vision.
Where did you do your field placement(s), and how did your field placement(s) enrich your learning experience? Family Services of Caswell County. This field placement enriched my learning experience by giving me access to board meetings, county commissioners meetings and community events. I was able to see first-hand how social workers can change a community! I was also able to understand the gaps and lack services due to policies. This learning experience really strengthened my interest in policy development and policy change.
Do you have tips around managing work/life/school balance? Time management and prioritizing are the two greatest tips of balancing life/work/school.
The Fun Stuff
Last TV show you binged: This is Us.
"One thing I wish people knew about being a grad student is _______.": It is challenging, but worth it.