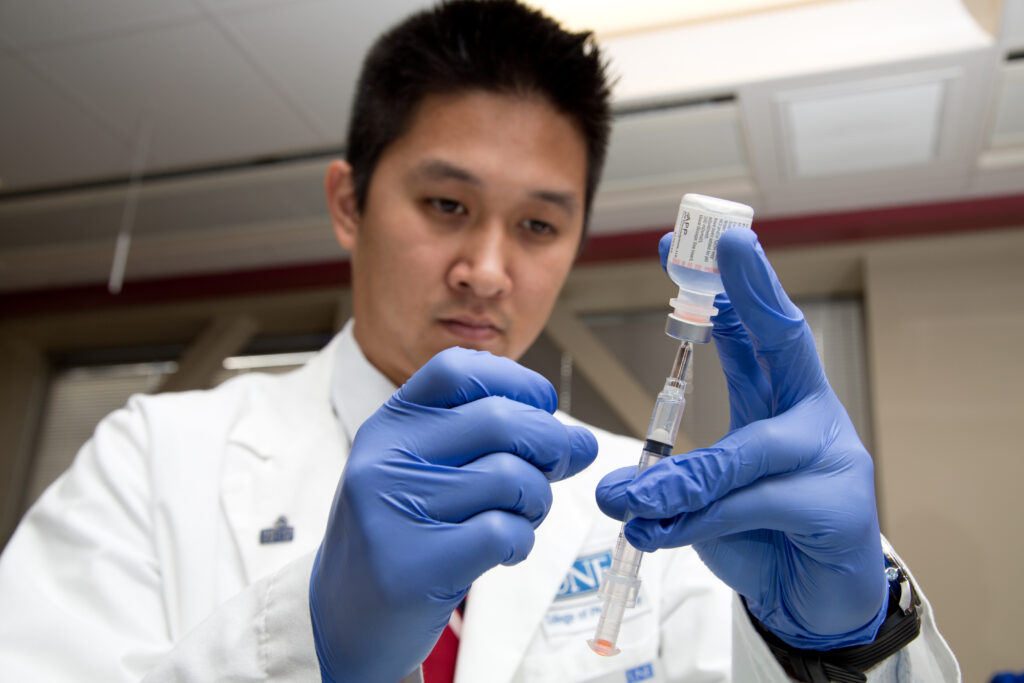 To learn more, REGISTER for the pharmacy information session here. More details below!
Pharmacists are the most accessible health care provider, with many allowing patients to come in as needed, without scheduling an appointment. Recently, the National Community Pharmacist Association released a statistic revealing that patients see pharmacists nearly twice as many times as their physician. Their accessibility to patients allows them more opportunities to impact patient health, especially during a public health crisis. This article highlights the ways in which pharmacists currently play a role in combating the coronavirus and how the profession may be shaped by this historic pandemic.
TESTING
Not only are pharmacists continuing to provide necessary medication to sick and fearful patients, but they are also testing patients for the coronavirus, helping to stop the spread of this virus. Without pharmacists continuing to serve their patients and their communities, casualties and infections from the coronavirus would be even greater.
There are two types of tests that pharmacists can perform to test patients for the coronavirus: diagnostic and antibody. Many pharmacists have set up drive-through testing centers to conduct throat and nasal swabs or to coach the patient on how to collect a sample themselves.
Diagnostic Tests
Diagnostic tests determine whether the coronavirus infection is present in one's body. There are two types of diagnostic tests to identify the virus: molecular and antigen tests.
Molecular
The molecular (RT-PCR) test identifies the genetic material of the virus. Most molecular tests require specimens by a nasal or throat swab, with a few using a saliva sample. Pharmacists who collect samples for molecular tests work in tandem with a lab to collect the results and notify the patient. Results are available within a week, with some available to patients during that same day. One limitation of the test is that it cannot determine whether you have had a coronavirus infection in the past.
Antigen
Antigen tests identify the virus' specific surface proteins in the body. These tests produce results faster than the molecular tests, but are less accurate when recording a negative result. Pharmacists collect samples by nasal or throat swab with results available in one hour or less. Like molecular tests, these tests can diagnose a current coronavirus infection; however, a negative test result may need to be confirmed with a molecular test.
Antibody Tests
The second kind of test determines whether antibodies are present in your body, indicating that you had the coronavirus. The body develops antibodies days to weeks after infection, therefore, antibody tests do not accurately determine whether a patient currently has the coronavirus. These tests use a patient's blood sample with results available within 1-3 days. Though these tests should not be used to identify a current coronavirus infection, the tests can inform patients of their previous exposure to the virus.
VACCINATING CHILDREN AGES 3-18
Recently, the Department of Health and Human Services approved allowing pharmacists to expand vaccination to children 3-18 in all 50 states during this pandemic. As flu season approaches, there are concerns that people could contract the flu and the coronavirus, making each more deadly. Therefore, health care workers and government officials want to make sure that people receive flu vaccinations this season.
As some school districts re-open this fall, it is especially important that children receive their vaccinations this year. Receiving a vaccination from a pharmacist does not require an appointment, eliminating a scheduling barrier that may deter some from vaccinating their child at a doctor's office. This ease of access ensures that pharmacists will play an integral role in the nation's public health efforts against this virus.
H1N1 PANDEMIC
In 2009, the H1N1 pandemic expanded the role of pharmacists to vaccinate, accelerating approval for pharmacists in all 50 states to give flu vaccinations. Today, the public considers pharmacist-administered flu vaccinations normal. With the coronavirus stretching the capacity of the health care system, it has led to a temporary expansion of the role of pharmacists, as seen in approval for pharmacists to administer vaccines to children. As with H1N1, it may also lead to a permanent expansion of the profession.
COVID-19 VACCINE
The Department of Health and Human Services has approved allowing pharmacists to "order and administer COVID-19 vaccinations once available to patients aged 3 years and older." Pharmacists' accessibility to the public will enhance efforts to vaccinate as many people as soon as possible. Operation Warp Speed aims to distribute 300 million doses across the nation. Pharmacists will play a key role in reaching that goal.
---
To hear from a practicing pharmacist and alumni, Richard Adbortoko, about day-to-day life and the impact of the coronavirus, REGISTER for the Pharmacy Information Session on October 20th from 5-6PM EST.