Register for the upcoming information session (on October 20th at 5PM) here or at the bottom of this page to hear more from current students!
P3 pharmacy student, Katalin Gosling, shares what she wishes she could have told herself before applying and starting pharmacy school.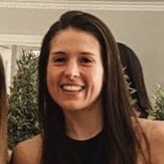 Choosing a school
When applying to pharmacy school, the best advice someone gave me was to keep an open mind. My experience was limited to hospital pharmacy prior to beginning school, meaning I had no prior community or research experience. After beginning pharmacy school, my interests have broadened and I am now very involved in research. If I had chosen where I applied to school based only on what avenue of pharmacy I thought I would be pursing, I would have missed out on so many opportunities! Research was not something I pictured myself doing initially, so don't have too narrow of a vision upon applying!
Why UNE?
I chose UNE due to the family feeling I experienced on my interview day. I immediately felt welcomed by all of the students and staff. Moreover, the mantra "mutual respect" that our school embodies was shining from every corner of campus. When speaking with the students they all emphasized the close relationship the professors have with the students, which facilitates a great learning environment. All of the professors' doors are always open, and they are all very accessible outside of the classroom for any questions! I was also drawn to the opportunities for students to get involved with the various faculty members' research. Being a part of research allows me to apply the information I learn in the classroom to bench work, and develop a deeper understanding of the material!
Interprofessional Education
My favorite thing about UNE is the emphasis on interprofessional education. In every single year of school thus far we have had events with other health professions. This allows us to understand our roles and goals as pharmacists when working on an interprofessional team. Furthermore, there are many interprofessional education presentations throughout the entire year. At these presentations we hear from specialists in many different professions we will be working with, allowing us to learn more about their specialty focus on a team. We are also given the opportunity to collaborate with our peers of different professions in these presentations. Additionally, at UNE there is a state-of-the-art simulation center where we are given the ability to work with patient actors and patient simulators. Here we get to work with individuals of multiple different professions to optimize "patient" care. I have felt that these experiences at UNE truly prepared me to be a contributory part of the interprofessional teams I have worked on in my clinical rotations.
Register for the upcoming information session below, to hear from a UNE pharmacy alumni and current students.