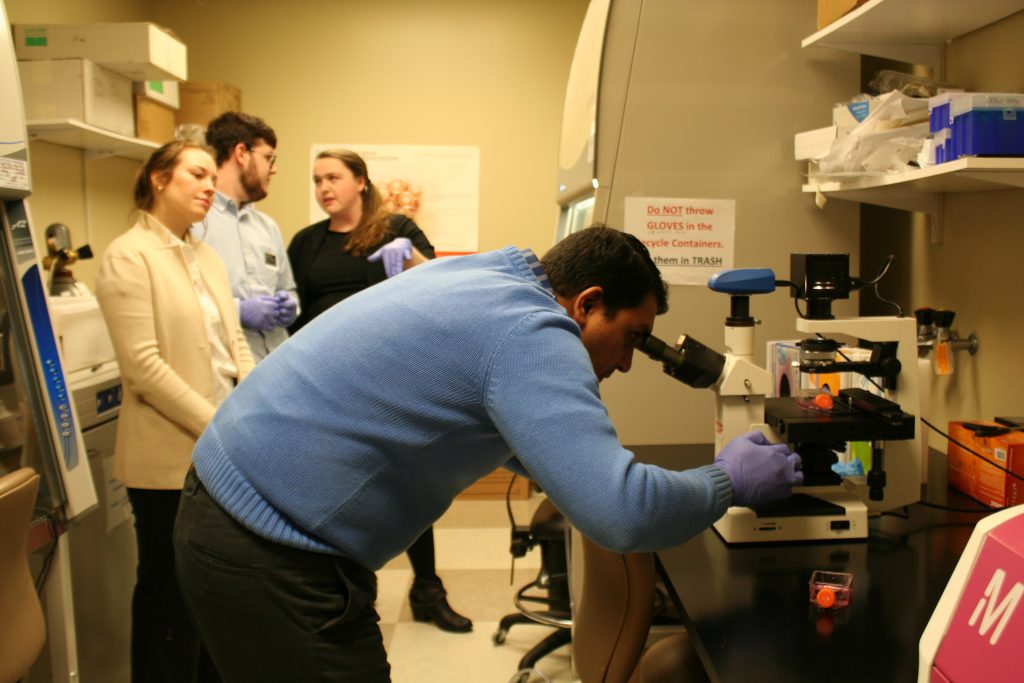 In 2018, UNE faculty member Dr. Srinidi Mohan developed a patented test for breast cancer. In 2021, he received his second patent for a blood test identifying ovarian cancer. This blood test could be life-saving for the early detection of a cancer that is often delayed in diagnosis.
Mohan's first patent was titled "Methods and Diagnostics for Cancer Detection and Treatment Monitoring." His research found that the presence of blood marker Nw-hydroxy-L-Arginine (NOHA) is an identifier of certain aggressive forms of breast cancer–estrogen receptor (ER)-negative tumors. Prior to his findings, no blood marker had been found sensitive and reliable enough to identify these tumors.
ER-negative breast cancer usually develops in younger patients and has a higher mortality rate as it has fewer treatment options compared to hormone-positive breast cancer. The article "Estrogen receptor-negative breast carcinomas: a review of morphology and immunophenotypical analysis" examines 291 consecutive ER-negative cases from a larger breast cancer study. It found: "ER-negative tumors constituted 30% of the primary operable breast cancer series. The majority of tumors were grade 3 (94%) and the commonest histological types were ductal/no specific type (85%), and atypical medullary carcinoma (8%)." This finding reveals the difficulty that doctors have in identifying and treating ER-negative breast cancer. Mohan's research may help to change that.
His second patent uses the same blood marker, NOHA, as an indicator for ovarian cancer. Even more so than ER-negative breast cancer, ovarian cancer is difficult to catch early. The symptoms are inconsistent and ambiguous, so detection often occurs only once it has progressed. This means that the average five-year survival rate after detection is 48.6%. Using the NOHA blood marker to quickly detect this quiet disease could improve the survival rate, with the five-year survival rate for stage one detections at 93%.
In an interview with UNE, Mohan shares, "I am both delighted and humbled with this opportunity to expand the scope of NOHA as a cancer biomarker. I look forward to the opportunity of NOHA biomarker implementation at a clinical setting. I sincerely thank the UNE administration and all my collaborators and advisors on their continued support and contributions to this project. I am also grateful to my UNE Pharm.D. student researchers for their help in the lab with this project."
His research surrounding NOHA could be lifesaving, enabling doctors to identify cancers before they are detectable through routine methods. Mohan is currently working with Maine Medical Center Research Institute to build on his findings for practical use.
Read more from UNE, News Center Maine, Portland Press Herald, and Bangor Daily News.