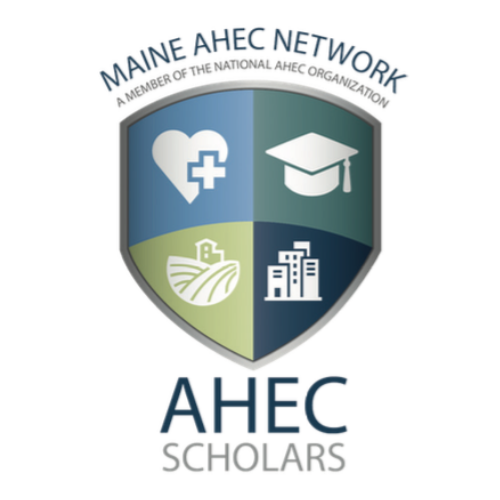 The Maine AHEC Network recently accepted its third cohort of Maine AHEC Scholars to join the nationally recognized AHEC Scholar program. This cohort of health professions students represents Maine AHEC's most diverse cohort of health professions students yet, with students from three different universities and eleven different health professions programs.
Each year AHECs from around the country invite students who are interested in working with underserved populations to join the AHEC Scholar program. In Maine, 45 students are accepted each year with nearly twice that many students applying. Students who are accepted into the Maine AHEC Scholar Honors Distinction program must complete a prescriptive curriculum of 160 hours of learning focused on one of six HRSA designated core competency areas that is split between didactic and community-based service learning opportunities. Students who complete the AHEC Scholar program are awarded a stole and certificate at graduation to recognize their commitment to improving the health of underserved populations.
The majority of participating students are from the University of New England with a smaller number of students being from Tufts Medical School and the University of Southern Maine Public Health Program. Both Tufts and USM are participating in the Maine AHEC Scholar program for the first time this year.
The full list of 2020 Maine AHEC Scholars is below.
Violetta Rucinski Osteopathic Medicine
Tara Hebert Osteopathic Medicine
Morgan Brown Osteopathic Medicine
Bianca Bustamente Osteopathic Medicine
Madison Oxley Osteopathic Medicine
Melissa Kessel Osteopathic Medicine
Isabel Smith Osteopathic Medicine
Victoria Brewer Osteopathic Medicine
Quinlan Cacic Osteopathic Medicine
Shameem Fakory Osteopathic Medicine
Conner Lajoie Osteopathic Medicine
Morganne Robinson Osteopathic Medicine
Anna Mirianashvili Osteopathic Medicine
Alexis Schneider Osteopathic Medicine
Aishwarya Ayyappan Osteopathic Medicine
Charlotte Kirk Osteopathic Medicine
Abigail Blake Osteopathic Medicine
Amelia Keane Osteopathic Medicine
Rebecca Young Dental Medicine
Sweta Parikh Dental Medicine
Alec Daigle Dental Medicine
George Fouad Dental Medicine
Marian Bekheit Dental Medicine
Kendal Millard Pharmacy
Nasro Mohamed Pharmacy
Susan Dolan Pharmacy
Joshua Carver Pharmacy
Shelby Lane Pharmacy
Chad Winn Physical Therapy
Katelyn Asmus Occupational Therapy
Sarah Porter Physician Assistant
Morgan Dube Physician Assistant
Amanda Johnson Physician Assistant
Micaela Phillips Physician Assistant
Katherine Pelletier Physician Assistant
Morgan Rodway Physician Assistant
Alexandra McCown Social Work
Kayla Blackborow Social Work
Tiarra LaPierre Social Work
Samantha Dinsdale Public Health
Anita Doughty Public Health
Rena Chen Nursing
Lily Humerian Dental Hygiene
Brittney MacAuley Dental Hygiene
Carley Quinn Dental Hygiene
Rayne Whitten Allopathic Medicine
Caitlin Farrington Allopathic Medicine
Madeline Andrews Allopathic Medicine
Emma Freeman Allopathic Medicine
Bailey Urbach Allopathic Medicine