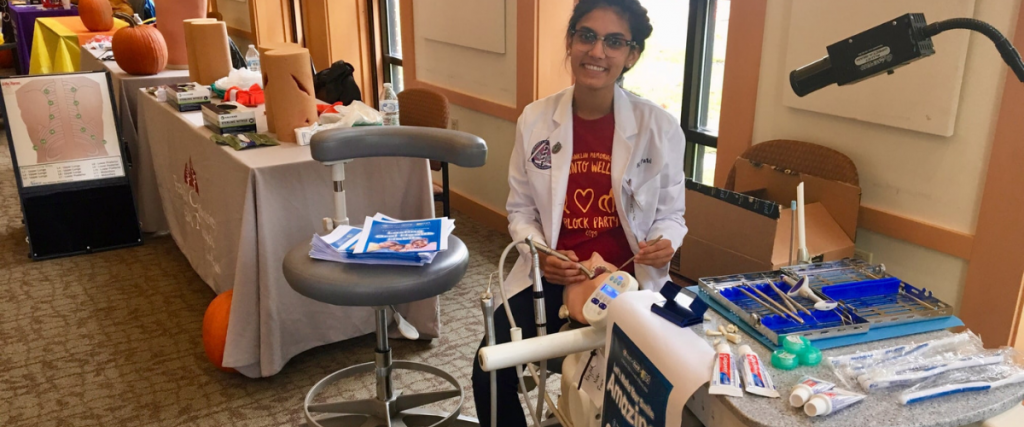 This past April, 2021 UNE College of Dental Medicine graduate and Maine CUP AHEC Scholar Hena Patel completed an Enhanced Dental Externship with the Strong Area Health and Dental Center, a site of the HealthReach Community Health Centers network located in Strong, Maine. This final component of the AHEC Scholars Program (https://www.une.edu/cupahecscholars) intentionally provides students with interprofessional and community-based opportunities to integrate the knowledge and skills they've developed in the core topic areas during the two-year program into their clinical training. Hena collaborated with Western Maine AHEC Center Director Tania Dawson on one such community activity, as described by Hena here:
Oral health awareness in children has been a topic of high focus since I have started dental school. Near the Portland area, UNE College of Dental Medicine has been able to do outreach and go to schools closeby, where oral health awareness can be promoted in elementary and middle schools. Not every town in Maine has this opportunity. In areas where there may be limited access, there are so many children and teens that do not even know they need to brush two times daily. After planning and organizing my thoughts, I reached out to Tania Dawson, an RN and the CUP AHEC director at Franklin Memorial Hospital in Farmington, Maine. I knew Tania from a rural health immersion trip I attended in October 2019, and I knew I could reach out to her for advice and help. She put me in contact with the scout leaders and I was able to put this together because of her.
On the day of our event, we split the scouts into two groups, the older group (grades 4 and 5) and younger group (grades 2 and 3). The older group went with myself first. We talked about oral health and why going to the dentist is important. Then, we were able to work with a dental simulator. This was a mannequin like what dental students use in simulation lab, which an air compressor, working air/water syringe, headpieces, and instruments. Both groups had the opportunity to touch and use the dental simulator. They were very excited and all got a chance to play with everything, excluding the sharper instruments and burs.
Tanya took her group and was in charge of doing an activity book with the scouts, focusing on diet and why cavities occur. The activity book included a drawing portion, a maze, word search, and other fun things for the scouts to do on their own time. For this event, we focused on a section called "good tooth, bad tooth" where the scouts were asked what foods could cause "cavity bugs" and why they are bad. I believe this event was helpful and successful. I was happy the parents were present because I was able to emphasize how their attitudes about the dentist or any healthcare professional can affect how children view them. I also enjoyed letting the scouts hold the hand pieces and familiarize them with what is in the dental operatory. This is a technique I personally use with pediatric patients because it is an effective part of the tellshow-do method. These encompasses the current and emerging health issues topic as dentistry is usually seen as an undervalued health care profession.
I am happy I was able to have this opportunity to hopefully change one child's outlook on the dentist. I am very thankful for Tania Dawson's help in planning this event.