For as long as I can remember, health care has been an enormous part of my life and identity. Growing up in a home with a Physician Assistant for a mom and a Nurse Practitioner for a dad, I was provided with a unique perspective into the world of medicine from an early age. There were very few dinners that didn't involve a discussion or two around medicine, and I watched as many of our friends and neighbors were evaluated for acute concerns late at night or on the weekends at our kitchen table – as well as a few people needing sutures, which were conveniently performed on our couch. As primary care providers in the rural town of Presque Isle, Maine, there was never a shortage of people that needed their help. The whole community seemed to value and appreciate Steve and Sue Porter. We would run into their patients or their patients' loved ones everywhere we went – the grocery store, the dentist's office, even high school basketball games. No matter where we were, someone was either asking for medical advice or thanking them for the excellent care they provided. It always made me so proud to hear what a difference they made in people's lives, and I truly admired their investment in the health and wellbeing of their patients.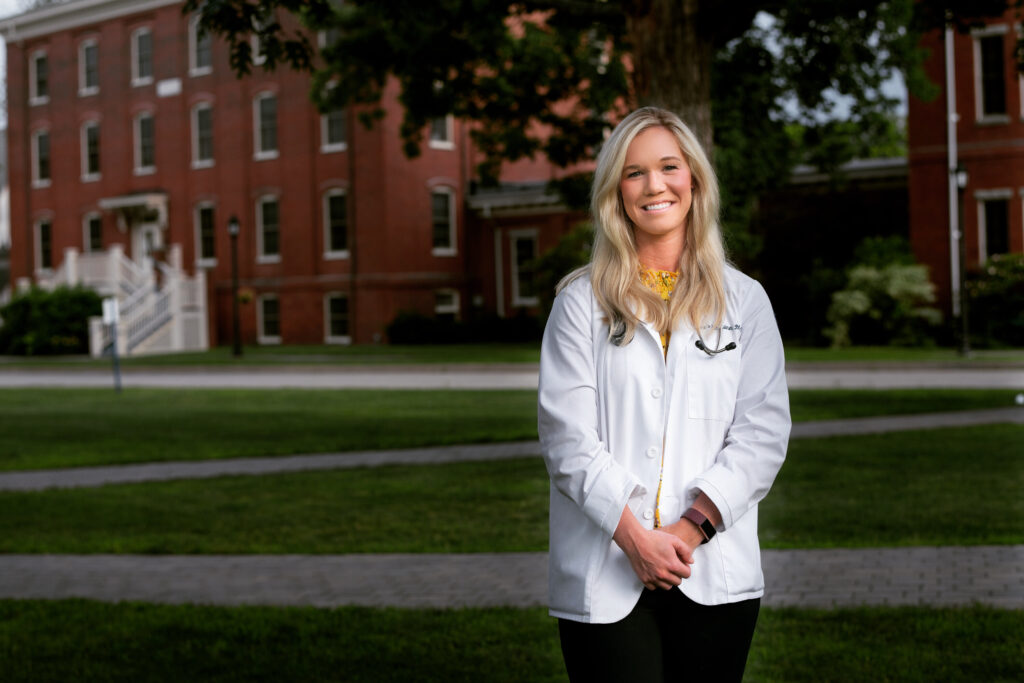 In the summer of 2019, after 35+ years of service and commitment to the Aroostook County community, they both hung up their stethoscopes and retired from practicing medicine. The following spring, I began my journey as a Physician Assistant student at the University of New England. For our family, it marked the end of one era and the beginning of another. I wanted to honor their legacy while still forging my own path, and most importantly, I wanted a career that would allow me to feel fulfilled every single day. Becoming a PA student helped me quickly realize that talking and learning about medicine is very different than practicing medicine. Thankfully, since embarking on my clinical year in May 2021, I've never been more sure of the fact that I am meant to be a PA. The highlight of my educational experience thus far has been having the opportunity to return to Presque Isle for a six-week rotation in Women's Health with Lucy Richard.
Coming home to The County to practice medicine truly feels like I have come full circle. As a student, I have had the opportunity to learn under a number of incredible providers in the areas of Obstetrics and Gynecology, Cardiology, and Oncology, in addition to my current rotation in Women's Health/Family Medicine. I have volunteered at St. Apollonia's Dental Clinic assisting with children's oral hygiene and education, and I have spent several evenings helping to bring new life into this world with the amazing Labor and Delivery team at Northern Light A.R. Gould Hospital. All this, and I've only been here 3 weeks! It is truly remarkable what opportunities for growth are available here for students, and I continue to learn something new every day. My parents may have left big shoes to fill, but I have had a blast working to live up to their image and provide the type of care that this community deserves.
Next spring, I will graduate from UNE, take my boards, and officially begin my career as a PA-C. The only thing I know for certain right now is that I want to stay and practice in Maine. I will always have a special place in my heart for rural and underserved communities, and it would be an honor to provide care to these populations. I am keeping an open mind throughout clinical year, embracing new experiences, and taking full advantage of every opportunity that comes along. But no matter where I end up, I will always be grateful that I had the chance to return to my hometown and try to give back a little of the love and support that this community has given to me all these years. This has been a special part of my journey that I will never forget.