UNE's Care of the Underserved Patient (CUP) program to host Dr. Anne Hallward, Executive Director, Safe Space Radio
Shame, Stigma and Isolation—A Public Health Emergency
In 2001, soon after my training in psychiatry was finished, I moved to Maine to work in Lewiston at St. Mary's Hospital. While I was there I began to notice that no matter what difficulty my patients were struggling with, be it mood, anxiety, trauma, or addiction, the heart of their suffering was the same. Inside, they feared that they were weak, bad, defective, or a failure, and that they would not be lovable if they shared their story with others. As a result, patients felt terribly alone, and struggling with hopelessness, or urges to escape through substances or even suicide. I learned to call this feeling of unlovable defectiveness shame, and I began to see it as a public health emergency.
I could only see a limited number of patients every day, and felt like it was a drop in the bucket compared to the need. I began to wonder how I could come up with a public health intervention to reduce this feeling of shame. I noticed that when my patients were talking about shame that they tended to break eye contact, or cover their face, and so I learned that shame is the feeling of having one's badness visually exposed.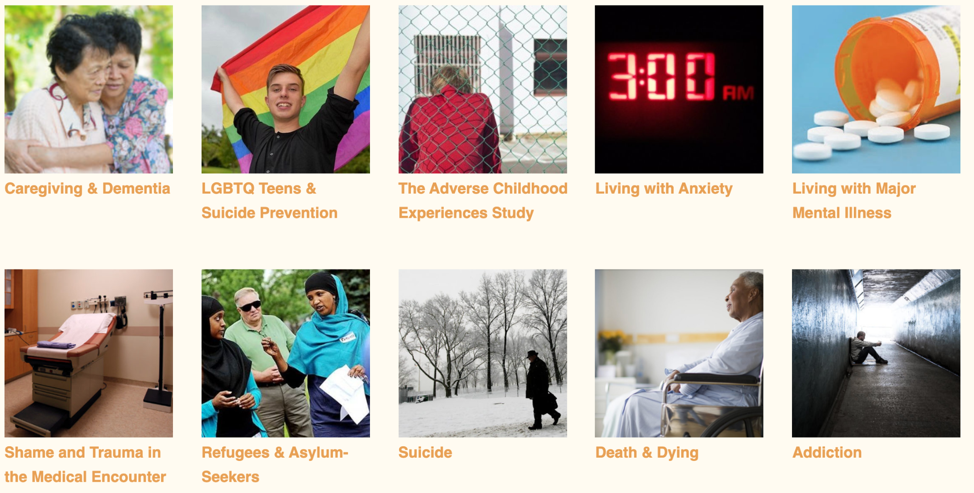 Using Radio to Reduce Shame
Radio is the perfect medium to talk about stigmatized and isolating subjects in a way that preserves both the privacy of the speaker and the listener, yet reaches a large audience. Unlike TV, we tend to listen to the radio when we are alone: in the car, working out, or doing dishes. It is a safe medium to seek information about very personal subjects, and to hear the stories of others to help you feel less alone. It is also the ideal public health intervention for rural states like Maine where you can listen for free from anywhere. After reading the mission statements of all the radio stations in southern Maine, I submitted an audition tape to WMPG, the community public radio station in Portland. In 2008, Safe Space Radio was born, with weekly broadcasts about the subjects that are the hardest to talk about, that impact our health.
Re-humanizing the Teller
After seven years of local broadcasting we became a non-profit, and began to distribute new hour-long programs nationally on NPR stations around the country. Our first national show was Out-Takes, on suicide prevention among LGBTQ teens. The show was filled with stories from teenagers, parents, teachers and researchers about the kinds of conversations that can save lives. Our most recent national special is called From Violence to Voice, about the ways in which violence tends to generate shamed silence in the survivor, the perpetrator, and the bystander. We focus in particular on structural racism as a form of violence and the forces of silence among white bystanders. Stigma and racism are each forms of dehumanization, and sharing vulnerable stories is a powerful way to re-humanize the teller in the ears, heart and mind of the listener.
Reducing Shame to Improve Public Health
This year, Safe Space Radio initiated three projects that aim to bring our podcasts to those most in need, and those most likely to benefit from hearing them.  We have created playlists of shows about the intersection of mental health and social justice that we are posting in public libraries and coffee shops throughout Maine.  Listeners can hover their phone camera over a QR code and start listening on their phones at their convenience.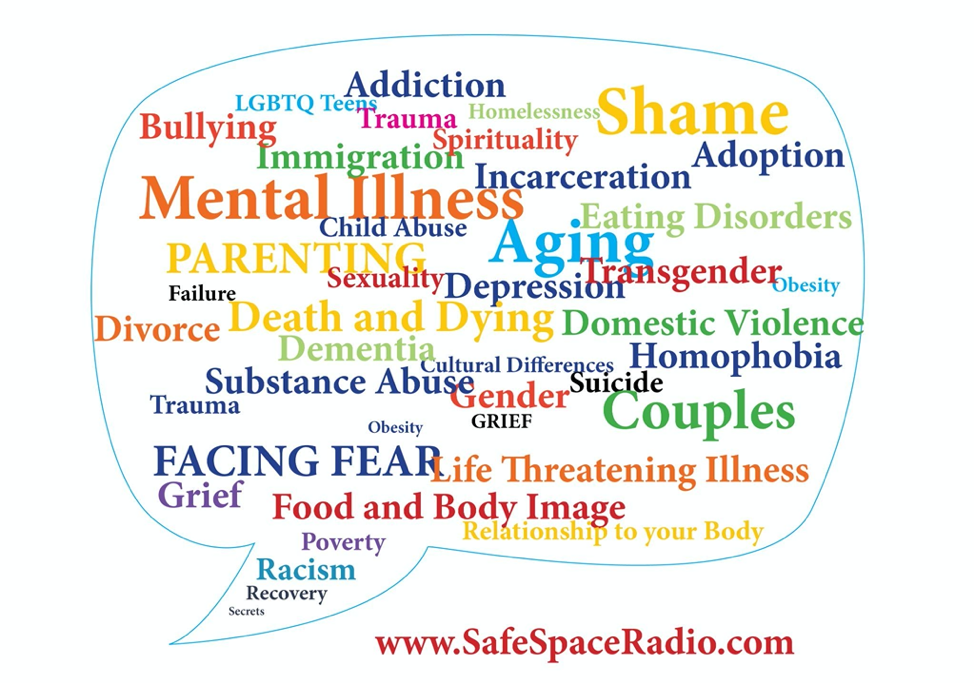 Continuing Education Credits that Foster Empathy and Reduce Stigma
We now offer a series of 10 hour-long podcasts for continuing education credits for healthcare professionals:doctors, nurses, social workers, psychologists, and pharmacists. Accredited nationally by Maine Medical Center, and the NASW-Maine, each of these programs is filled with courageous stories about stigmatized subjects and can be a resource to foster empathy, and encourage important conversations between clinicians and patients. We will soon offer these same podcasts to medical schools around the country to incorporate in their psychiatry clerkship as a way to reduce stigma, and foster compassion and understanding. 
Reducing Stigma Within the Medical Community
UNE's Care of the Underserved Patient program brings together students in the health professions to look after individuals who are often marginalized in our society. Safe Space Radio is a valuable resource for patients, giving hope that it is possible to bring up stigmatized subjects at home, at work, with friends, and with healthcare providers. It is also a great resource for us as healthcare providers, helping us understand our own shame, stigma and bias, and to receive our own stories and those of our patients, with the compassion and care they deserve. Hearing other peoples' stories of courage and liberation from lonely silence and shame is enlivening to witness, and reduces the power of shame for all of us.
Please Support this Work
Safe Space Radio seeks to improve public health by making it more possible to talk about the subjects we hide. When one person dares to give voice to something they've been hiding, it opens a door for others to tell their own story, and ultimately leads to both improved health and social change.  If you would like to support our work, please contribute to our fall fundraising campaign to help us use our podcasts to reach students, healthcare professionals, and our patients wherever and whenever they are most in need.
Dr. Anne Hallward is the Founder and Executive Director of Safe Space Radio (SafeSpaceRadio.com). She is a board-certified psychiatrist in Portland, Maine, former faculty at Harvard Medical School, and Assistant Clinical Professor of Psychiatry, Tufts University Medical School.