This year, the School of Pharmacy partnered with Covetrus to offer students a veterinary pharmacy rotation during their Advanced Pharmacy Practice Experiences (APPEs). While the School of Pharmacy currently only offers an APPE rotation in veterinary pharmacy, it plans to create a veterinary pharmacy specialty track on top of its three existing tracks. To complete a specialty track at the School of Pharmacy, students take electives each semester surrounding Pharmaceutical Sciences, Health Data Analytics, or Wellness and Integrative Medicine. You can read more about specialty tracks at the School of Pharmacy here, here and here.
Below, Riana Lincoln, a P4 student at UNE, describes her rotation at Covetrus.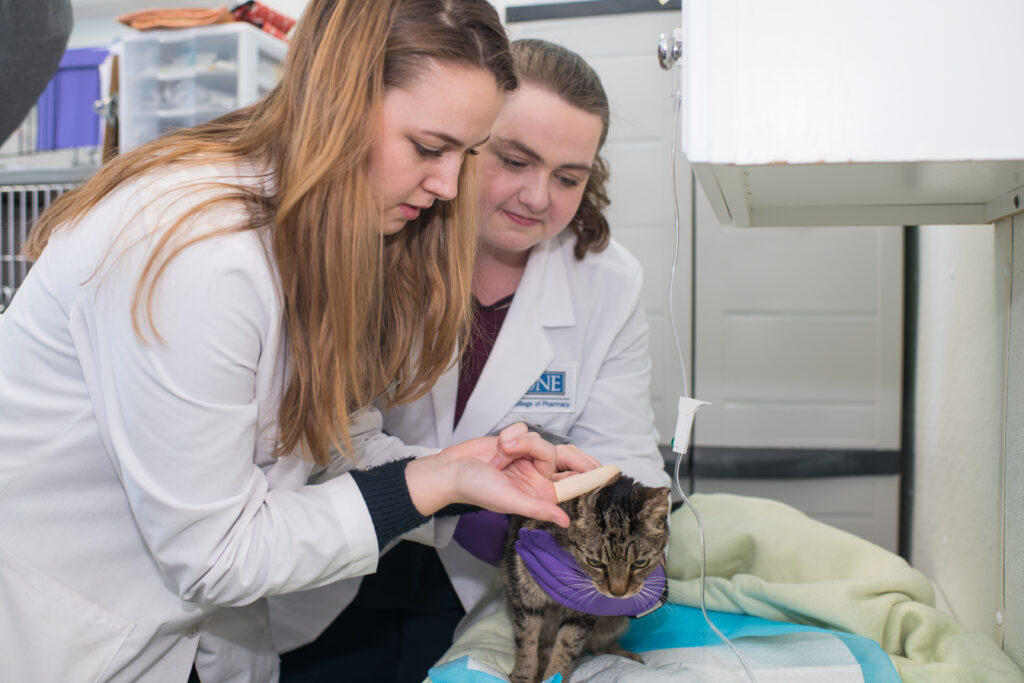 Tell me a little bit about yourself.
My name is Riana Lincoln. I am from Woodstock, Connecticut but I have been living in Portland, Maine for 3 years. I am a fourth year pharmacy student at the University of New England and have been working in retail pharmacy for 5 years. I am interested in the field of pharmacy because it is a crucial part of the healthcare system with endless opportunities to provide care to the community. Pharmacists are the most accessible healthcare workers for clinical questions and recommendations and I am honored to be a part of that.
What is veterinary pharmacy?
Veterinary pharmacy is a specialized field of pharmacy practice where pharmacists may compound medication, fill prescriptions, and manage medication therapy for small and large animals. There are opportunities for veterinary pharmacists to work in pharmacies, academia, veterinary-related businesses, and regulatory agencies. Veterinary pharmacy differs from veterinary medicine in that veterinarians provide medical diagnoses for animals and veterinary pharmacists handle medication therapy from said diagnoses.
Tell us a little bit about Covetrus.
Covetrus is dedicated to advancing the world of veterinary medicine and empowering veterinary healthcare teams across the companion, equine, and large-animal health markets. Covetrus combines practice management software, prescription management, client engagement services, and supply chain infrastructure to promote connectivity between veterinarians and their clients.
What has surprised you about this rotation?
What surprised me about this rotation is that the veterinary prescriptions are all cash. There will be certain weeks out of the year that are designated with lower veterinary product prices. During those times, the work-load increases and extra help may be needed.
How has this rotation shaped your perception of pharmacy?
Pharmacy is an ever-growing field with endless opportunities. Most people think about Walgreens or CVS when they are asked about pharmacy, however, there are so many different roles that a pharmacist can be utilized in, even within the veterinary world. I would say overall, this rotation shifted my perception of retail pharmacy being the only type of pharmacy out there.
Do you have any memorable stories from this experience?
There was one day that I went into the office to watch an all-day conference on animals and veterinary care. It was interesting to see the drugs and flavors that they were using to get these animals to take their medicine. Something that I did not know before this rotation is that cats are one of the most difficult animals to get to take medicine, so most medicine for cats is actually a transdermal gel that is applied to their ears.
What does your day-to-day look like? Do you have a day-to-day normal?
Since COVID-19, the rotation is mostly remote, however, there is a lot to engage in day-to-day. Each day I would attend at least one meeting every day on top of working on assigned projects. Once a week, I would go into the actual pharmacy and get hands-on experience with veterinary products. I helped fill prescriptions and ship them to various parts of the country. It is a unique experience because there are no patients, so the day is all about getting the prescriptions ready before the mailman comes to take them away.
Would you recommend this rotation to other students?
I would absolutely recommend this rotation to anyone who is interested in veterinary pharmacy or even just wants to experience something different. Everyone at Covetrus is extremely nice and welcoming. It is interesting to learn about things that were never taught in pharmacy school and use that knowledge to educate your peers and yourself when/if you potentially get a pet.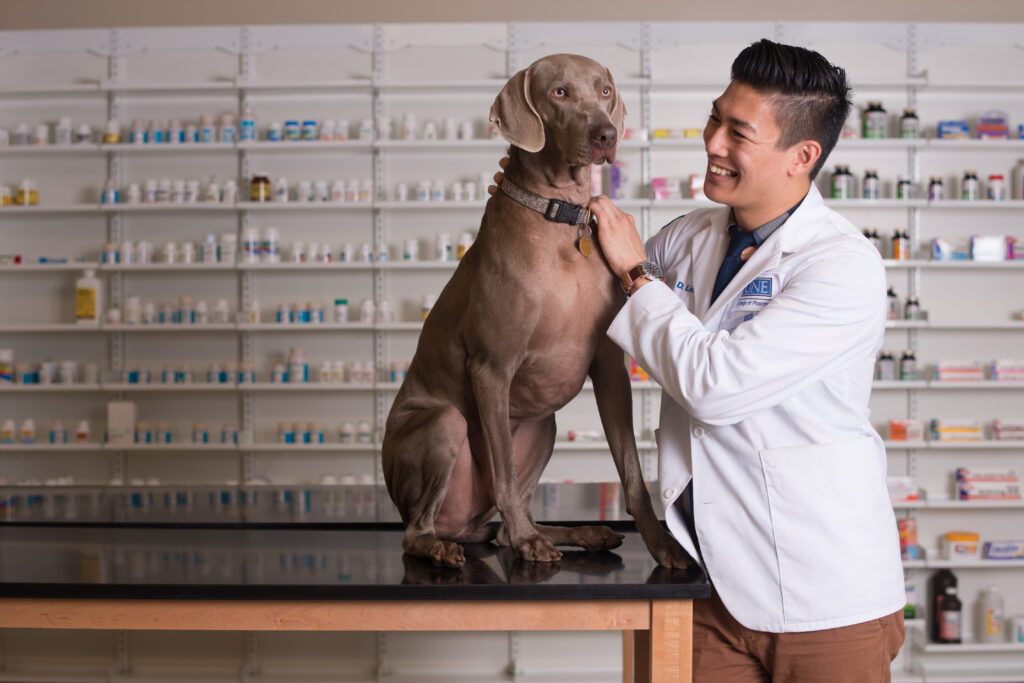 If you have any questions about Veterinary Pharmacy or the School of Pharmacy in general, please reach out.