Click here to view the full news article that was originally published on the UNE website

For the full research article: Stiegler-Balfour, J.J. et al. (2023)
Jennifer Stiegler-Balfour, Ph.D., associate professor in and assistant academic director of UNE's School of Social and Behavioral Sciences, is the lead author of an article titled "Is reading under print and digital conditions really equivalent? Differences in reading and recall of expository text for higher and lower ability comprehenders."
The article has been published in the International Journal of Human-Computer Studies, a high-impact international journal that publishes original research across a wide spectrum of work relevant to the theory and practice of innovative interactive systems.
Together with student co-authors Zoe Roberts, B.A. '17 (Psychology), Abby LaChance, B.A. '17 (Psychology), Aubrey Sahouria, B.S. '22 (Neuroscience), and Emily Newborough (Psychology, '23), Stiegler-Balfour examined whether reading challenging text on digital devices — such as an iPad or computer — is equivalent to reading traditional print text. Study participants were asked to read specific passages either on a computer screen, an iPad, or traditional print text before completing a prompted recall task that Stiegler-Balfour and her team also asked participants to complete a reading comprehension ability test to gauge their reading and metacognitive skills.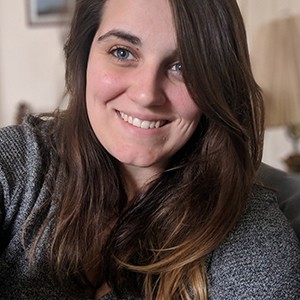 Results from the study show that readers with lower comprehension skill are susceptible to decreased comprehension when reading on iPads and computer screens compared to when reading traditional print. Higher-skilled readers, however, were shown to perform equally on all mediums but saw a decrease in efficiency when reading text on digital devices.
These results indicate that reading on digital devices can be equivalent to reading print text but may take longer and requires readers to use more reading strategies to maintain high levels of comprehension. The study findings are discussed within the reading comprehension literature and the potential implications of broader adoption of e-textbooks on education gaps for students who struggle with reading.
Roberts is currently a doctoral candidate in school psychology at the University of Massachusetts at Amherst and works as a school psychologist in Connecticut; LaChance earned her M.A. in Justice Studies at the University of New Hampshire and is currently working as a paralegal at Gilman Law P.C. in Lunenburg, Massachusetts; Sahouria is currently employed as a quantitative research assistant with the Center for Applied Linguistics in Washington, D.C.; and Newborough will begin her studies toward a dual master's degree in Forensic and Legal Psychology and Clinical Mental Health Counselling at Marymount University in Arlington, Virginia, in the fall.