UNE students Courtney Parent (Psychology, '19) and Nicole Martin (Psychology, '21) recently presented research at the 90th annual Eastern Psychological Association (EPA) meeting in New York City, New York.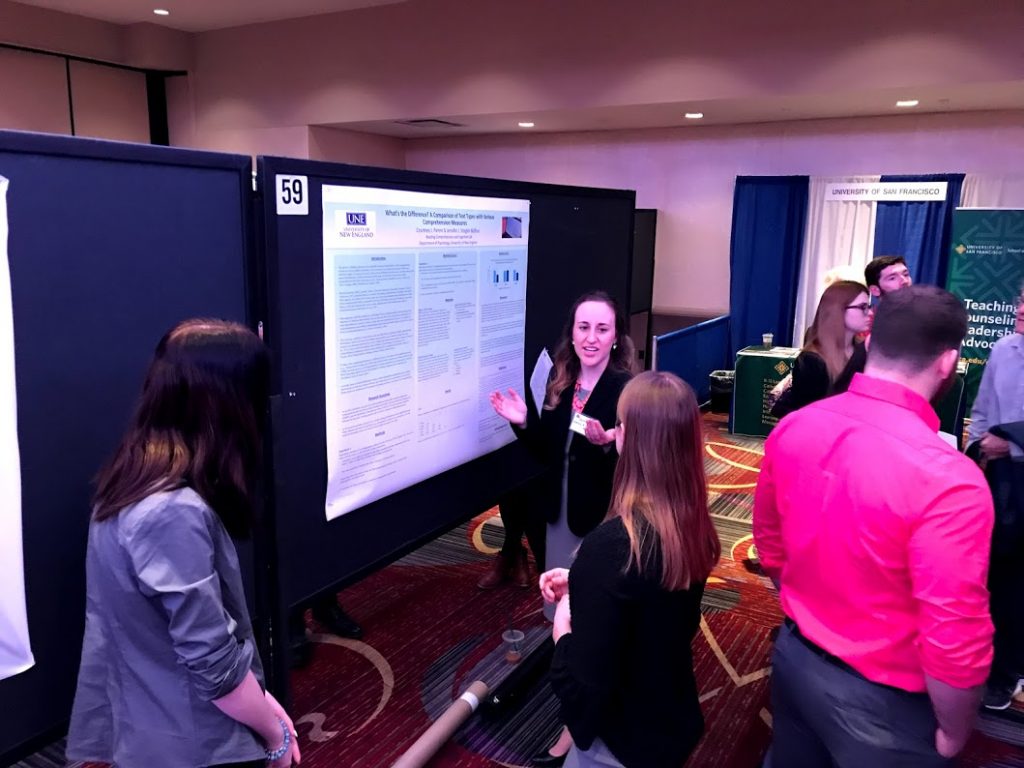 The EPA is the oldest regional psychological association in the United States and serves to advance the science and profession of psychology through the dissemination of professional information about the field.
Martin's presentation was on research conducted with Ellie Leighton (Psychology, '19) and faculty mentor Jennifer Stiegler-Balfour, Ph.D., associate professor and psychology program coordinator in the Department of Psychology, on the influence of typographical features of e-readers on reading comprehension.
"As a sophomore, I am so lucky to have had the opportunity to present at a regional conference and to learn so much about presenting and other research presented at the meeting," Martin commented.
Results of the study indicate that readers of all skill levels can read and comprehend narrative passages on digital mediums, but that reading on a Kindle may be less efficient than reading on paper because of an increase in reading time. The findings also suggest that sans serif fonts may be optimal for reading on digital devices.
Parent presented research conducted with Stiegler-Balfour on reading performance across text types and the predicting performance of different standardized reading tests. The study is the first to show that there are significant correlations among three different reading comprehension assessments. It also sheds light on which tests are better suited for predicting comprehension performance on narrative versus expository text.
The results provide further evidence that reading comprehension ability can be significantly predicted from general working memory capacity and metacognitive skills.
Parent's experience at the meeting mirrored that of her lab mate.
"The knowledge and experience I have gained from EPA will be carried with me throughout my graduate career and for that I am forever thankful," she said.
Funding for the research projects was provided by the College of Arts and Sciences Summer Undergraduate Research Experience (SURE) program. Travel to the conference was supported by UNE's PSI CHI Chapter.
Nicole Martin presenting her research on the effects of different fonts on reading comprehension

Courtney Parent and Nicole Martin at EPA