Here in the RCC lab, we love to celebrate each other's accomplishments and let our fellow lab assistants know how much we appreciate their hard work. Once a year, the University of New England shares their students' accomplishments and hard work in the U-Lead and Biddeford Award Ceremonies. The U-Lead Award Ceremony honors students and faculty who have shone bright in the community, and the Biddeford Campus Awards Ceremony recognizes some of the top students in the university to honor their hard work. This year, 5 RCC lab members were recognized at these ceremonies! 
At the U-Lead Ceremony, Genna Companatico ('20) was nominated for Excellence by a Student Organization Leader, given to organization leaders who positively influence the UNE community as well as impacting their fellow students. Genna was also nominated for Senior of the Year, recognizing well-rounded senior students who show exemplary leadership in both their academics and their extracurriculars.
Nicole Martin ('21) was nominated for Junior of the Year, which recognizes junior students who show extraordinary leadership in their academics and extracurricular activities. Nicole was also recognized for her completion of the Level 2 CRLA Tutor Training. This certification provides recognition for tutors' work from the internationally recognized organization CRLA.
Aubrey Sahouria ('22) was nominated for Sophomore of the Year, awarded to sophomore students who show exemplary leadership in their academics and extracurriculars. Aubrey as well as Emily Newborough ('23) were both nominated for the Emerging Leader Award, which recognizes a first or second year student who has made a significant impact on the UNE community and who demonstrates potential for continued leadership and community service. Emily was also recognized for her acceptance into the Sophomore Scholar Program.
At the Biddeford Campus Awards, Genna was nominated for the Experiential Education Award. This award recognizes undergraduates who have engaged in experiential education opportunities offered on the Biddeford Campus, such as internships, civic engagement, and research.
Nicole was awarded the Undergraduate Research and Scholarship Award for Social Sciences, recognizing all of her hard work and accomplishments in her field of research.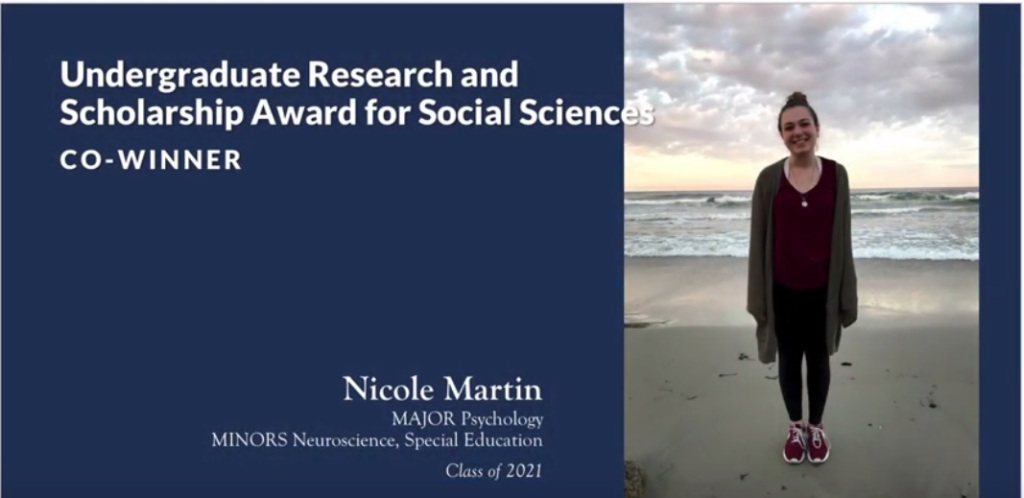 Aubrey was awarded the Sophomore Academic Achievement Award, which is given to one sophomore at the university who has excelled in their academics.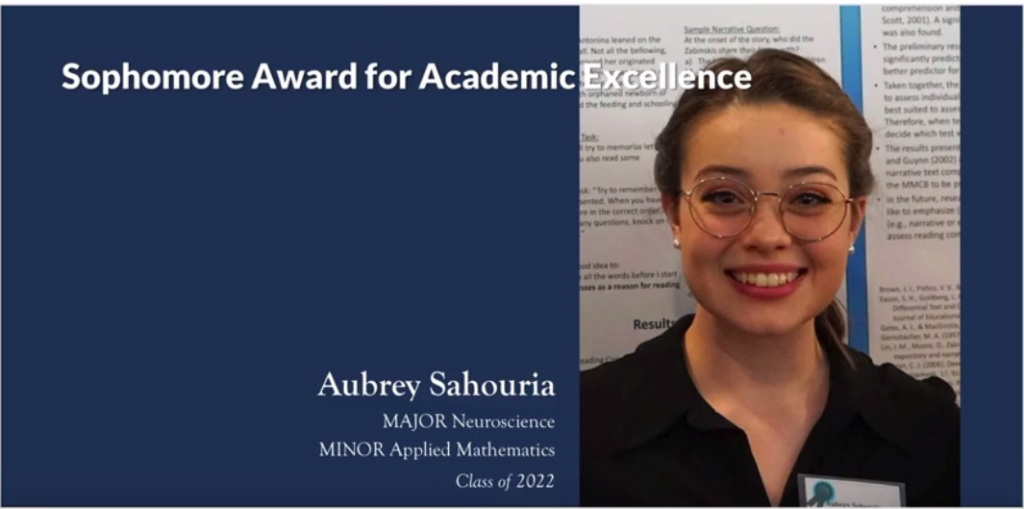 Last but not least, our very own Dr. Jennifer Stiegler-Balfour was nominated for the Excellence in Faculty Mentoring & Advising Award, which recognizes a faculty mentor/advisor who is consistently available, supportive, and demonstrative of genuine interest in their students' success.
Congratulations to all of our lab members for having their hard work recognized by the community. We are so proud of all of you, and so lucky to have you in the lab!