Alumni, friends, students, faculty and staff gathered again Thursday evening for our Annual Alumni Winter Social.  Big band holiday music played from speakers while guests enjoyed food, drink, and mingled with one another.
MSW Alumni '18 Maya Williams kicked off the evening with some of her poetry.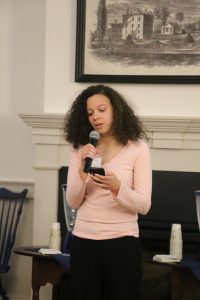 She opened with
To Happiness:
 We are alive and able to share space in the first place.
 That is a joyful noise in of itself.
I don't care about its context.
A woman told me we should not apologize for our sadness.
Well, we shouldn't apologize for our happiness either.
Every warm embrace I cradle before, after, during a person's presence in my arms is a poem.
Every snap, cheer, shout, and sigh at any gathering, including this one, is a poem. 
She then moved into a poem chosen intentionally as a tribute to the many worldviews celebrated this time of year.
Religious Imposters:
This is for the evangelist through actions rather than words.
I see you. 
Don't let this be another poem you leave to hang dry on the clothing line and forget later.
To the monotheistic Hindus and Buddhists. 
To the non-Kosher Jews.
Let this be a poem that covers you the way you need it to. 
A lot of disagreements can come out of various perspectives, but let this be a poem where a part of you can be seen. 
If only for a moment. 
This is for the evangelical unsure about heaven and hell. 
This is for the non-hijabi waiting for the right time to cover. 
To the non-hijabi not requiring herself to wait for anything. 
This is for the religious and non-religious agnostics.
To the Sikhs without long hair and turbans.
To the Jains who swat at flies. 
I know you may feel like a religious impostor in your own spaces, but I see you.
To the proselytizers and non-proselytizers.
 To the pro-choice anti-abortion protesters.
To the pro-choice pro-abortion protesters. 
To the LGBTQIA+ affirming theologians trying to love their siblings well. 
To the feminist theologians trying to follow Scripture the best way they know how to,
not knowing how to fit in the faith among them. 
I see you. 
And I hear you.  
To the religious and nonreligious scientists.
The pantheists. 
The seeking Pagans. 
The irreligious and unaffiliated. To the ones with and without rest on Fridays, Saturdays, or Sundays. 
To the identifiers of more than one worldview. 
To the more I wish I could list,
forgive us for accusing you of cherry picking. 
You're only trying to find the best fruit for your labor to put back into the world.  
She closed  with a personal touch.
A Lesson from My Paternal Grandmother on Mental Wellness:
Me,
20-something still experiencing life:
"Your feelings are totally valid"
Her,
70-something who experienced as much as life could give her:
"I know it."
In addition to organizing poetry slams and performing at events such as this, Maya works at EqualityMaine where she continues to do great work in the community.  We are grateful to continue our collaboration with her.
Throughout the evening, guests were able to connect with one another and share their projects.  Current MSW students and alumni exhibited projects around the perimeter of the room and our  talented Holly Haywood set up her photo booth so guests could write and photograph all their ideas around how they "plan to do good" in the world with their MSWs.  Thanks to all who came and contributed to making it a beautiful night of reconnecting! We hope to see you next year!
A List of the student/alumni exhibits are below.
NAME

EXHIBIT

Glenn Simpson
Current MSW student presented on his Applied Arts and Social Justice project through which he studied the effect of using art as therapy with men in early recovery from substance use disorder. He also displayed works of art from his ongoing project, Pieces of Recovery: The Puzzle Project
Nina Williams and Corey Carmichael
Current MSW students presented on their Interprofessional mini grant project around mental health and intergenerational gardening.  Details here
Suzanne Fox
Current MSW Student presented about her ongoing community work with Yellow Tulip Project 
Abegayle Brown and Casey Rogers
Current MSW students presented their powerpoint on their experiences at Mercy Pain Clinic as part of UNE's Interprofessional Education Collaborative 
Allana Eaton
Cassidy Cleaves and Ashley Mendes
Jessica Uges and Cristina Rackliffe

Current MSW Students presented White board video on sex trafficking created as part of Applied Arts and Social Justice Project. See video

here

Katy Finch

MSW Alumni '18 presented some illustrations from the comic, The Pirate Ship, as part of a collaboration w/ Bob Bergeron while doing her field placement at Preble Street. The comic was displayed as part of Katy's Applied Arts and Social Justice Project. More on comic collaboration

here

  more on Katy's field placement

here

. Katy also presented a comic she recently produced to describe how the Applied Arts and Social Justice Certificate works.  Will be available for download on our website soon!
 Featured Photo by Ian Schneider on Unsplash