B. Hailey MSW'21 (she/her/hers)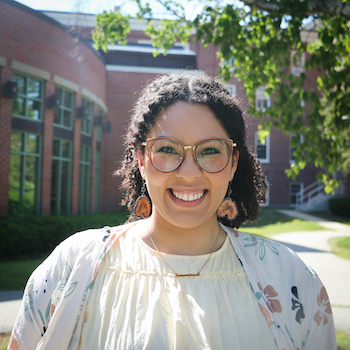 WHY UNE? I decided to come to UNE because of the Applied Arts and Social Justice (AASJ) Certificate as well as the interprofessional education opportunities here. I actually wound up getting the Trauma-informed Certificate. There are just so many opportunities!
WHY SOCIAL WORK I picked social work for a host of reasons. I've always been passionate about helping others, and not just helping others, but helping them see what they can do for themselves. I really value people's strengths and social work really supports people and their strengths.
LEARN MORE ABOUT UNE's MSW PROGRAM HERE
WHAT DO YOU WANT TO DO WITH YOUR MSW? I love grief work. I did one of my internships at the Center for Grieving Children and I loved it. It was one of the best things I think I've done, so hopefully I get to do some grief work. That's my plan.
WHAT'S THE UNE COMMUNITY LIKE? The friendships I've made here are some of the strongest friendships I've had and I see them continuing forever. We all learn something from each other and we're learning from outside experiences in our internships as well. It's a safe space to learn. If there's something we don't understand or are having trouble with, we can hash things out, try things on, figure it out. That's really special.
WHAT INTERPROFESSIONAL EDUCATION (IPE) EXPERIENCES DID YOU PARTICIPATE IN? While at UNE, I participated in SBIRT – Screening and Brief Intervention Referral to Treatment for substance use disorders. I got to work with students from each profession at WCHP. We collaborated as a team to figure out the care plan for an actor who was acting as a patient. This was really exciting and fun and felt very real. In another project, I interviewed higher education students at different universities and examined racial micro-aggressions. That was exciting also.
BEST THING ABOUT UNE: My favorite thing about UNE is the in person experience…especially in the MSW program. Our classes are small, you get to know your classmates, your cohort, very intimately, and you grow together.
ADVICE FOR THOSE CONSIDERING UNE: I would say, this has been the most challenging, rewarding, exciting 3 years I've done. I've done the 3 year part-time track and it has been wonderful. I've made some of the best friends I could have ever thought to make. I've had the experiences I never thought I would have. It's just invaluable.

FAVORITE STUDY SPOT: The quiet, single desks in the UNE Portland campus Library downstairs. I would just go try to cocoon myself down there and have no one look at me or even be around me so I could study!
LAST TV SHOW YOU BINGED: The last TV show I binged is Bob's Burgers. It came out when I was in undergrad and I remember watching the first episode thinking, this show is going to be really good, and it's grown to be a really great show. Silly, but quite hilarious.
ONE THING I WISH PEOPLE KNEW ABOUT BEING A GRAD STUDENT IS…..It's hard work! You have to rethink your thinking patterns, your work patterns. You have to fit in work, internship, school, homework, everything, so it's certainly challenging, but the best challenge I've ever taken.
MOST INTERESTING GRAD SCHOOL MOMENT: When I was told by my research instructor I made him think about something a certain way he'd never thought about it before. That made me feel really proud. He's since changed some of his classroom framework in response.
MOST MEMORABLE FIELD MOMENT: I have so many, but one of the most memorable was probably when I was at the Center for Grieving Children and I had a child in one of my groups who was really struggling with the grief that she was experiencing. Socially, she was just having a very hard time. We worked together for an entire year together, and we ended up really breaking through. She's now a graduate of the program and comes back to help with trainings and things like that. Watching her grow was one of the most memorable field moments for me.
FAVORITE RESTAURANT IN PORTLAND Emilitsa. I haven't been there since pre-pandemic, but it's a Greek restaurant on Congress St. They have the best food. You should definitely check them out.