Research is an integral part of working and learning at UNE. Across the Biddeford and Portland campuses, projects underway include marine life, pain, pharmaceuticals, and so much more. Research pursuits sometimes require faculty and students to utilize potentially hazardous materials or infectious substances. How do we mitigate the risk posed by dangerous chemicals or biological samples? First, ask if the risk is even necessary. Could you conduct the same work with less dangerous materials or change the procedure? Sometimes, no. In either scenario a fume hood can be an excellent safety implement. Use the following acronym to help you remember, because you can be a part of safety solution.
PART: Plan, Access, Reduce, Train – be a part of the safety culture!
Plan: First things first, plan out the procedure or process. What is the goal and how will you achieve it? What materials or equipment will you need? Are hazardous materials required? If so you may need to conduct work in a fume hood. The saying "measure twice, cut once" is one to live by.
Access: Before beginning work in a fume hood, check the hood for any issues and access if it's suitable for use. Is the hood certification up to date? Do the hood lights work? Does the sash work properly? Is the hood drawing air and providing negative pressure? Assessing a fume hood is a critical step to keeping yourself and others safe. Start work only after you've verified the fume hood is in proper working order. Remember, a good fume hood sucks!
Reduce: This one is twofold; fume hoods use tons of energy. Why? The volume of air exhausted by fume hoods must be simultaneously replaced as air is exhausted. Ever experienced trouble opening a door in the lab or heard air whistling nearby? Unless properly balanced, fume hoods can create vacuums in rooms or entire buildings. To avoid this issue, fresh air is vented in. Depending on the time of year, the fresh air is heated or cooled, which can really add to the utility bill. By keeping hood sashes closed or, if possible, turning hoods off while not in use, you can reduce the impact of research operations. Secondly, reducing the amount of hazardous materials and the frequency in which you use them helps reduce the risk of a dangerous incident. Smaller quantities of volatile chemicals are more easily contained by a fume hood than larger ones.
Train: An important part of using a fume hood safely is to train often and train well. Knowing how your fume hood works, what to look for while accessing function, how to recognize unsafe conditions, what to do in the case of an emergency, and who to contact, are all critical to keeping yourself and others safe while conducting work in a fume hood.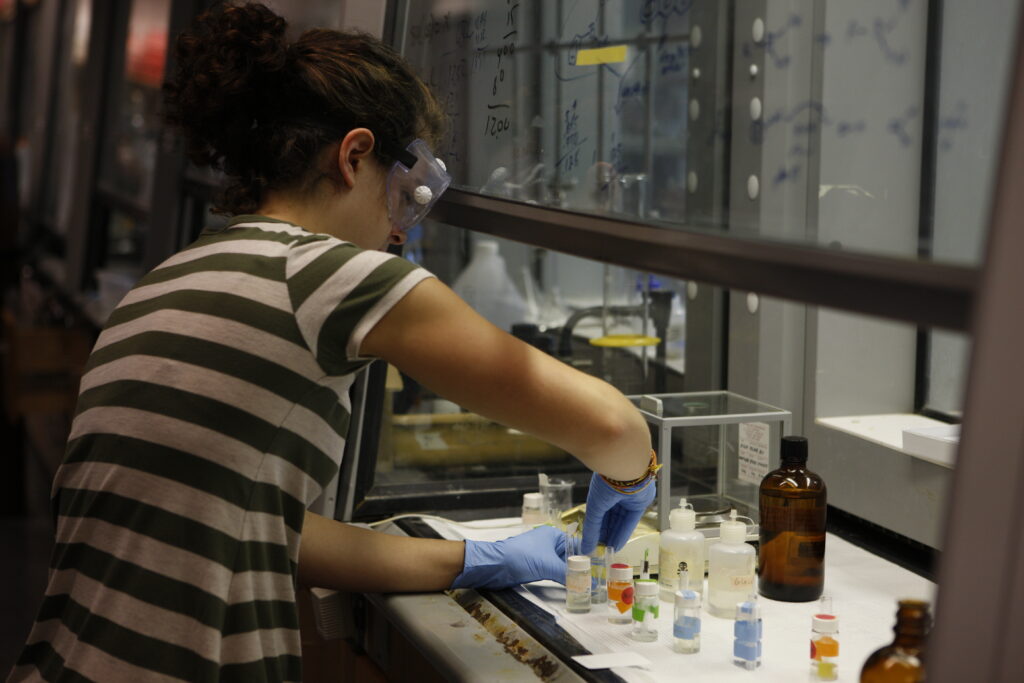 Good to know: The Office of Environmental Health & Safety conducts quarterly inspections of all fume hoods. Fume hoods are certified annually.
Concerned about your fume hood? Have a question about using a fume hood? Contact the Safety & Sustainability team!
EHS Director: Ronnie Souza | rsouza@une.edu | 207-602-2488
Associate Director of Sustainability: Alethea Cariddi | acariddi@une.edu | 207-602-2507
EHS Specialist: Peter Nagle | pnagle@une.edu | 207-602-2791
EHS Specialist: Davis Martinec | dmartinec@une.edu | 207-602-2046