by Kayla King, class of 2023
It might be considered uncommon to see college students gardening, but that is not the case at the UNE. Whether they're planting, weeding, or putting up educational signage, students are involved in the process at UNE. Students have led many sustainable landscaping projects, such as the Mosquito Control Project, the Rain Garden, the Native Prairie Garden, Community Vegetable Garden, Blueberry Garden, Pollinator Garden and the Medicinal Herb Garden on the Portland Campus. These projects have replaced less sustainable alternatives such as growing monoculture crops or planting decorative non-native species, and stopped the use of pesticides in these areas, all of which have long-term consequences on the local ecosystem.
Not only are these methods good for campus, they're also good for students. People's lives were greatly impacted by the Covid-19 pandemic. In addition to that, many students often suffer with climate anxiety, a chronic fear of environmental doom (Feldman 2022). Not only did gardening offer solace during isolation, but studies suggest that sustained gardening and other outdoor activities help reduce anxiety (Gerdes 2022). Although sometimes overlooked, UNE's landscaping practices have most certainly been beneficial to anyone who gets the opportunity to spend time on campus.
UNE's clubs offer more hands-on activities with these benefits, and new clubs with a gardening focus keep emerging. The UNE Gardening Club focuses on stress relief and well-being through plants. UNE's Hunger Initiative Club focuses on providing access to local, nutritious food. UNE's Honeybee Conservation Club helps take care of the native wildflower garden near the hives offering a direct benefit to the pollinators who keep the flowers blooming.
While students can volunteer to clean up and replant the community garden in the spring and summer, there is also a plethora of opportunities to gain knowledge about UNE's gardens (and its inhabitants) through classes such as 'Plant Systematics', where students get skilled with plant identification, or 'Ecological Restoration', where students aid in repairing fragile ecosystems.
The Sustainability Office is a great place to get started and see how your interests align with campus offerings. The skills and knowledge gained from gardening at UNE are life-long and widely applicable to many forms of gardening and understanding ecological wellbeing. Whether it's houseplants or a job in agriculture; these are valuable skills.
When campuses invest time and energy into these spaces, students become more involved and conscious of their surroundings. Outdoor spaces like these are incredibly versatile. Whether it's an alternative study space, a quick escape to relieve stress, or an outdoor classroom, you cannot ignore the benefits (Garrett 2021). It's a pleasure to be a part of campus initiative that is not only beneficial to my wellbeing, but also the wellbeing of my peers and the ecosystem I care so deeply about.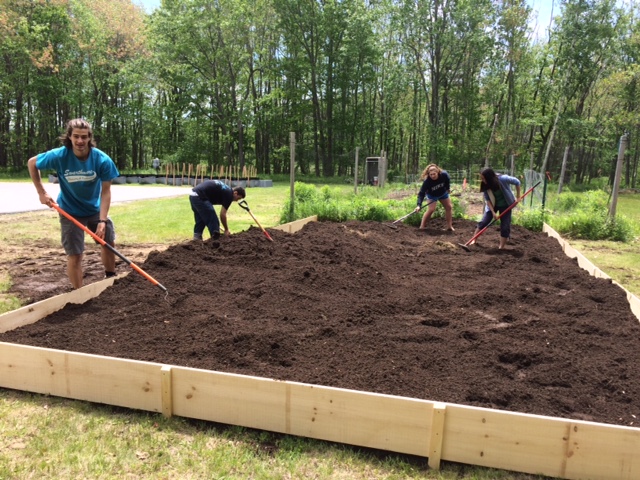 English, J. 2003. A Natural System Just Dying for Balance. Maine Organic Farmers and Gardener Association. [Accessed April 19, 2023].
Feldman, M; Crystal, S. 2022. "To Combat Climate Anxiety, College Students Are Taking Matters Into Their Own Hands. Literally." U.S. News & World Report. [Accessed April 19, 2023].
Garrett, L. 2021. Colleges and Universities Should Invest in Outdoor Spaces. Facility Asset Management. APPA.org. [Accessed April 19, 2023].
Gerdes, M.., et al. 2022. "Reducing Anxiety with Nature and Gardening (RANG): Evaluating the Impacts of Gardening and Outdoor Activities on Anxiety among U.S. Adults during the COVID-19 Pandemic" International Journal of Environmental Research and Public Health 19, no. 9: 5121. [Accessed April 19, 2023]
Sustainable Landscaping, UNE.edu/sustainability. [Accessed April 19, 2023].