by Jessica Gross
What is slow fashion?
Slow fashion is a movement that focuses on solving the problems of overconsumption caused by fast fashion. Slow fashion is made with quality materials by paid employees of a company. It has good ethics and a promise of being more sustainable for the planet (Marquis 2021). It is the opposite of fast fashion which is clothes made with cheap materials made by underpaid workers. Fast fashion is made with the intention to last one fashion season and then be thrown away. That's why in the US alone we throw away 34 billion pounds of clothing (Lundberg 2022). Slow fashion is a practice that involves sustainable materials that last years instead of months.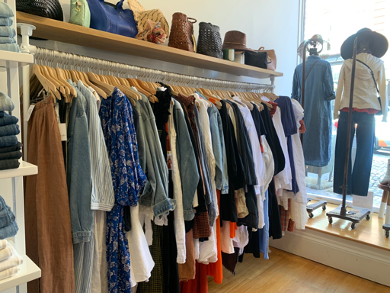 Why is it better?
Slow fashion is much better than fast fashion because it emphasizes quality materials made by hand, and was created with the intent to withstand being washed or dry cleaned over and over again (Nguyen et al. 2020). These products are more expensive compared to fast fashion prices but will last much longer and not lose color, rip or wear out. Slow fashion is an investment in your closet and in the planet to keep clothes from ending up in landfills (Bhardwaj 2010).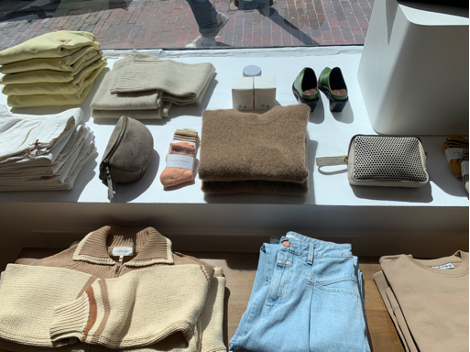 Where can I locally find slow fashion?
In Portland, Maine there are a few local shops that participate in slow fashion that you should check out! I went on a trip to find boutiques and I found a few stores that I would highly recommend. One of these stores is Expressingly Trends, a small boutique that was extremely charming. Some items were second hand while others were new. The employee working was extremely friendly and helpful to answer any questions I had. The clothes were quality made with materials like cotton and silk, it was slow fashion friendly.
Next, I went to Bliss which is another beautiful store. The clothes were more on the pricey side but great quality that would last. The way it was organized was stunning and made me want to buy something even more! There were lots of jeans and neutral clothes so perfect for buying a piece that would be a good basic. Even though on the more expensive side of fashion these clothes were properly made with the ethics of slow fashion in mind. One point about slow fashion is investing in pieces that will stand the test of time.
Finally, the last boutique I visited was Fat Face. The vibe was very rustic chic and some of the clothes I looked at were made of sustainable materials or mostly cotton. I bought a red and blue paisley quilted bag because it was so pretty and was reversible so it could be used both ways. An item like that is good because it's like you're investing in two bags with great quality. It is made of 100% cotton and is washable. Items like these you would not be able to find in a fast fashion store like H&M or Shein. I would definitely recommend visiting Portland to shop around with the beautiful old buildings, the cobblestone drives and the charming cafes. It is a wonderful place to spend a sunny afternoon shopping.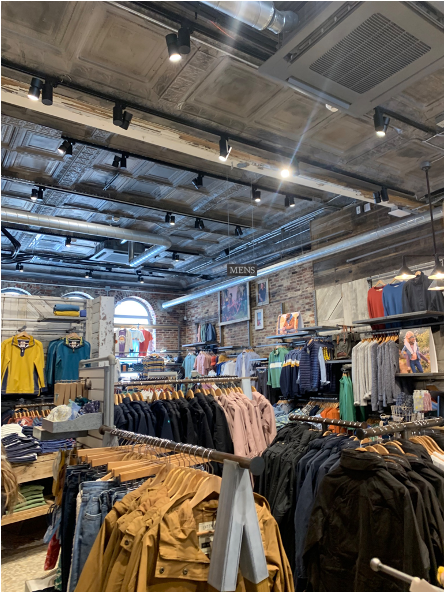 Sources:
Bhardwaj V, Fairhurst A. 2010. Fast fashion: response to changes in the fashion industry. Taylor & Francis Online. 20(1):165–173. [accessed 2023 May 4]. https://doi.org/10.1080/09593960903498300.
Fast Fashion Vs Slow Fashion: The Rise Of Sustainable Fashion | ThePlainSimpleLife. 2022 Feb 1. https://www.theplainsimplelife.com/fast-fashion-vs-slow-fashion/.
‌Marquis C. What Does Slow Fashion "Actually" Mean?. Forbes. https://www.forbes.com/sites/christophermarquis/2021/05/14/what-does-slow-fashion-actually-mean/?sh=16e2d86673b4.
Nguyen H, Minh Duc Le D, Thong Minh Ho T, Mai Nguyễn P. 2020. Enhancing sustainability in the contemporary model of CSR: a case of fast fashion industry in developing countries. Emerald Insight. 17(4). [accessed 2023 Apr 5]. https://www.emerald.com/insight/content/doi/10.1108/SRJ-03-2019-0108/full/html.
Lundberg, Dielle. 2022. The Aftermath of Fast Fashion: How Discarded Clothes Impact Public Health and the Environment | SPH. wwwbuedu. https://www.bu.edu/sph/news/articles/2022/the-aftermath-of-fast-fashion-how-discarded-clothes-impact-public-health-and-the-environment/#:~:text=How%20Discarded%20Clothes%20Impact%20Public%20Health%20and%20the%20Environment.