11:30 AM, 1st Wednesday each month, UNE Commons 3rd Floor
Food For Thought is a monthly conversation series – you know, like a lunch & learn, but more hip – hosted by the Environmental Health & Safety and Sustainability Offices. We'll dive into sustainability and safety topics, with guest appearances from expert faculty and staff. You're invited to bring questions and suggestions (and a buddy!), as we're aiming for an interactive format. Head below for details on each topic.
The first ten participants to sign-in at the event each month get a free lunch!
6 December 2023
Energy Savings: Holiday Special!
With colder weather on the way, thermostats are climbing. But consider this: just how much do those extra degrees cost? Join us for a discussion around the true cost of heating and what you can do to save. We'll explore the do's and don'ts of heating, impacts of different heat sources, and leave you with some practical strategies to reduce your energy usage, while maintaining your comfort this winter.
3 January 2024
Waste Not, Want Not: UNE Waste Diversion in Action
You know about the recycling program, but what about those odd items? What are we doing to recycle, repurpose, and reduce items like disposable gloves, old light bulbs, broken computers, coffee grounds and foam mattress pads? We'll uncover our waste diversion strategies at this month's Food for Thought and share an update on the on-campus SWAP Shop. Want to find a more sustainable disposal option for something unusual? We'd love to hear from you!
7 February 2024
Hazardous Waste in Our Homes
Have you ever read the label on a product before deciding to buy it? Most folks do and for good reason. In an era when marketing has obscured the line between natural and synthetic, staying informed means staying safe and protecting the environment. Many household products shouldn't be tossed in the garbage because they could be hazardous. Wondering what to do with that toxic shelf in your basement? Bring your specific questions!
6 March 2024
In a JIFfy: The Life Cycle of Peanut Butter
From planting to processing to transporting, peanut butter uses a large amount of resources to manufacture and distribute. Eighty-nine percent of households in the US regularly consume peanut butter, but few of us consider the processes used to get it to our table. Join us in March to learn about the real cost of a common household product like peanut butter and engage in discussion about life-cycle analysis of other products.
3 April 2024
How Does Your Garden Grow: Sustainable Yard Care Alternatives
Lush, expansive, and a quintessential element of the American dream, lawns may not look so green when you shift your perspective. The labor and resource intensity of maintaining our manicured lawns comes at significant cost – not just in dollars, but in detrimental impacts to ecosystems near and far. Let's talk about sustainable alternatives to lawn care that won't sacrifice beauty.
1 May 2024
Keeping Your Cool: Air Condition, Efficiently
It's hot; it's humid. The solution? Air conditioning. But this comes with a steep price that's not only reflected in your utility bill. With hot, hazy, summer days on their way, this discussion will be all about ways to improve the efficiency of air conditioning in your home and office.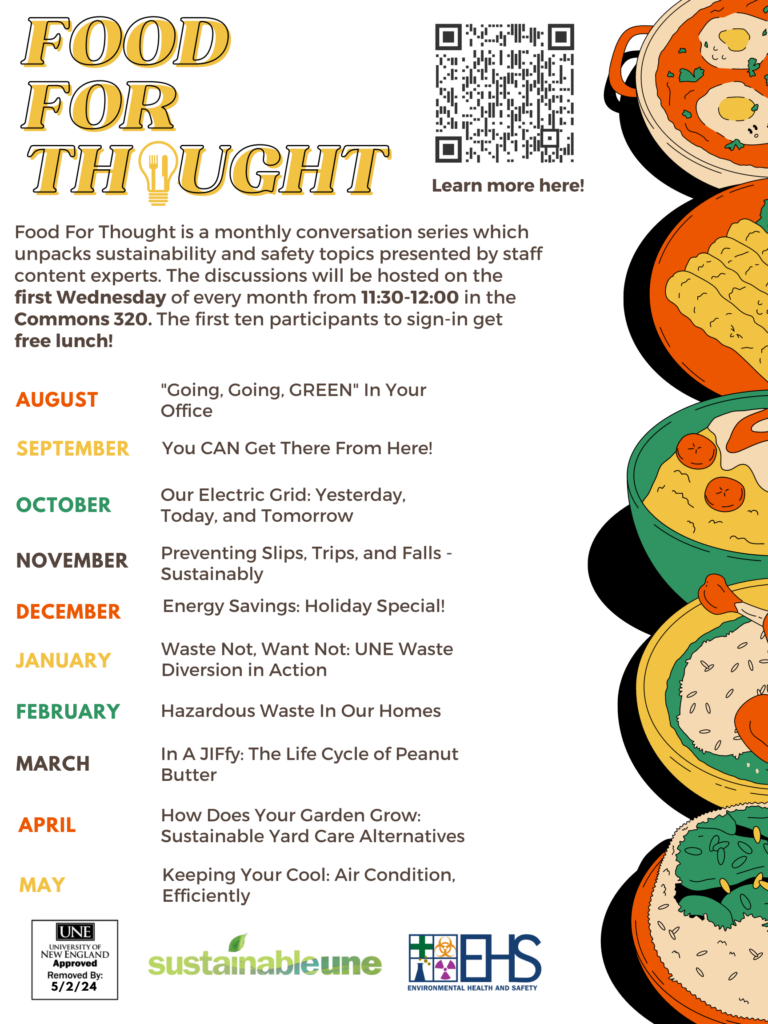 PAST EVENTS
2 August 2023
"Going, Going, GREEN" In Your Office
UNE's Green Office certification program offers departments an opportunity to show their "green spirit." The Green Office Program challenges (you)UNE to improve office efficiencies with the goal of increasing sustainability and affirming our commitment to building a better future. By becoming a green office you'll ensure UNE remains a leader in higher education by attracting and retaining students while building connections. At our first Food for Thought we will walk you through the certification process and resource materials.
6 September 2023
You CAN Get There From Here!
Nearly one-third of the university's carbon footprint comes from our commuting habits. Greening your commute takes some planning and flexibility, but there are resources to help you realize savings and reduce your impact. The Sustainability Office will outline available programs (deals on wheels) and help find specific solutions to your commuting needs.
4 October 2023
Our Electric Grid: Yesterday, Today, and Tomorrow with guest speak Phil Shapiro!
Electricity rates are climbing, at UNE and in our homes. Clean energy sources, intermittent sources, batteries, and demand response are all being added to our system, as are our cars and homes. How does it work? How is this all managed? Guest discussion leader, Phil Shapiro, is joining Food for Thought to demystify the electricity landscape. What does it take to maintain and supply "The Grid," and what is the impact on us, our environment, and our household and institutional budgets?
Phil Shapiro is UNE's Chief Investment Officer. From 2010 to 2021 he was a board member of ISO-NE, and board chair from 2014 to 2019, that operates the New England Grid, plans the system, and runs its markets.
1 November 2023
Preventing Slips, Trips, and Falls – Sustainably
Sometimes the grass isn't always greener. Sometimes it's salty. Common practice has us reaching for the rock salt when things get slick in wintertime. But what happens to that salt once its job is done? Join us to find out why the popular option isn't always the best option. Plus, we'll discuss sustainable alternatives for melting ice that prevent injuries and are pet friendly too.