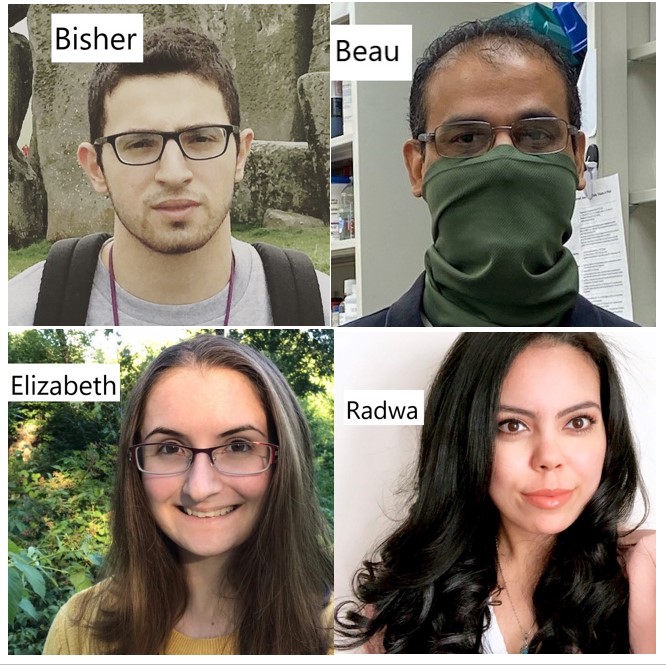 Summer is a time when the UNE research community welcomes undergraduate, graduate, and professional students into our laboratories, field sites, and galleries for intensive scholarly activity and experiential education. In January of 2020, summer research options looked promising for Bisher Sultan (UNE COM '23), Elizabeth Bernier (Psychology major (Honors) at the University of Southern Maine), and Radwa Ibrahim (UNE COM '23). Bisher was awarded a Morgane Research Fellowship to work in Dr. Karen Houseknecht's lab quantifying prostaglandin synthesis in zebrafish using mass spectrometry, Elizabeth was offered a slot on a research project at Maine Medical Center, and Radwa worked through her faculty advisor to secure a position working with Houseknecht and Dr. Meghan May on cardiac side effects of antipsychotic medications. Once the pandemic hit, all of these plans came to a crashing halt. The summer of 2020, it seemed, would not allow these students the opportunities they had anticipated.
As we all adjusted to life during a pandemic, including social distancing and Zooming our days away, faculty at UNE were eager to find ways to help our students have a scholarly experience…even if it was not exactly what they had planned. As winter became spring, Dr. Houseknecht was working with UNE faculty to shift research into emergency operations mode in alignment with Governor Janet Mills' executive order focused on public safety. By that point, it was clear that traditional lab research opportunities were not going to work out for the summer of 2020.
Fortunately, Houseknecht had a large dataset from a study conducted by her former post-doctoral fellow that had not been fully analyzed yet. The data were from a study looking at proteomics; that is, the set of proteins being made by a particular tissue under certain conditions. The proteomes in question came from the hearts and livers of mice treated with the antipsychotic medication risperidone, and were to be compared to the proteomes of healthy control mice that did not receive the medication. Proteins expressed at different levels between the two groups could help researchers understand the causes of medication side effects that occur in the heart and the liver. Houseknecht reached out to her collaborators working in bioinformatics and molecular biology, Dr. May and Dr. Beau Rostama, in order to organize the numerous changes between the risperidone-treated mice and the control mice. "When we look at proteomics datasets, the easiest way to start digging through the mountain of information is to organize the affected proteins by what biological pathways are impacted," said May. Houseknecht agreed, adding "this was the best approach to begin looking at our findings on a systemic level. We were excited to see very early on how many proteins were changing in pathways involved in known drug side effects." The approach was decided, and excitement grew about this new, COVID-friendly research strategy. Students previously planning on engaging with Houseknecht and May for the summer quickly became part of the initiative fondly known as The Pathways Party.
The idea was to engage Radwa, Bisher and Elizabeth in proteomic data analysis while working remotely. As part of this work they explored novel questions relating to the mechanisms underlying the unwanted effects of antipsychotic treatment on cardiac metabolism and non-alcoholic fatty liver disease (NAFLD). Although it was more challenging at times to work remotely via zoom, this approach allowed the team of scholars with diverse backgrounds and skills to collaborate on mechanistic questions that are important for patient health and well-being. "COVID-19 has absolutely complicated things, but being a part of research even remotely has really helped encourage me to stay on my career path," Elizabeth noted. When talking about the opportunity to conduct research during this most unusual summer, she continued, "it is really nice to have the opportunity to stay involved in things I genuinely care about despite everything that has been going on! It really has meant a lot to me." The Pathways Party is just one of the creative initiatives that UNE faculty developed on the fly to keep our students engage in original and meaningful scholarly work during this most unusual year of 2020.