The AgingME Writer's Corner was inspired by an essay written by my mother. We know that others also have stories to tell and wanted to create a place where they could tell them. This month's prompt comes directly from her reflections on her hands.

Susan Wehry, AgingME GWEP Project Director
Old Hands By M Maxine Wehry

Someone recently said to me 'you have such beautiful hands,' "Beautiful?!" I was amazed. "I cannot believe you'd think that. These old hands are so scrawny and bony and have big veins popping out of them!" 'But I do,' she gently responded. 'You have long, delicate fingers and … just think what all they have done.' "Maybe to you…" My voice trailed off as I held them up and started thinking about what they had done.
Whom did they first touch? Probably my Mother. They patted her face. They patted my Grandma's face. How I loved Grandma Smith, who cared for me after my mother died when I was two. Grandma must have gotten a lot of pats on her face from me. Hannah. Hannah Jane was her name. She was a sweetheart. I remember helping her roll dough with a rolling pin so she could cut out sugar cookies. I remember her handing me a piece of dough so I could shape it into a biscuit. She let me gather twigs to help her start the fire for the day's cooking. Lily and Grandma said I was the best little twig finder. I was so proud.
Living on a farm wasn't easy. We had to work hard. Even in the dark. All day. Planting, planting, planting. Tomatoes, green beans, potatoes, peas and melons. Once the tomato factory came to town, it was our job to pick the worms off the plants. These hands hated that chore, too.
Click here to read the full essay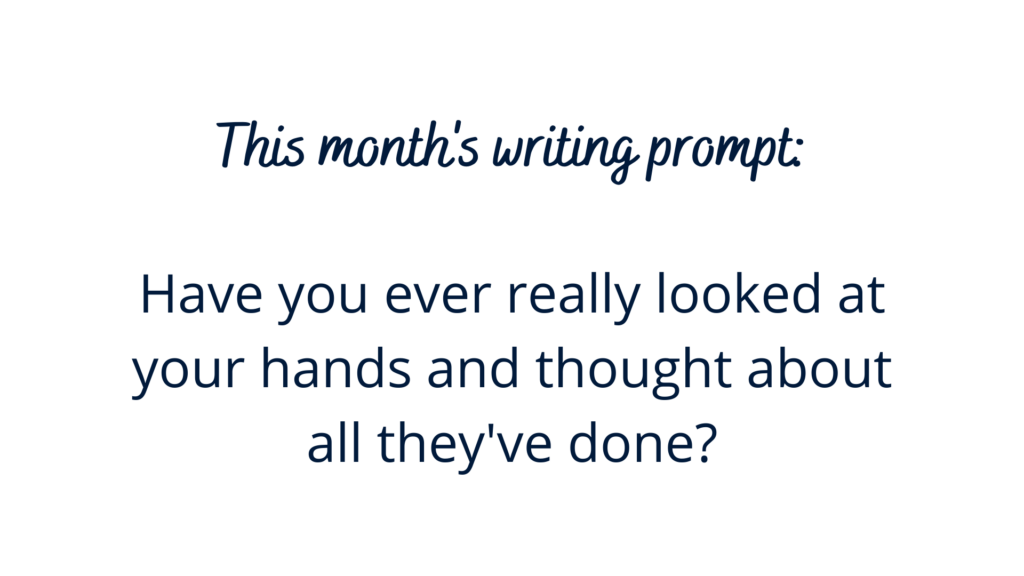 Submit Your Writing Here
Your name and contact information will only be seen by our team and will only be used to contact you about your submission. You will have the option to share your writing anonymously.
Please email Cammy Samuelson csamuelson1@une.edu with any questions.