With seemingly endless options, choosing your college major may seem like a challenging task. But with these tips, you'll be well on your way to choosing the right major. Let's dive in!
Reflect on What Matters to You
Let's start with you: your interests, your passions, and your skills. These attributes will serve as your foundation when choosing your major. Take some time to reflect on what brings you joy. Perhaps helping people, protecting the environment, or engaging with your community is important to you. We have majors that lend themselves to all of these interests.
Consider what particular skills you have, and more importantly, what skills and knowledge you hope to gain. College is a time for exploration and growth. Our goal at UNE is to not only educate and inform students, but help students make valuable contributions to the world around them, no matter their major.
Envision Beyond College
You may find it helpful to take a moment to look beyond college, and consider the years that follow. Envision where you may be employed. Perhaps you see yourself in a lab, on a boat, or in a classroom.
Envision whom you are working with. You may have a particular population of patients you hope to serve, or maybe you hope that most of your colleagues are animals rather than people. Thinking ahead to your future will help lay the groundwork for your college career.
Explore Your Options
You have options. Here at UNE, we have more than 40 undergraduate majors. With our flagship programs in the health and life sciences as well as robust majors in business, education, humanities and the social sciences, there are lots of options from which to choose. Take some time to explore all of the opportunities that are available to you.
When you take a closer look at majors here at UNE, you will discover what makes our programs unique. No matter which major you choose, you will benefit from world-class faculty, state-of-the-art facilities, research opportunities, hands-on learning, interdisciplinary engagement, global awareness and more. Your major will take you out of the classroom and out of the ordinary.
Connect With Us
Your journey through college is just that; it's your journey. When choosing your major, reflecting on what's most important to you, envisioning your future self, and exploring your options are essential steps to finding the right educational fit. Even if you're still not sure about your major, or you end up changing it later, that's okay. From our Academic Advising Center to our Career Services Center, we're here to support you and help you succeed.
If you have questions about which academic program is the best option for you, connect with your admissions counselor. We're happy to help!
Want to learn more about choosing your major at UNE? Join us at our next Discover UNE event on Wednesday, November 18 at 7 p.m. EDT! You'll hear from the experts— current UNE students— on how they chose their major (and then successfully switched it!), what resources they use to keep on track, and how prepared they feel to graduate.
Post By: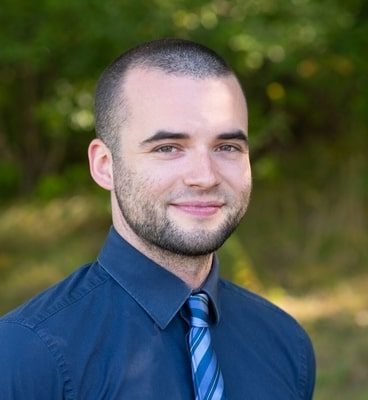 Joshua Carbonell
Admissions Counselor
As an admissions counselor at UNE with a background in Psychology and Higher Education, Joshua strives to support students' personal and professional development. Guided by three pillars to prioritize individuals, meet students where they are, and engage with empathy, Joshua values connecting with others to support their journeys to college. When he's not in the admissions office, he spends his time exploring the outdoors— from the seacoast to the mountains— and engineering music in his studio.