Congratulations! You have narrowed down the daunting task of deciding where to apply to college. Now it's time for the easier yet necessary task of deciding WHEN to apply. Get cozy and have a scroll as we review the college admission options you may come across during the application process.
Heads up! As you decide which application options are right for you, don't assume all colleges and universities have similar application deadlines. Keep track of each school's deadlines for applications and financial aid so you don't miss any opportunities.
Early Action (EA)
Timeline:
Application submitted by early-mid November.
Decision received by the end of December.
When you would choose EA:
You have multiple top-choice schools.
Your applications are ready to go and your essay is crème de la crème.
Your major has a limited number of seats available.
You're ready to wrap up your college search.
Important to know:
Early Action is non-binding. This means that if you are accepted, you are not obligated to enroll.
You may be accepted to multiple schools through EA. This allows extra time for you to decide where to go and/or gives you the opportunity to say yes to your school sooner.
Early Decision (ED)
Timeline:
Application submitted by early-mid November.
Decision received by the end of December.
When you would choose ED:
You are 100% sure of your top choice school.
Important to know:
You would only apply to one school Early Decision as it is binding. This means that by applying ED you are agreeing/obligated to enroll if you are accepted.
Regular Decision (RD)
Timeline:
Application submitted by mid-February.
Decisions received by early May.
When you would choose RD:
You're in no rush!
You want to take your time to review your options, retake the SAT or ACT, perfect your essay, retrieve your recommendations, and lean into different areas of study.
You applied EA or ED and did not get accepted.
Important to know:
There is nothing wrong with Regular Decision! College is a big, personal choice. Take the time you need to make your application the best it can be.
RD is a great option to hold onto for your "safety schools" if you do not get accepted into your top choices.
Rolling Admission
Timeline:
Schools that provide Rolling Admission allow students to apply at any time during their admission period; typically, September through July.
Schools with Rolling Admission evaluate each college application as it's received and sends acceptance letters to students who meet their requirements.
When you would choose RA:
Admission is granted on a first-come, first-serve basis, so you will want to submit your application as early as possible.
On the other hand, if you find yourself without a school match after applying EA, ED, or RD, there may be a school with Rolling Admission that is still a great fit for you!
Important to know:
This is NOT a cop-out option. Your Rolling Admission application is being looked at in direct contrast to other applicants, so you need to take the same amount of care when applying.
Some colleges accept applications at nearly any point of the year. Others have specific windows when they will want potential students to apply. Always double check!
At UNE, we offer Early Action and Regular Decision deadlines.
When you apply Early Action to UNE and submit all application materials by November 15, 2021, you will receive notification of your admission decision before the end of 2021.
Applicants for Nursing, Pre-Dental Medicine (3+4 D.M.D.), and Pre-Medicine (3+4 D.O.) should apply by the Early Action deadline.
Our Regular Decision deadline is February 15, 2022. Applications received after the deadline are reviewed and accepted on a space-available basis.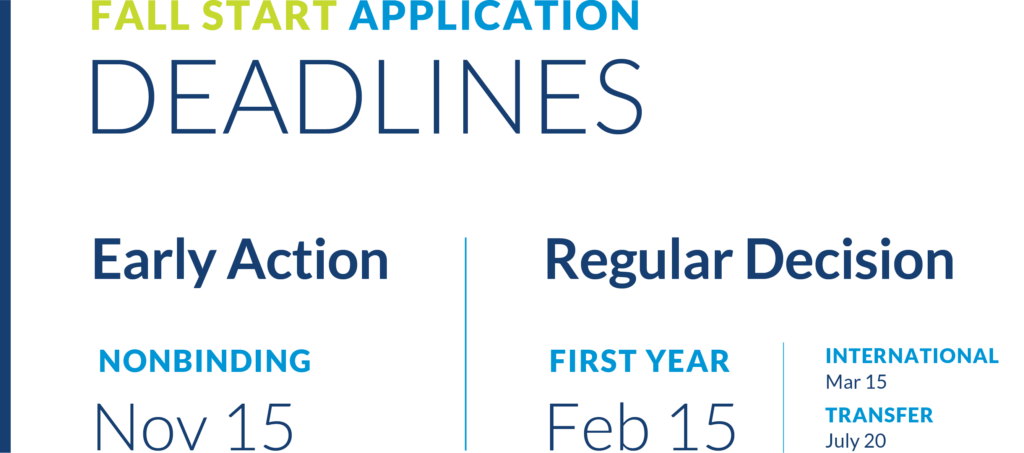 To learn more about how and when to apply to UNE, click HERE.
If you haven't already, get organized!
Make a list of all of the schools to which you plan to apply.
Find out what admissions deadlines they offer and note their unique dates.
Attribute each of your schools to EA, ED, RD, or Regular Admission.
You just made yourself an application timeline. *Insert thumbs up emoji*
Now polish up those applications and grammar check that essay… It's go time!